Message from the president
We are contributing to the prosperity and sustainability of society by making the most of aluminum's potential and benefits.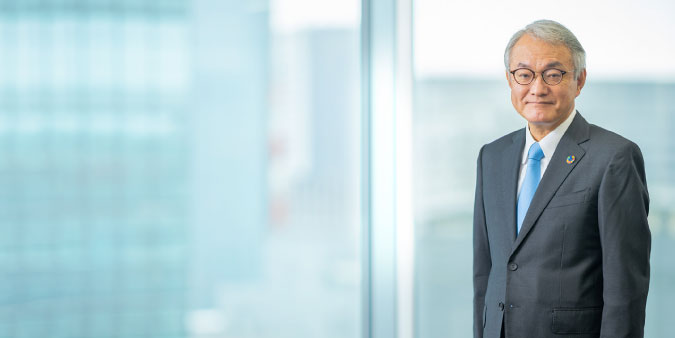 Miyuki Ishihara
Representative Director & President
All over the world today, people's lives have been seriously disrupted by the global COVID-19 pandemic. On behalf of the entire UACJ Group, I would like to express my sincere condolences to those who have lost loved ones due the coronavirus, and my deepest appreciation to the health care workers and other professionals on the front lines of this crisis. All of us are united in our commitment to helping communities overcome the hardships they face under these difficult circumstances. Together with all of the Group's stakeholders, we will make our utmost efforts to ensure that people stay healthy and to help communities revive their economies.
Creating a new corporate philosophy to guide all members of the UACJ Group
Since its establishment in 2013, UACJ has focused on integrating its businesses into an organization that generates synergies while expanding operations and production capacity outside Japan. The Group's employees became much more diverse as its businesses expanded internationally over a period of six years. Therefore, in 2019, recognizing the importance of having a unified vision for all of the Group's members, we set out to revise our Group's corporate philosophy, which we organize as Our Purpose, Our Vision, and Our Values. We then announced this new corporate philosophy in February 2020, and designated the UACJ Way as our path toward its objectives.
After meeting with and incorporating the ideas of a wide range of personnel, from young employees to experienced managers, we defined Our Vision as follows: "Aluminum is our passion. It inspires our work in building a better world and a healthier environment." Our emphasis on the environment reflects our conviction that aluminum can help reduce environmental burdens due to its light weight, which is about one-third that of iron and copper, and, therefore, lead to a brighter future.
Our philosophy is built on the achievements and enterprising spirit of our predecessors over a history spanning more than 100 years since the original companies that formed UACJ were founded. Guided by this unbroken spirit, and proud to be at the forefront of the global aluminum industry as a comprehensive manufacturer, we will strive to "contribute to society by using raw materials to manufacture products that enhance prosperity and sustainability," as stated in Our Group Philosophy. In that way, we will work towards the sustainability of the Group and society as a whole.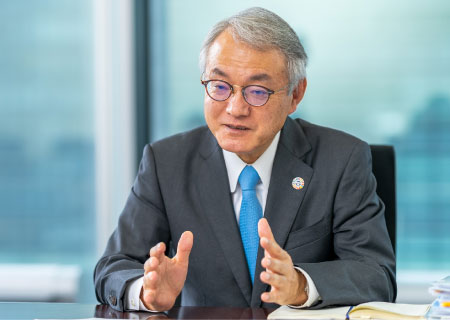 Aiming to provide solutions to today's issues through a broad range of initiatives
The UACJ Group is carrying out a variety of initiatives to realize its corporate philosophy and fulfill its responsibility to society. At the most fundamental level, I believe the Group has a responsibility to ensure a stable supply of products. Aluminum is used for a wide range of everyday goods, including packaging materials for food and medicine. Even during the ongoing COVID-19 pandemic, the volume of the Group's shipments has not changed significantly, demonstrating the importance we place on maintaining a stable supply. We plan to make the Group's global supply network even more resilient going forward.
With respect to our environmental responsibility, we have been focusing on various approaches in our research and development to take full advantage of aluminum's excellent recyclability. A vast amount of electricity is consumed in the process of extracting aluminum from raw materials and refining it into ingots, but only about 3% of electricity consumed at the initial smelting stage is needed to produce the same volume of ingots from recycled aluminum. We have an important obligation to make the most of that recyclability, and given the great potential for technical development in this regard, we are exploring possibilities for both materials that have already been replaced with aluminum and potential applications for aluminum in the future. Accordingly, we will continue conducting R&D that demonstrates why aluminum can be the best alternative among other materials.
Turning to our social responsibility, we have been sponsoring educational events about aluminum for aspiring young professionals while enhancing our engagement with local communities, including support for communities that were damaged by the earthquake and tsunami disaster that struck northeastern Japan in 2011. For example, in Miyagi Prefecture, we have been providing assistance to Ishinomaki Farm, an organization that offers farm-stay experiences as a way to counsel socially withdrawn youths as well as help revitalize local agriculture.
Most recently, UACJ joined the Aluminum Stewardship Initiative (ASI) in July 2020, becoming the first rolled aluminum product manufacturer from Japan to participate. The ASI is a global non-profit organization that sets and certifies industry-wide standards for sustainability performance and traceability at the production, machining, and transport stages. It aims to enhance sustainability across the entire aluminum supply chain with a vision to "maximize the contribution of aluminum to a sustainable society" in connection with environmental, social and governance (ESG) practices. By participating in the ASI's activities and sharing information with its members, the UACJ Group will strive to improve its ESG practices going forward.
Forward-looking initiatives for building a better world and a healthier environment
To help build a better world and a healthier environment, I believe the UACJ Group must proactively carry out the following three forward-looking initiatives.
Firstly, we will need to realize innovations that demonstrate why aluminum is the best alternative among various other materials. To accomplish that, instead of just supplying products that meet customers' specifications, we are closely engaging with customers and initiating collaborative R&D projects that aim to add more value to products, reduce costs, and lower environmental burdens. Innovations that have an impact on society do not happen overnight, but I know we have employees and workplaces that aspire to create innovations, and I am confident that providing them with support and incentives will lead to sustainable growth.
Secondly, we will make the Group's workplaces more comfortable and motivating for employees. Working conditions have been undergoing major changes due to the COVID-19 pandemic. More than simply having office workers telecommute, however, we have also set our sights on production facilities, and will make maximum use of digital technologies to create best practices for the manufacturing industry to follow in the future.
Thirdly, we must create a clear roadmap for the Group to contribute to society over the long term. There are many ways by which we can provide solutions, such as opening up new markets and applications, developing new materials, and establishing a recycling supply chain. From among such options, we intend to determine the best path forward for maximizing the potential of aluminum.
These initiatives are intended to promote the sustainability of both the UACJ Group and society as a whole. To systematically and successfully carry them out, UACJ began specifying material issues in 2019. Based on those issues, we will set sustainability goals and formulate an action plan with a view to realize a more prosperous future.