Message from the President
Over the past 10 years since its establishment, UACJ has continued to grow while building a world-leading supply network and contributing to society as a major global aluminum products manufacturer.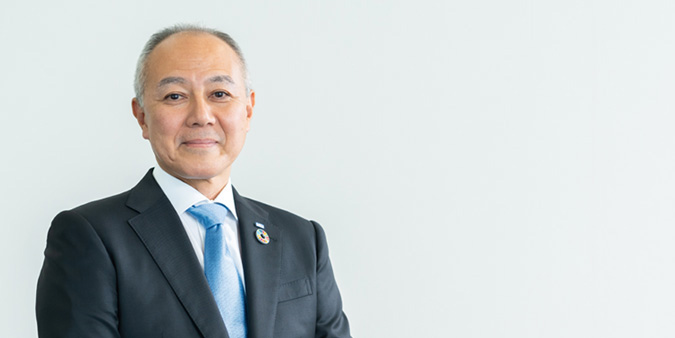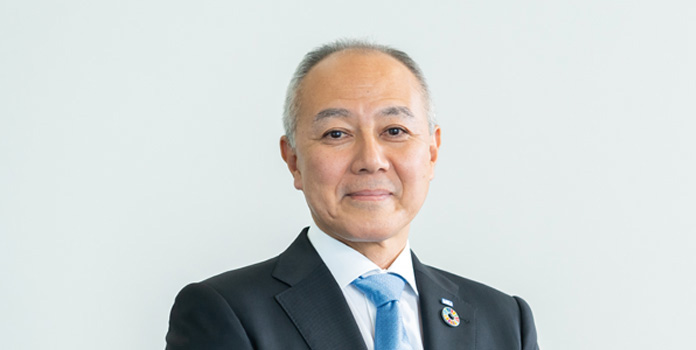 Miyuki Ishihara
Representative Director, President
Having grown beyond expectations by boosting production and sales capacity, UACJ has become an aluminum products manufacturer with great potential
In 2023, we celebrated the 10th anniversary of UACJ Corporation's establishment through the merger of Furukawa-Sky Aluminum Corporation and Sumitomo Light Metal Industries, Ltd., in October 2013. This year also marks 125 years since Sumitomo Copper Rolling Works, a forerunner of Sumitomo Light Metal Industries, began producing flat-rolled aluminum.
As two of Japan's leading flat-rolled aluminum manufacturers, Furukawa-Sky Aluminum and Sumitomo Light Metal Industries merged with the goal of forming a competitive player in the global market. They recognized that despite declining domestic demand for aluminum products due to the country's shrinking population, demand was projected to grow in the European, North American, and Asian markets. By streamlining and generating synergies from their leading domestic businesses while allocating operational resources to expand their international businesses, the two companies looked forward to growing sustainably as a global flat-rolled aluminum manufacturer.
Following the merger, UACJ implemented its first and second mid-term management plans, through which it executed a series of large-scale investments aimed at expanding its international operations over the medium and long terms. In the United States, the Company expanded production capacity at Logan Mill, a production facility operated by its subsidiary Tri-Arrows Aluminum Inc. It also acquired UACJ Automotive Whitehall Industries, Inc., and boosted its production capacity. In Thailand, the Company completed three phases of expansion at Rayong Works, operated by subsidiary UACJ (Thailand) Co., Ltd., enabling the facility to meet robust demand in Southeast Asia. Thanks to these investments, the UACJ Group's results surpassed initial expectations in fiscal 2022, with global sales volume exceeding 1.3 million tons and production capacity reaching 1.4 million tons.
Rayong Works, especially, expanded into a major flat-rolled aluminum production center. Moving well beyond its initial role of supplementing global product shipments from Japan, Rayong Works currently supplies products to about 80 companies in 26 countries. Including this facility, the UACJ Group now operates four production facilities that can each manufacture at least 300 thousand tons of flat-rolled aluminum annually. We believe this flat-rolled aluminum supply network based in Japan, Thailand, and the United States is the world's best. Moreover, each of the Group's main businesses operate globally, including the extruded products, foil, and casting and forging businesses. Through the acquisition of UACJ Automotive Whitehall Industries, the Group added automotive parts as a new growth business, which we regard as a major achievement.
Before merging, the two companies that founded UACJ posted combined net sales of ¥436.5 billion. The amount has more than doubled since then, as the Company posted consolidated net sales of ¥962.9 billion in fiscal 2022, ended March 31, 2023, putting it in reach of the one trillion-yen mark. Besides sales, UACJ has greatly expanded its business areas and product categories over the past decade. Having led the Company for the past five of those years, I am deeply gratified by these achievements. At the time of our 10th anniversary, I strongly felt that UACJ has become a company with great potential that can inspire all members of the Group, not only those who have worked hard together over the past years but also people who will join us in the future.
Together with employees, management redefined the Group's purpose and completed drastic structural reforms involving very difficult decisions
The achievements, above, did not come easily, of course. From 2018, the year I was appointed as president, global market conditions rapidly deteriorated as China's economy slowed down following its trade war with the United States. Consequently, the Company's sales and profits came in 20% to 30% below the targets of our mid-term management plan in fiscal 2018 and 2019. To overcome such challenging circumstances, we initiated drastic structural reforms aimed at increasing earnings capacity, reforming the financial structure, and strengthening management systems. These reforms involved very difficult decisions, including the sell-off of the Company's wrought copper products business and the closure of Nikko Works, both of which had operated over many years of our history. Then we faced new problems following the outbreak of the COVID-19 pandemic in 2020, including a drop in sales volume as our customers suspended their operations as well as delays in starting up our own production facilities. In response, we implemented additional measures to put the Company's performance back on track. In the end, the structural reforms contributed ¥21.0 billion to ordinary income, our initial target. Along with this increase in earnings capacity, we succeeded in reforming the Company's financial structure, increasing the speed and efficiency of management decision-making through a streamlined executive management structure, and making the Group more agile, flexible, and resilient to changes in the operating environment by implementing the structural reforms.
It was my belief that the Company might not be able to survive unless the structural reforms were accomplished. That strong sense of crisis is what drove my determination to complete the reforms. To share this sense of crisis with the Group's employees, explain why the reforms were necessary at that time, and have them carry out the reforms with a united spirit, I initiated a process for redefining the Group's purpose to clarify its corporate philosophy, vision, values, and codes of conduct. Through this process, we created a long-term roadmap called UACJ Vision 2030, a set of guidelines for all employees to follow called the UACJ Way, and a new purpose statement, "Contribute to society by using raw materials to manufacture products that enhance prosperity and sustainability." We had employees actively participate in this process, and took steps to foster a corporate culture that encourages diverse members to work together towards the same goals. These actions played a big part in our successful completion of the structural reforms.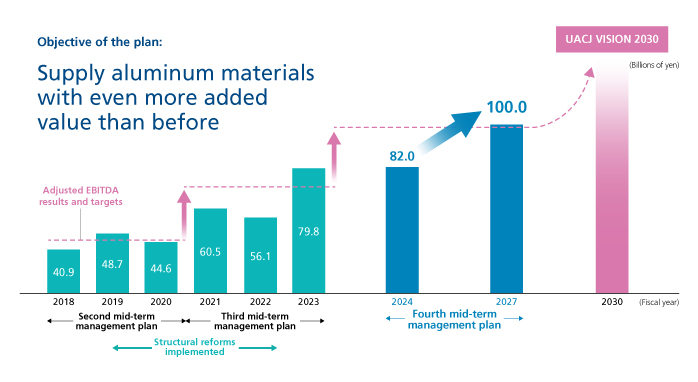 Raising employee engagement and promoting mutual respect in the workplace by having all members recognize how their work benefits others
Over the past 10 years since UACJ was established, the UACJ Group has evolved as a major global aluminum products manufacturer. The collective capabilities of all of the Group's members have been the driving force behind this success. Indeed, I strongly believe that the Group's biggest strength is its people.
My career began at Nagoya Works, which was the main factory of Sumitomo Light Metal Industries before it merged with Furukawa-Sky Aluminum Corporation to establish UACJ. By the time of the merger, I had been promoted to general manager of Nagoya Works. The next year in 2014, however, I was assigned as general manager of Fukui Works, which had been Furukawa-Sky Aluminum's main factory. The merger was still relatively recent, so I noticed some differences in the workplace cultures of the two factories, but I also observed how the manufacturing activities of both factories were built on the dedicated efforts and ingenuity of their workers. That made me even more convinced that developing human resources is integral to manufacturing.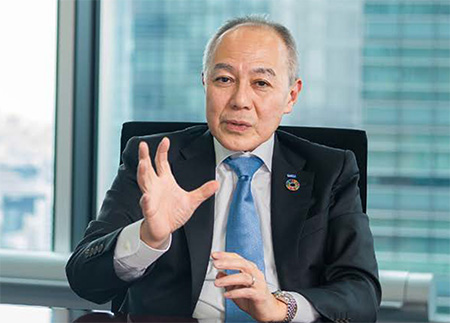 Our project to establish UACJ (Thailand) and have it operate Rayong Works provides an excellent example of how the capabilities of employees can be fully realized. Generally, it takes more than 10 years for an aluminum rolling mill to become profitable after it starts operating. That was indeed the case with both Nagoya Works and Fukui Works. UACJ (Thailand), however, began posting profits after just six years. This was made possible because we transferred many experienced engineers from around the Group to Rayong Works to start up production lines and fully train local employees on how to operate the machinery. We also assigned highly capable sales staff all over the world.
The UACJ Group has inherited diverse skills and technologies accumulated over 125 years since its forerunners began making aluminum products. The Group's employees today are more capable than ever before because these skills and technologies have been passed down and refined over each generation. We have been broadening our range of venues for facilitating this process, such as through safety education and technical training at production facilities, as well as education covering facility maintenance, R&D, and other operations provided through our Monozukuri Gakuen program. I will work to help maintain and enhance this tradition of passing down skills over the coming decades so that our employees and organizations grow even stronger.
Toward this end, fostering a workplace environment that allows all members of the Group to fully demonstrate their abilities is essential. As part of our efforts to maintain such an environment, we formulated the UACJ Group Health Management Policy in 2021, and took steps to assist employees in managing their mental and physical health, and raise awareness of health management among employees and their family members. To determine the level of progress made in this regard, we conduct employee engagement surveys on a routine basis.
I also try to help raise the motivation and morale of our employees by visiting group companies to talk with them in meetings on the UACJ Group Philosophy. Although some of these meetings were held remotely due to the pandemic, I make a point of visiting workplaces around the world to meet directly with employees. I have held over 100 of these meetings since I was appointed as president. In fact, the 100th meeting was held back in May 2023 at a workplace in Germany. In these meetings, participants openly discuss a wide range of issues related to our corporate philosophy and codes of conduct, as well as business strategies and workplace problems and solutions.
In these discussions, I always ask everyone about who benefits from their work, and point out that for the UACJ Group to contribute to the sustainability and prosperity of society, it, too, must be sustainable. The importance of sustainability generally resonates with all of the participants, but many feel unsure about how their work is beneficial. When that happens, I usually tell them that aluminum honeycomb panels we produce are installed in shinkansen bullet trains in Japan. Because brazed aluminum is used on the curved surfaces of these panels—a world-first—they have a high degree of rigidity, which is the biggest challenge when using aluminum for such materials. Consequently, the panels help reduce the weight of the railcars and improve their soundproofing properties. During a meeting at a factory, I explained to everyone how the aluminum they skillfully produce each day makes bullet trains run faster while lowering environmental impact. Everyone then realized how they were contributing, which sparked a discussion about mobility.
This is just one example of how the Group's products and technologies benefit countless people throughout society in many ways. That means the work performed by our employees is very significant, regardless of whether they work in R&D, manufacturing, sales, or administration. If each employee works with an awareness of these connections, I believe they will not only feel more motivated, but also understand and respect each other more, which should result in a more comfortable and engaging workplace.
Accelerating the creation of new businesses for value-added materials to release them to the market more quickly
Based on various trends, including the growing seriousness of ocean plastic pollution, the global shift to EVs, and the economic growth of emerging countries in the Global South, we are confident that global demand for aluminum products will continue rising over the medium to long term. Anticipating this growth, UACJ has proactively invested in the Group's manufacturing facilities over the past decade since its establishment, creating a robust global supply network based in Japan, Thailand, and the United States. Therefore, we expect even more opportunities for further growth going forward.
This outlook seems justified by the Company's sales results: consolidated net sales reached a record-high in fiscal 2022, the second year of our third mid-term management plan. Income, however, decreased year on year due to steeply rising prices of energy and aluminum alloy additives. In response, we introduced a surcharge system for reflecting these higher costs in product selling prices. The fact that we initiated this system ahead of the industry demonstrated our ability to quickly respond to changes in the operating environment, which is a positive outcome of the structural reforms. We expect the impact of this system to be reflected in earnings results in fiscal 2023. We also believe that the structural reforms will lead to a steady rise in earnings capacity, and results for return on equity, return on invested capital, and other financial indicators will get on track towards our targets for 2030.
Our fourth mid-term management plan will commence from the beginning of fiscal 2024 in April next year. Under that plan, we intend to carry out ambitious new initiatives and projects that build on the outcomes of the structural reforms and bring us closer to accomplishing the goals of UACJ Vision 2030. Since the Company's establishment in 2013, we have positioned the flat rolled products business at the core of our growth strategies and focused on boosting its production capacity and earning power. Besides this business, however, we will actively work to expand and bolster the earning power of other businesses going forward. For example, we plan to strengthen our business of manufacturing and selling compressor fins and extruded parts for air conditioners in Europe. We did not consider Europe as a growth market in the past, but market demand for air conditioners has been rising there in recent years due to the effects of climate change. Similarly, we will flexibly reconsider our targeted growth markets and industries under the next mid-term management plan, and pursue business strategies designed to maximize the Group's competitive advantages by leveraging its R&D capabilities to bolster its six diverse businesses, namely flat rolled products, automotive parts, extruded products, foil, casting and forging, and precision-machined components.
For these strategies to succeed, we must broaden markets for our value-added materials. That means going beyond our current role as a supplier of materials made to meet customers' specifications, to becoming a leading solutions provider and supplier of all-new products that add more value to materials. This will be our mission over the medium and long terms for making the Group's businesses more valuable for customers.
To expand markets for such products, we have been bolstering our marketing capabilities across the entire Group, creating new services as a result. For example, instead of simply supplying customers with materials made by our casting and forging business, we deliver fully processed and finished materials that are almost ready to be integrated in end products. This has brought many benefits, such as helping customers shorten production lead times, raising our profit margins, and allowing us to use our own facilities to recycle the scrap materials remaining after the finishing process. Along with this service, we have applied the ideas of young employees to develop many value-added products and services for the Japanese market in recent years, including aluminum cans for a brand of mineral water, portable work booths made with aluminum components, pharmaceutical packaging foil fitted with IoT sensors, and entranceway flood barriers made from extruded aluminum materials.
To speed up the time needed to release such products to the market, the Company established two new organizations effective from April 1, 2023: the Marketing & Technology Division, which integrates R&D and marketing functions, and the New Business Development Department in the Corporate Strategy Division, which will oversee new business creation. Based on this structure, the Company will leverage the core technologies and expertise of each of its businesses and apply R&D results to actively offer customers new value-added products and solutions, which we expect to stimulate demand for aluminum products and provide new sources of profits going forward.
Our fourth mid-term management plan will end around halfway between now and 2030, so completing every initiative of the plan will be essential for accomplishing the goals of UACJ Vision 2030. Some of those initiatives must be completed at an early stage, while others must be clearly determined by specific points of time. Therefore, we will draw up detailed roadmaps for each initiative to closely monitor their progress. In that process, we hope to keep the Group on track toward realizing the future envisaged in UACJ Vision 2030.
Placing aluminum at the heart of the circular economy to help build a sustainable planet
In the lead-up to our 10th anniversary, we looked back on the long history of the Company's forerunners. As part of that process, I visited the former Ashio and Besshi copper mines, the birthplaces of their businesses, together with several executive officers in November 2022. While touring these old mines and examining historical records, I renewed my appreciation for the strong determination of our predecessors to help Japan modernize over every generation since the turn of the century. Driven by an enterprising spirit, they deployed the most advanced technologies of their time to mine and smelt copper, and maintained a steady supply of copper products that were essential for the country's industries and economy. These mines closed around 50 years ago, but thanks to afforestation initiatives, they are now surrounded by lush green forests. Seeing that, I realized how our predecessors fulfilled their responsibility to the local people and environment right up to the end, and their community-minded approach remains to this day.
While UACJ, itself, is a relatively new company, it has an obligation to maintain the enterprising spirit and community-mindedness it has inherited from these forerunners. I believe these principles are expressed in the Group's purpose statement—to contribute to society by using raw materials to manufacture products that enhance prosperity and sustainability—in a way that is relevant for the world today. Guided by this purpose, we are striving to solve various issues facing the planet by making the most of aluminum's properties. Among these issues, contributing to the environment is our most important responsibility. Aluminum can be recycled practically endlessly, and because it is lighter than steel and has excellent thermal conductivity, the metal helps make EVs more lightweight and air conditioners more efficient. For these reasons, aluminum has great potential for helping build a sustainable planet.
To ensure that the environmental benefits of aluminum also benefit society as a whole, UACJ has declared its commitment to playing a central role in building a circular economy for aluminum products in partnership with a wide range of its stakeholders, and is carrying out numerous initiatives to make this a reality. For example, in September 2022, the Company teamed up with Suntory Spirits Ltd. and Toyo Seikan Group Holdings, Ltd., to put beer cans made entirely of recycled aluminum on the market—a world first. We are also working with Toyo Seikan Group Holdings to jointly develop aluminum cans that are easier to recycle. Moreover, in an effort to expand closed-loop recycling of used beverage cans, UACJ has established a joint venture with Yamaichi Metal Corporation, a major aluminum can recycler in Japan, to create a system for melting and recycling these cans.
Enhancing value for customers by expanding the circular economy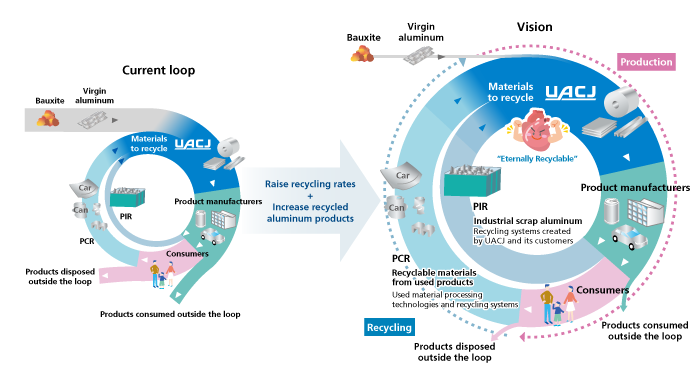 At the same time, we are stepping up our branding activities in an effort to encourage more customers to choose aluminum products that offer environmental benefits. We launched our UACJ SMART® brand of environmentally friendly products in 2021, and added UACJ SMART® Mass Balance flat-rolled aluminum to the lineup in April 2023, thereby widening alternatives for customers who place importance on environmental performance. The aluminum that goes into this new product is from recycled scrap as well as new ingots produced using electricity generated from renewable energy sources, and it comes with a third-party guarantee of the total amount of greenhouse gases emitted during its production. We are also promoting our U-Alight® brand of automotive sheets. About half of the aluminum used to make these sheets for EVs is recycled, which we were able to do by strengthening bonds with customers. We also created a closed-loop recycling system with a major automaker, by which we recycle machine press scraps left over during automobile production. In addition, we have been supplying IT device manufacturers with numerous products made entirely from recycled materials and with electricity generated from renewable energy sources.
We are working across the entire product value chain to accelerate the adoption of environmentally friendly aluminum materials, and plan to create a new brand targeting consumers and end users. Our aim is to raise public awareness of the environmental benefits offered by these materials and encourage more and more businesses to proactively choose aluminum.
The Group's progressive stance on the environment has been very well received among its many stakeholders, including investors that place importance on environmental, social, and governance (ESG) criteria. I am confident that our efforts to add value to aluminum products and help build a circular economy will ultimately increase UACJ's earning power and market value. That, in turn, should raise the Company's price-to-book ratio, which is currently below 1.0.
Drawing from the enterprising spirit and community-minded approach of our forerunners, and leveraging the global business network we established following the Company's establishment, the UACJ Group will strive to create new value through aluminum materials with a view of building a better world and a healthier environment. As president, I will do everything I can to lead the Group into a new era of growth. As we work to raise the Company's market value and meet the expectations of its stakeholders, we hope to receive even more support going forward.