We are making steady progress
with structural reforms to prepare
the Group for any difficult times ahead.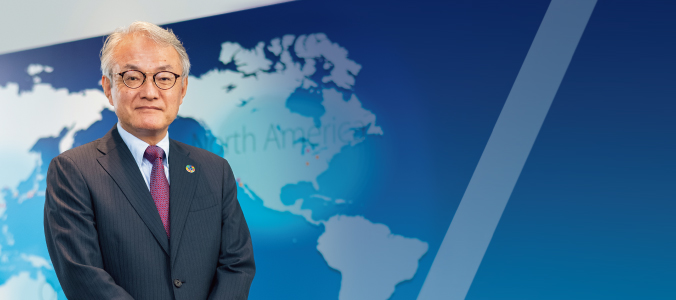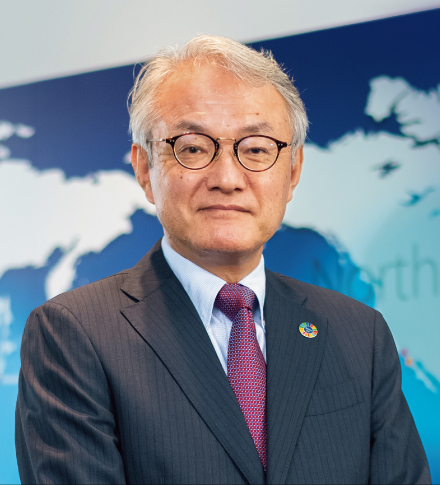 Miyuki Ishihara
Representative Director & President
Fiscal 2019 results and outlook for fiscal 2020
In fiscal 2019, ended March 31, 2020, UACJ's consolidated financial results were mixed. The Company's main subsidiaries outside Japan, UACJ (Thailand) Co., Ltd., and Tri-Arrows Aluminum Inc., both boosted sales volume of flat-rolled aluminum for can stock. The Company had made a series of substantial investments in these subsidiaries, and new manufacturing facilities are now fully operating. On the other hand, operations in Japan saw a decline in sales volume, impacted by the US-China trade war and the negative business sentiment that has resulted. Due to these factors along with declining aluminum ingot prices, net sales decreased by 7.0% year on year to ¥615.1 billion.
On the profit front, operating income fell by 31.9% to ¥10.1 billion and ordinary income decreased by 38.9% to ¥3.8 billion, mainly due to worsening inventory valuation. Nevertheless, net income attributable to owners of the parent jumped 82.6% to ¥2.0 billion, largely as a result of recording deferred tax assets.
Management gave full consideration to these results when deciding on the annual dividend. Accordingly, although our basic policy is to consistently pay stable dividends, we reduced the annual dividend to ¥20 per share.
The global outbreak of COVID-19 had no serious impact on the Group's operations and practically no effect on financial results in fiscal 2019. In fiscal 2020, however, due to the worldwide spread of the pandemic, the outlook for future markets and industrial trends is highly uncertain. Therefore, management has decided to postpone its earnings forecast and dividend plan as the current level of uncertainty makes it difficult to perform well-grounded calculations.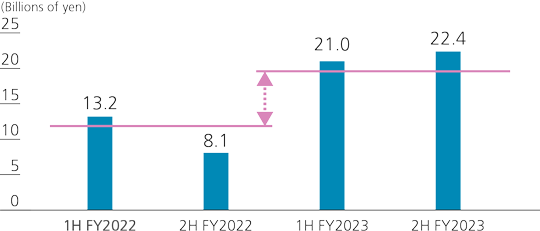 *1 Constellium-UACJ ABS LLC
*2 Tri-Arrows Aluminum Inc.
*3 UACJ (Thailand) Co., Ltd.
*4 Difference between ingot prices at time of purchase and product sale
Pushing ahead with structural reforms
Since the time of formulating our mid-term management plan, the Group's profitability decreased and its financial condition worsened due to sudden changes in its operating environment. Addressing these results head on, we quickly initiated a set of structural reforms, through which we are focusing on three main objectives: increasing earnings capacity, reforming the financial structure, and increasing the speed and efficiency of management decision-making.

Increasing earnings capacity
In Japan, demand for aluminum products is projected to decline. Therefore, we plan to reduce the break-even point of the Group's domestic operations by revamping the revenue structure, which will include cutting fixed costs at production facilities. We are also taking steps to centralize production, which will result in the closure of Nikko Works, and withdraw from unprofitable businesses. By improving the revenue structure in these ways, we intend to make our domestic businesses more resilient and capable of minimizing the negative impact of declining sales volume on profits.
In contrast to Japan, demand is projected to rise in other parts of the world where the Group operates, and we have prepared by expanding the production facilities of UACJ (Thailand) and Tri-Arrows Aluminum. These facilities have begun fully operating, and, as a result, the Group's sales volume outside Japan exceeded domestic sales volume for the first time in fiscal 2019. These subsidiaries are now working to improve earnings while boosting output and sales volume.
Reforming the financial structure
While continuing to make large-scale capital investments, the Company realized positive free cash flow in fiscal 2019. This was the result of selling off the Wrought Copper Products business, which UACJ inherited from one of its founding companies, along with serious efforts by all employees to cut costs according to management directives.
The Company has mostly completed its strategic large-scale investments, but given the worrisome impact of COVID-19, we will be highly selective when targeting future investments, and keep the amount of capital investment within the limit set in our structural reform plan. Furthermore, we intend to use free cash flow to pay down interest-bearing debt in order to realize a sounder financial structure as soon as possible.
Increasing the speed and efficiency of management decision-making
UACJ has reduced the number of its executive officers and internal directors in order to increase the speed of management decision-making. Furthermore, aiming to accelerate the pace of restructuring, we had over 400 members of the UACJ Group—ranging from young employees through to senior managers—join us in creating a new corporate philosophy. We will use it as a basis for sharing a united vision among all members of the Group worldwide as we work together to raise corporate value going forward.
We have made steady progress in implementing all of these structural reforms. On that momentum, we will continue pushing ahead with them to quickly build a financial structure that can stand firm against an increasingly challenging business environment.