Expansion of global demand coupled with the impact of rising primary ingot price propelled sales and profits year-on-year.
Representative Director & President
Mitsuru Okada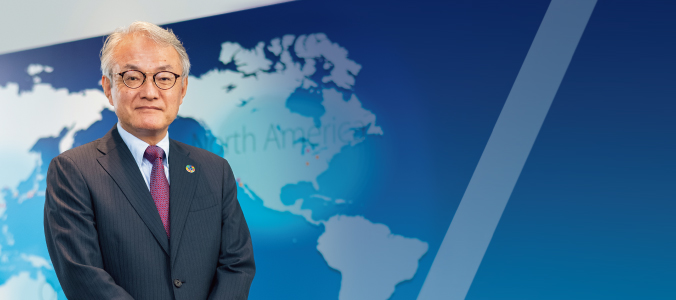 Representative Director & President
Mitsuru Okada
Review of the First Half of Fiscal 2017
Fiscal 2017 is the final year of UACJ's three-year mid-term management plan, "Global Step I," which started in fiscal 2015. This initiative is a measure for strengthening our foundation and enabling us to achieve our vision of the future. In the first half of fiscal 2017, UACJ continued to bolster its global supply network for the final step of this three-year plan.
Amidst the moderate economic recovery continuing across the world during the first half of fiscal 2017, the demand for rolled aluminum products in Japan increased compared to the same time last year. However, the sales volume of rolled aluminum products in the UACJ Group as a whole remained at the same level as the previous year. In the beverage can segment, while the sales volume at the Rayong Works of UACJ (Thailand) Co., Ltd. (UATH) increased, sales in Japan were sluggish due to a slump in beer sales caused by bad weather. In the automotive segment, there was a solid increase in both sheet materials and extrusion products thanks to a rise in demand for aluminum materials that contribute to reducing weight. There was also substantial growth in the area of thick plates for liquid-crystal and semiconductor manufacturing equipment.
In terms of income from sales, flat-rolled aluminum products posted an increase despite the flat year-on-year sales volume thanks to the rising primary aluminum ingot price. For wrought copper products, in addition to growing demand for this segment's flagship product, air-conditioner copper tubing, a higher primary copper ingot price also led to an increase in income from sales. Sales in the Precision-machined Components and Related Businesses segment also rose, partly due to the effect of acquiring UACJ Automotive Whitehall Industries, Inc. (UWH) in April 2016. As a result of these events, overall sales amounted to 301.9 billion yen, up 8.2% from the same period last year.
On the profit front, despite various expenses including start-up costs involved in strategic investments in North America, operating income surged to 15.8 billion yen (up 52.0%) and ordinary income soared to 12.8 billion yen (up 73.2%) compared to the same period last year. These increases are attributed to improved inventory valuations as a result of higher primary ingot price, strong sales of highly profitable products, better performance at UATH, and successful cost reductions obtained through structural reform. The quarterly net income attributable to owners of the parent company came to 6.9 billion yen, recording a considerable increase of 216.7%.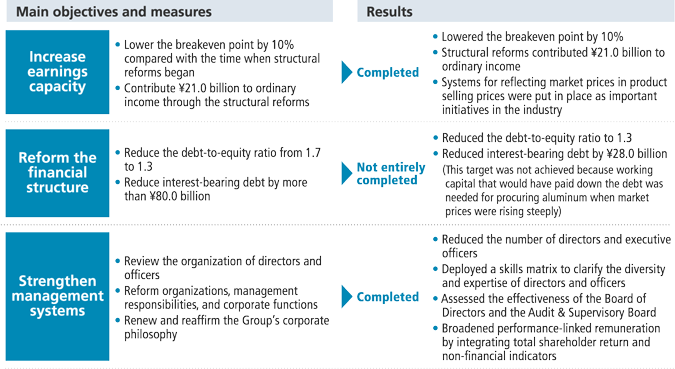 Further Strengthening the Global Supply Network
The UACJ Group has been bolstering its three-pronged global supply network, with hubs in Japan, Thailand and North America, aiming to become an aluminum industry leader in a competitive global market. To this end, we are pleased to confirm that we have made further progress in the first half of fiscal 2017.
Thailand (UATH)
With full-fledged integrated manufacturing now underway at the Rayong Works of UATH, monthly production has hit the 10,000 ton mark. In the first half of fiscal 2017, the monthly sales volume was 8,000 - 9,000 tons, with sales expectations of just over 10,000 tons per month for the second half of the year. Additionally, a third phase of capital investment was announced in November 2016. Work continues at a good pace and is on course to achieve Asia's highest production capacity of 320,000 tons per year.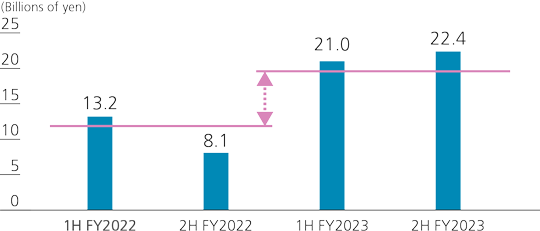 North America (TAA, CUA, UWH)
In North America, in an effort to meet the growing demand for automotive aluminum materials amidst the trend towards lighter vehicles, the three UACJ Group companies, namely, Tri-Arrows Aluminum Inc. (TAA), Constellium-UACJ ABS LLC (CUA) and UWH, have been bolstering operations that take advantage of their individual strengths.
TAA increased the production volume of base materials for automobiles while maintaining the production scale of its mainstay product, beverage cans. At CUA, a mass production system for automotive body sheets has been reinforced through technical support provided by a task team consisting of UACJ and Constellium staff. UWH promoted the introduction of state-of-the-art extruders to handle the rising demand for structural materials.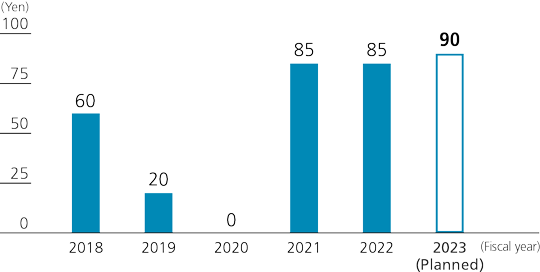 Japan
Anticipating the demand for automotive body sheet to grow steadily in Japan, in October 2017, UACJ decided to install new heat-treatment and treatment equipment to increase production capacity at its Fukui Works.
The new facilities are scheduled to become operational in January 2020. This will boost the capacity to produce automotive body sheets by approximately 100,000 tons per year.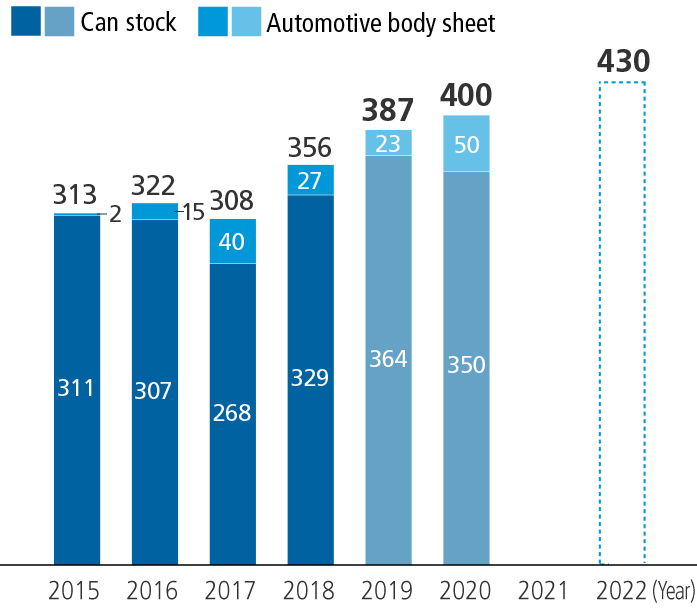 Forecast, Approach and Returning Profits to Shareholders
As mentioned previously, fiscal 2017 is the final year of the Global Step I Mid-term Management Plan. On the basis of this plan, we will continue to make efforts to consolidate our foundation in the second half of fiscal 2017 in order to achieve our vision of the future.
As for forecasting full-term results, thick plates for liquid-crystal and semiconductor manufacturing equipment and automotive sheet materials/extrusions have been buoyant. However, external and internal environments have changed since the company published the initial forecast. As a result, there has been no change in the previous projection. We still anticipate increases in both sales and profits as stated at the beginning of the term. The forecast is for net sales of 630 billion yen, operating income of 36 billion yen, ordinary income of 30 billion yen, and net income attributable to owners of the parent company of 17 billion yen.
UACJ plans to pay an interim dividend of three yen per share (equivalent of 30 yen after taking into consideration the impact of reserve stock split) and a year-end dividend of 30 yen per share.
Beginning next fiscal year, we will implement the second phase of the initiative to realize our future vision, the new mid-term management plan, "Global Step II" (fiscal years 2018-2020), which is a program for accelerating growth. In order to achieve growth as a global company, we must not only expand sales, but also work to raise our quality as a corporation.
As part of these efforts, we announced establishment of the Nomination and Remuneration Advisory Committee in October 2017 in order to push forward with our initiative to further strengthen corporate governance. This committee is an advisory organization designed to improve the objectivity and transparency of the process of deciding how to nominate directors and executive officers and the amount they are remunerated. The constituent members of the committee are listed in the table on this page. A majority of them are independent outside directors or auditors, which will ensure a fair and transparent decision-making process.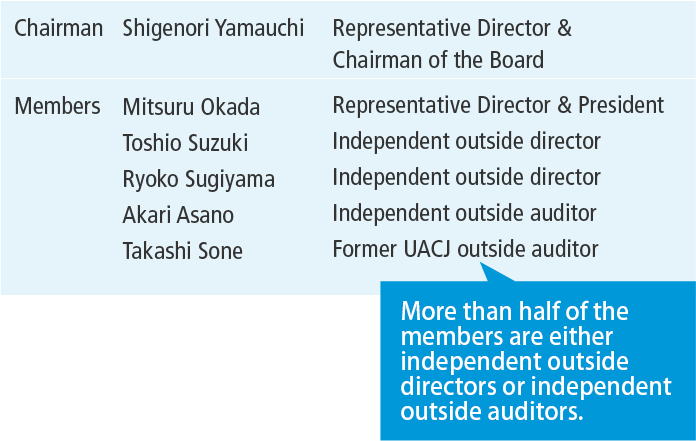 During the course of the next mid-term management plan, we will continue striving to strengthen corporate governance with the objective of steadily winning over the trust of stakeholders, including customers and shareholders, as well as global communities.
We hope that all shareholders will look forward to the future growth of the UACJ Group, and thank you for your continuous guidance and support.