The UACJ Group is meeting brisk
demand in the market while aspiring
to help build a better world and
healthier environment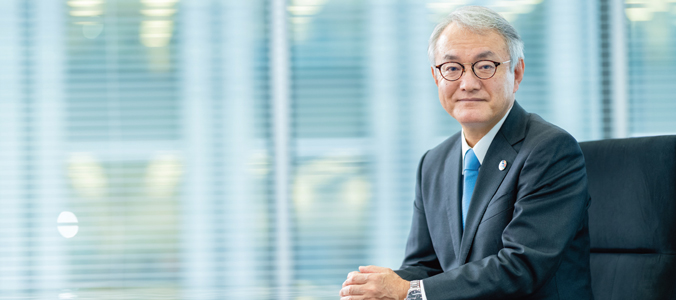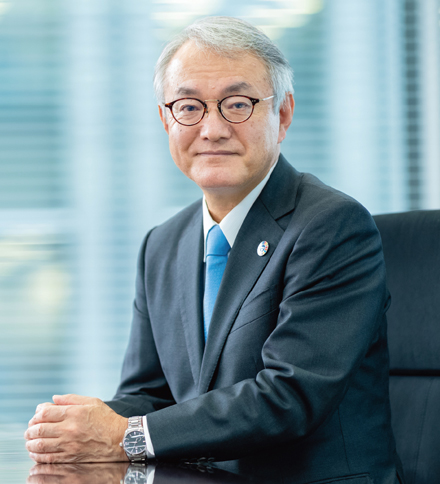 Miyuki Ishihara
Representative Director & President
Review of the first half of fiscal 2021
During the first six months of the current fiscal year, from April 1 to September 30, 2021, the global economy gradually recovered as the worldwide spread of COVID-19 slowed on the whole. In the United States, however, improving employment conditions were stalled by another wave of infections, impacting economic activities. In China, economic activities slowed down as the government stepped up restrictions to contain the spread of COVID-19 and implemented measures to curb overinvestment. In Japan, consumer spending was sluggish as the government repeatedly implemented emergency measures in response to an increase in infections.
Looking ahead, the global economy is expected to recover as pandemic-related restrictions on people's activities are lifted in many countries, including Japan. The overall outlook remains unclear, however, amid concerns of a delayed recovery caused by the impact of supply bottlenecks of semiconductors and other products on manufacturing, especially in the automotive and electrical machinery industries.
Against this backdrop, the flat-rolled aluminum industry continued to supply products that are essential for people's livelihoods. In Japan, demand for flat-rolled aluminum for can stock increased slightly, while demand from automotive-related markets rose substantially year on year following a significant decline due to the impact of the pandemic. Overall, demand for a wide range of aluminum sheet products, including construction materials, foil stock, and thick plates increased during the first half of the fiscal year compared with the same period of the previous fiscal year. Likewise, demand for all kinds of aluminum extruded products, including automobile parts, automotive heat exchangers, and motorcycle parts increased compared with the first of half of the previous fiscal year.
The UACJ Group's flat rolled products business was able to provide a steady supply of products to these markets, which was made possible by our proactive efforts in past years to establish an international manufacturing network based in Japan, the United States, and Thailand. Consequently, total sales volume increased compared with the first half of the previous fiscal year. In Japan, sales volume of aluminum sheet was up, particularly sheet for automotive parts. Sales volume of aluminum construction materials, thick plates for semiconductor manufacturing equipment, and extruded products also increased year on year. Outside Japan, sales volume rose year on year on the back of solid sales of flat-rolled aluminum for can stock posted by Tri-Arrows Aluminum Inc. and UACJ (Thailand) Co., Ltd.
Backed by these results, the Company's consolidated sales and income increased across the board in the first half of the current fiscal year. Compared with the same period of the previous fiscal year, net sales grew by 38.0% to ¥365.0 billion. Operating income came to ¥29.9 billion, compared with an operating loss of ¥1.1 billion, and ordinary income totaled ¥25.8 billion, compared with an ordinary loss of ¥2.6 billion. Net income attributable to owners of the parent amounted to ¥17.3 billion, up from a net loss of ¥5.1 billion in the first half of the previous fiscal year.
Sales volume*1 of flat-rolled aluminum by product usage and geographical region (thousands of tons)
Product usage
First half of FY2020
First half of FY2021
Difference
Can stock
359
409
50
Foil stock
26
29
3
Castings and substrates*2
13
7
(5)
Automotive parts
50
73
23
Thick plate
19
25
6
General-purpose materials
71
107
36
Total
537
650
113
Sold to the Japanese market 215
Sold to the Japanese market 245
30
Sold to markets outside Japan 322
Sold to markets outside Japan 405
83
*1 Figures exclude intercompany eliminations
*2 PC and smart device casings; electronic equipment substrates
Looking at each reportable segment, net sales in the Rolled Aluminum Products Business segment rose 46.8% year on year to ¥326.9 billion, which mainly reflected the growth in sales volume. Operating income came to ¥32.6 billion, up from ¥2.0 billion in the first half of the previous fiscal year, largely due to a favorable metal price lag (the difference between the time when aluminum prices included in sales are recognized and when aluminum purchase prices included in cost of sales are realized).
The Precision-Machined Components and Related Businesses segment benefited from a recovery in demand for aluminum auto parts and air-conditioning components. Net sales, however, decreased by 1.8% year on year to ¥76.5 billion, due to the Company's application of a revised accounting standard for revenue recognition effective from April 1, 2021. Operating income amounted to ¥0.2 billion, compared with a loss of ¥1.0 billion in the first half of the previous fiscal year.
I understand that the Company's financial position has been a matter of concern for shareholders and investors. During the period under review, we temporarily increased interest-bearing debt to provide additional working capital, which was needed to handle the rebound in sales and a jump in the aluminum ingot price. In the end, however, we reduced interest-bearing debt by ¥8.8 billion. Furthermore, due to profit growth and our efforts to limit investment and cut costs, we kept cash and deposits at about the same level as the previous fiscal year-end, and maintained positive free cash flow.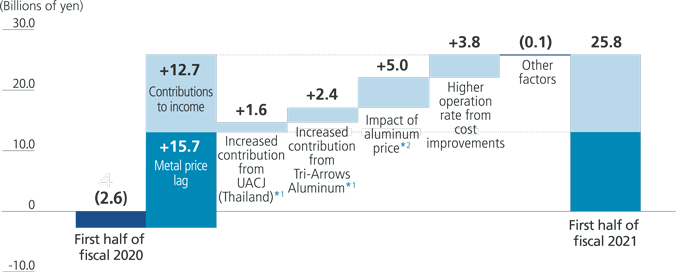 *1 Excluding impact of inventory valuation
*2 Difference between ingot prices at time of purchase and product sale combined with higher sales volume in Japan
Future outlook
Aiming to realize UACJ Vision 2030, our long-term roadmap, we launched a new mid-term management plan at the beginning of this fiscal year in April 2021. Under this plan, we will work to better position the Group for future growth and the success of this vision by completing the structural reforms initiated during the period of the previous plan. By steadfastly executing the new plan, we intend to lay the foundations for sustainable growth going forward.
The positive effects of our structural reforms on earnings in Japan were delayed due to the impact of the COVID-19 pandemic, but we intend to flexibly execute additional measures, including measures to reduce manufacturing costs and revise aluminum processing fees. Therefore, we expect to achieve the initial targets of the plan in fiscal 2022.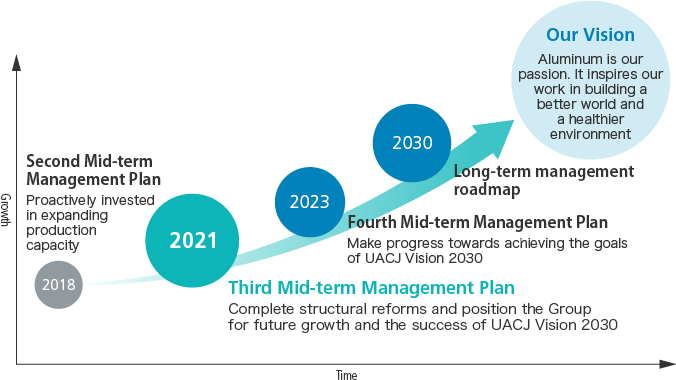 In August of this year, we upwardly revised our forecast of consolidated financial results for fiscal 2021, ending March 31, 2022, after taking into account the positive impact of higher aluminum market prices on the metal price lag, growing sales volume, particularly in North America, and the outlook for further containing the COVID-19 pandemic. The forecast includes ¥750 billion in net sales, ¥50 billion in operating income, ¥40 billion in ordinary income, and ¥20 billion in net income attributable to owners of the parent. Based on this forecast, the Company will resume paying dividends for the current fiscal year after failing to do so in fiscal 2020, with a fiscal year-end dividend set at ¥85 per share.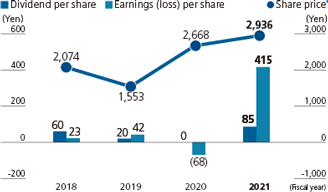 * Closing price on September 30, 2021, and March 31 for other fiscal years
After we reach the final year of our UACJ Vision 2030, I believe that aluminum products will be used across a much broader range of applications. For instance, the shift to electric vehicles will accelerate the adoption of aluminum parts designed to reduce vehicle weight and facilitate thermal management. This is just one example of why demand for aluminum products is expected to grow. Moreover, the global movement to recycle resources will speed up the development and expansion of businesses that use recycled aluminum.
The UACJ Group will work to meet this emerging market demand by creating products with added value to establish aluminum as the material of choice among manufacturers and consumers. Furthermore, the Group aims to play a central role in promoting aluminum's contribution to a circular economy. We are committed to building a better world and healthier environment while ensuring the sustainable growth of the UACJ Group. We ask all of the Group's stakeholders to continue offering their support for these endeavors.
Targets of the new mid-term management plan from FY2021 to FY2023
Financial targets
| Financial indicators | Targets |
| --- | --- |
| Net sales | ¥700 billion |
| Operating income | ¥30 billion |
| Operating income margin | 4.2% |
| Ordinary income | ¥25 billion |
| Debt-to-equity ratio*1 | Under 1.2 times |
| ROE | 7.5% |
| ROIC*2 | 6.0% |
*1 Subordinated loans are factored into calculations
*2 Calculated based on operating income before taxes
Goals related to materiality issues
Six materiality issues
Performance indicators
Goals
Response to climate change
Reduction of CO2 emissions across the Group's supply chain compared with FY2019 under a BAU scenario*1
22% reduction by FY2030
Product quality assurance
Number of serious quality defects
No more than one
Number of customer complaints related to quality
10% reduction compared with previous year
Occupational health and safety
Number of serious workplace accidents
Zero
Frequency of workplace accidents resulting in injury or death per million work hours2
4.00
Respect for human rights
Goals to be set based on results of due diligence*3, and an action plan to be carried out
Execution of due diligence at four manufacturing plants
Percentage of employees and officers that participate in 1) a training program covering codes of conduct and human rights, and 2) a training program on harassment
1) 96% 2) 100%
Diversity and equal opportunity
Percentage of women in management positions (including directors and officers) in Japan
4%
Human resources development
Percent of successor candidates appointed to management positions
Extend targets to group companies in Japan
Number of people who participate in educational events held by UACJ
300 per year
*1 A business-as-usual (BAU) scenario assumes the continuation of the current state of affairs without relevant countermeasures. For this target, it also assumes no changes in production output and the product mix starting from FY2019.
*2 The frequency of workplace accidents is calculated by multiplying the combined number of serious workplace injuries and deaths (including those that did not result in a suspension of operations) by one million and dividing the resultant amount by the total hours worked in the fiscal year.
*3 The due diligence involves regular measures to prevent or mitigate human rights violations in the workplace