We have positioned the UACJ Group
for future growth under
a new roadmap leading to 2030.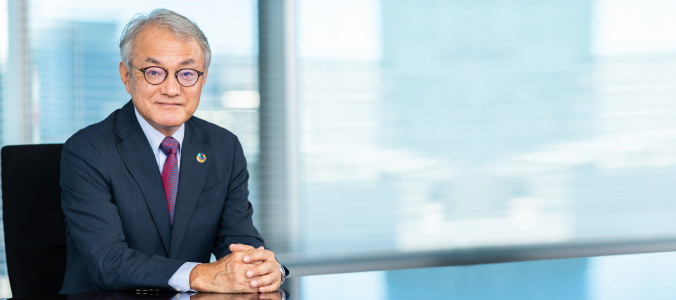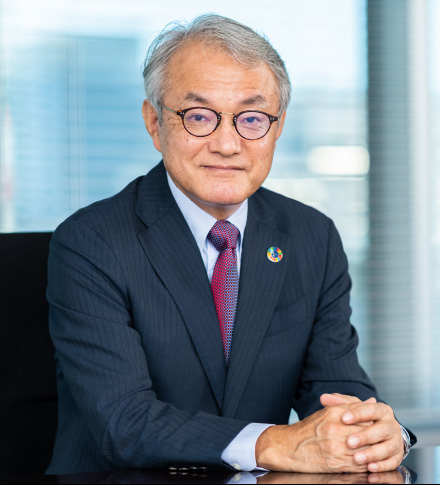 Miyuki Ishihara
Representative Director & President
Overview of fiscal 2020 and our second mid-term management plan
In September 2019, we announced a set of structural reforms with three main objectives: increasing the UACJ Group's earnings capacity, reforming its financial structure, and increasing the speed and efficiency of management decision-making. Since that time, we have made steady progress towards accomplishing these goals thanks to the all-out efforts of the Group's members.
In fiscal 2020, ended March 31, 2021, the Group's business performance was impacted by the COVID-19 pandemic and market instability. In the second half, however, demand for aluminum can stock rebounded in North America, prompting US-based Tri-Arrows Aluminum Inc. to step up production and UACJ (Thailand) Co., Ltd., to boost shipments to the continent. Consequently, sales volume grew substantially at both subsidiaries, markedly increasing the returns on large investments made by UACJ in the past to expand their production capacity.
In Japan, however, sales volume declined, mainly due to a sharp drop in demand for aluminum automotive parts in the first half of fiscal 2020. Although demand for these mainstay products picked up in the second half, and aluminum materials for IT-related devices and equipment sold well amid a shift to telecommuting during the pandemic, these factors did not offset the poor results posted in the first half of the fiscal year.
Reflecting the factors, above, consolidated financial results in fiscal 2020 were mixed. Net sales decreased by 7.4% year on year to ¥569.8 billion. Nevertheless, the solid results posted by UACJ (Thailand) and Tri-Arrows Aluminum combined with the positive effect of higher aluminum prices on inventory valuation resulted in income growth, with operating income rising 10.1% to ¥11.1 billion and ordinary income jumping 57.3% to ¥6.0 billion. The bottom line, however, was negatively impacted by tax expenses and losses associated with structural reforms. As a result, the Company posted a net loss attributable to owners of the parent of ¥3.3 billion, compared with net income of ¥2.0 billion in the previous fiscal year.
Our second mid-term management plan also came to a close in fiscal 2020, and I regret to say that the financial targets of the plan were unachieved. While this was largely due to disruptions in the market, including the pandemic and the trade war between the US and China, I must admit that management responded too slowly to those external factors. Internally, however, we worked hard to reform management as part of our structural reforms, and to improve the Company's earnings structure. Consequently, financial results came close to reaching the targets of the plan, and we accomplished a number of important goals. Among them, we were able to generate returns on large investments by tapping brisk demand for aluminum can stock in North America, as I mentioned above. The Company also succeeded in posting positive free cash flow for two consecutive years during the pandemic, and reduced its interest-bearing debt to below ¥40 billion over the three years of the mid-term management plan.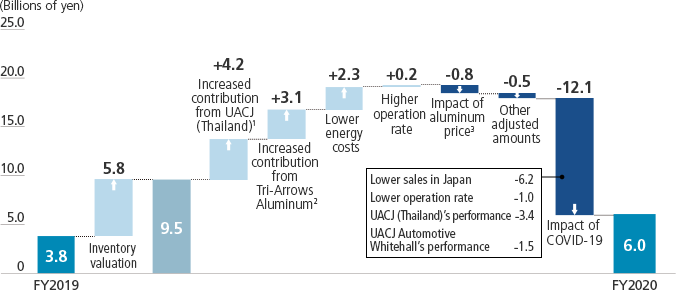 Notes:
1. Excluding impact of inventory valuation and COVID-19
2. Excluding impact of inventory valuation
3. Difference between ingot prices at time of purchase and product sale
Our new long-term vision and third mid-term management plan
In 2021, we created UACJ Vision 2030 as a new long-term roadmap to guide the Group's management up to 2030, so that it can take advantage of new opportunities while managing risks that arise in today's changing world. The year 2030 is also the final year for achieving the 17 goals and 169 targets of the United Nations Sustainable Develop Goals. Accordingly, we wanted to express the UACJ Group's commitment to building a more sustainable world and meeting the pressing need for technological innovation by working to maximize the potential of aluminum products. From that standpoint, we will pursue four broad objectives of the new vision: provide products that contribute to societal development, enhance aluminum materials for the benefit of people, offer solutions with all-new products and business models, and reduce the Group's CO2 emissions.
Alongside these objectives, we have set various goals for the Group to achieve by 2030, including non-financial goals related to six materiality issues we designated this year. The Group will work to accomplish all of these goals by implementing plan-do-check-act (PDCA) cycles and action plans going forward.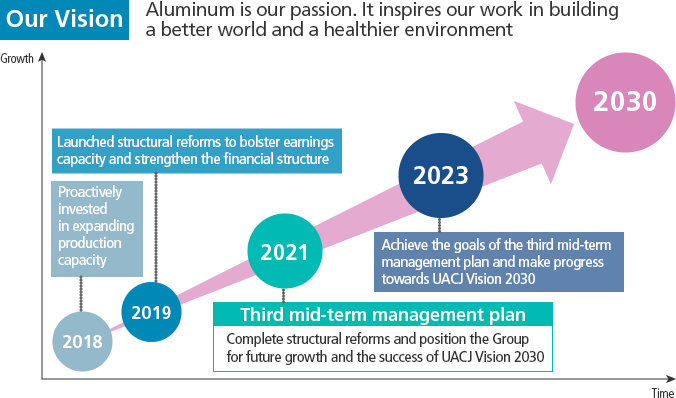 UACJ Vision 2030
In the years up to 2030, the UACJ Group shall strive to accomplish the following objectives:
Provide products that contribute to societal development by capturing demand in growing industries and markets
Enhance aluminum materials in the supply and value chains to bring economic benefits to communities worldwide
Develop all-new products and business models that offer solutions for challenges facing society
Lower environmental impact by reducing CO2 emissions across product lifecycles
Aiming to realize the UACJ Vision 2030, we began the current fiscal year with the launch of our third mid-term management plan in April 2021. Over the three years of this plan, we will work to better position the Group for future growth by completing the structural reforms initiated under the previous plan, creating new businesses and products with added-value, and providing solutions for combatting climate change. Furthermore, we have set ambitious financial targets to achieve by fiscal 2023, the final year of the plan, including ¥700 billion in net sales, ¥30 billion in operating income, and ¥25 billion in ordinary income. We are also aiming for return on equity (ROE) of 7.5% and return on invested capital (ROIC) of 6.0%.
Fortunately, we have hit the ground running in the plan's first year. The Group's production plants are running at almost full capacity to meet solid demand for aluminum can stock in North America. Demand for aluminum automotive parts has also bounced back after slowing down during the pandemic. Leveraging our production network in Japan, Thailand, and the United States, we will make sure to capitalize on these opportunities to boost revenues and profits. We also intend to use the returns on the Company's major investments to improve its financial structure while examining which areas to target for new investment going forward.
In consideration of these factors, our forecast of fiscal 2021 consolidated results includes ¥660 billion in net sales, ¥22 billion in operating income, ¥16 billion in ordinary income, and ¥8 billion in net income attributable to owners of the parent. Furthermore, UACJ will resume paying dividends this fiscal year. We have set the annual dividend at ¥40 per share based on our plan to use the higher earnings for improving the financial structure.
While we can expect major changes in today's world, the UACJ Group will work tirelessly to increase shareholder value and achieve the goals of the new mid-term management plan and long-term vision. We hope all stakeholders will continue offering their support as we pursue these endeavors.
Financial targets
FY2020 results
Net sales

¥569.8 billion

Operating income

¥11.1 billion

Ordinary income

¥6.0 billion

Net income attributable
to owners of the parent

¥-3.3 billion
Forecast of FY2021 financial results
Net sales

¥660 billion

Operating income

¥22 billion

Ordinary income

¥16 billion

Net income attributable
to owners of the parent

¥8 billion
FY2023 goals
Net sales

¥700 billion

Operating income

¥30 billion

Operating income margin

4.2%

Ordinary income

¥25 billion

Debt-to-equity ratio1

Under 1.2 times

ROE

7.5%

ROIC2

6.0%
FY2030 goals
Net sales

¥800 billion

Operating income margin

6%

ROE

10%

ROIC2

10%
Notes:
1. Subordinated loans are factored into calculations
2. Calculated based on operating income before taxes
Goals related to materiality issues
Six materiality issues
Performance indicators
FY2023 goals
FY2030 goals
Response to climate change
Reduction of CO2 emissions across the Group's supply chain compared with FY2019 under a BAU scenario1
-
22% reduction
Product quality assurance
Number of serious quality defects
No more than one
Zero
Number of customer complaints related to quality
10% reduction compared with previous year
Half the number in FY2020
Occupational health and safety
Number of serious workplace accidents
Zero
Zero annually
Frequency of workplace accidents resulting in injury or death per million work hours2
4.40
2.45
Respect for human rights
Goals to be set based on results of due diligence, and an action plan to be carried out
Execution of due diligence at four manufacturing plants
Execution of due diligence at the Group's main workplaces in and outside Japan
Percentage of employees and officers that participate in 1) a training program covering codes of conduct and human rights and 2) a training program on harassment
1) 90%
2) 100%
100%
Diversity and equal opportunity
Percentage of women in management positions (including directors and officers) in Japan
4%
15%
Human resources development
Percent of successor candidates appointed to management positions
Extend targets to group companies in Japan
100%
Number of people who participate in educational events held by UACJ
300 per year
500 per year
Notes:
1. A business-as-usual (BAU) scenario assumes the continuation of the current state of affairs without relevant countermeasures. For this target, it also assumes no changes in production output and the product mix starting from FY2019.
2. The frequency of workplace accidents is calculated by multiplying the combined number of serious workplace injuries and deaths (including those that did not result in a suspension of operations) by one million and dividing the resultant amount by the total hours worked in the fiscal year.