UACJ is steadily strengthening its foundation for growth with the aim of becoming an aluminum industry leader in a competitive global market.
Mitsuru Okada
Representative Director & President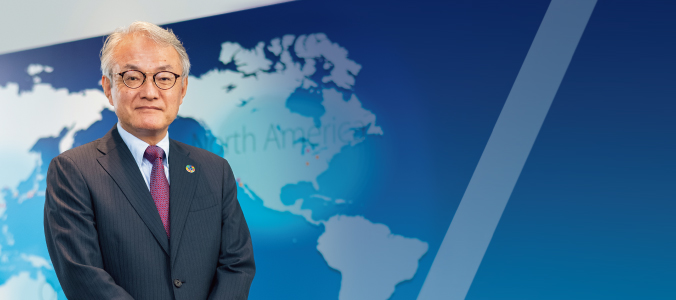 Mitsuru Okada
Representative Director & President
Review of Fiscal 2016
In fiscal 2016, the demand continued to grow for flat-rolled aluminum products in the aluminum market, both in Japan and overseas. While the year-on-year domestic and overseas market demand remained unchanged for can stock, UACJ's flagship product, conditions in other business sectors were positive. The sales of automotive materials—a growth field—continued to rise, and domestic demand for the thick plate used in LCD and semiconductor production equipment continued to expand.
Amidst this market environment, in line with the Global Step I Mid-term Management Plan (FY2015-FY2017), the Group is aggressively investing in growth markets, with a keen focus on growth fields such as automotive materials and Southeast Asia. The results are steadily manifesting, with the sales volume of our mainstay can stock increasing year-on-year thanks to the integrated manufacturing lines of UACJ (Thailand) Co., Ltd. (UATH) going into full swing. The sales volume of automotive body sheets also increased after the Logan Mill in North America began supplying base materials to the automotive body sheet manufacturing and sales company Constellium-UACJ ABS LLC (CUA). As a result, the Group-wide sales volume rose to 1.02 million tons in FY2016, the first time one million tons has been surpassed since integrating the former companies.
Despite the increase in sales volume, net sales was 563.8 billion yen, dropping 1.3% year-on-year due to the falling ingot price and the effects of foreign currency exchange. However, the effects of cost reductions owing to the lower per unit cost of energy, completing the optimization of the production network in Japan, and improving the profitability of UATH contributed to a 70.1% jump in operating income to 25.9 billion yen, a 65% increase in ordinary income to 19.8 billion yen, and a 70.7% surge in net income attributable to owners of the parent company to 8.7 billion yen, thereby resulting in a significant increase in profit.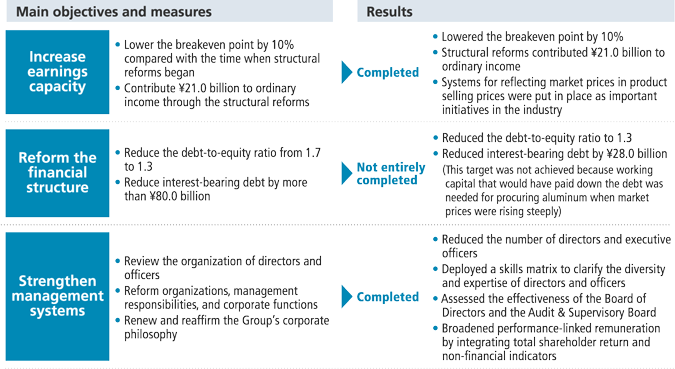 Strengthening Business in Growth Fields and Growth Markets
The Global Step I Mid-term Management Plan is viewed as a period of "reinforcing our foundation," with the aim of becoming an aluminum industry leader in a competitive global market. Fiscal 2016, the second year of the plan, was the year for creating a solid foundation by deciding the next investments to fuel further growth.
The investment targets for reinforcing our foundation included growth fields such as automotive materials and growth markets, especially Southeast Asia. First, for the automotive business, a growth field, in October 2016, we established the Automotive Business Development Division. This division drafts Group-wide strategies and is focused on developing our supply system in the United States, where market growth is anticipated. In growth markets, we have taken a major step forward toward building an optimal global production network, including raising skill levels in preparation for expanding production at UATH in Thailand, our main base in Southeast Asia.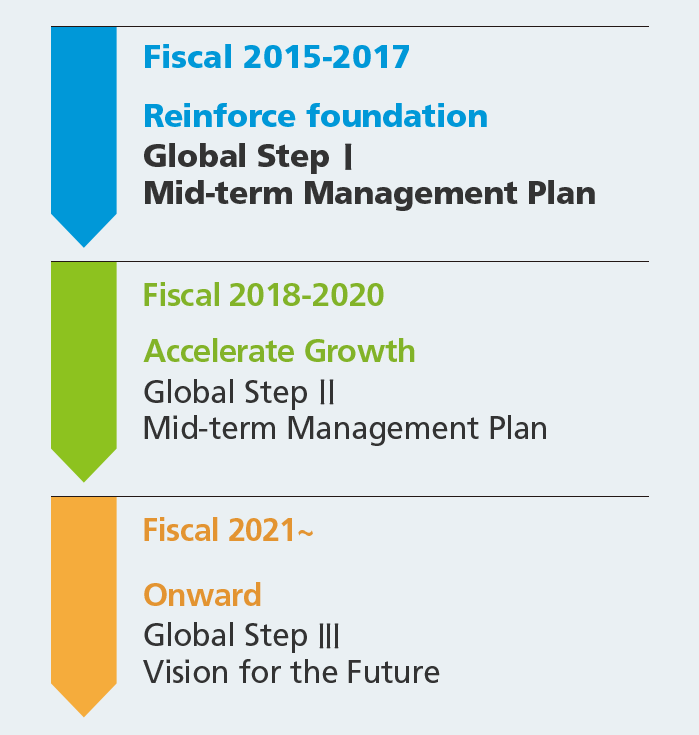 Thailand: Expanding production capacity of UATH Rayong Works
One year has passed since brining the integrated production system online at the Rayong Works of UATH. Rayong Works can produce 180,000 tons per year thanks to two investments earmarked for the plant last year. It production scale is now top class in the Asian region. In addition to supplying aluminum materials to Thailand and Southeast Asia, our supply area extends from the Middle East to Australia. With this, our recognition as a "global supplier" providing can stock, automotive heat exchangers, and general-purpose materials to more than 50 client companies continues to grow.
With the increasing economic and population growth, the demand for can stock in areas UATH supplies has expanded and is expected to reach 1.25 million tons in 2020. To meet this robust demand, the UACJ Group decided to implement a third phase of capital investment totaling 39 billion yen in November 2016. This is being utilized to increase casting, cold rolling, surface finishing and coating line capabilities, and boost production capacity to 320,000 tons per year.
Meanwhile, the skill levels of our employees at production sites have steadily improved, and sales volume in fiscal 2016 rose approximately 30,000 tons year-on-year to 65,000 tons. Currently, the sales volume at Rayong Works is steady, supported by a monthly production of 8,000 - 9,000 tons. During the term ending March 31, 2018, monthly production will be expanded to 13,000 tons. We will continue preparing this high-quality, cost-competitive base plant in Southeast Asia for global supply with the aim of restoring profitability in fiscal 2018.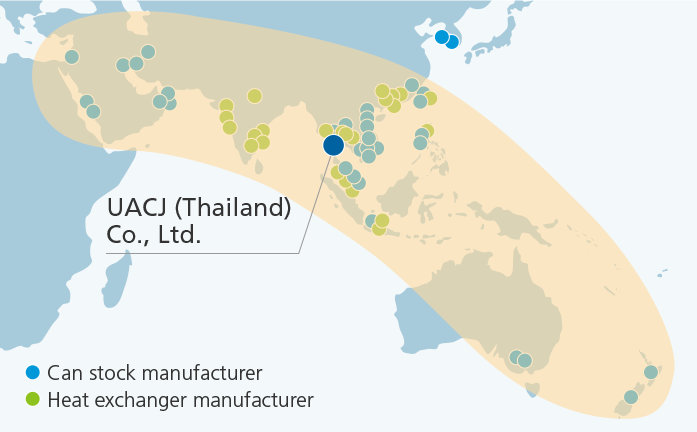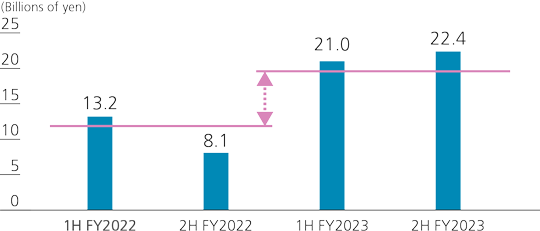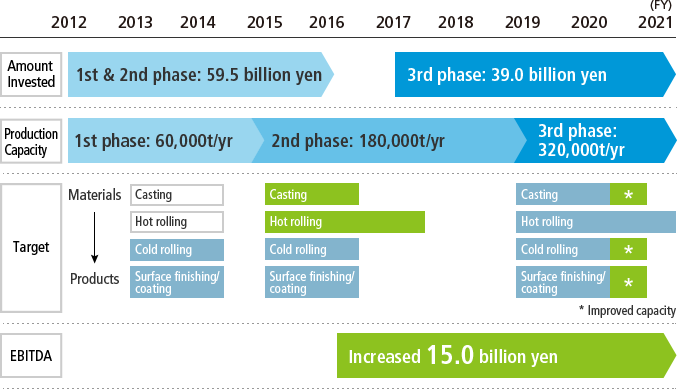 North and Central America: Strengthening the Supply System in Growth Fields
In the North and Central America markets, the advancement of the use of aluminum as a material for automotive components in response to more stringent fuel consumption regulations is growing. Global suppliers of can stock are also shifting production to automotive body sheets; the demand for which is expected to surpass one million tons in 2020. Meanwhile, the can stock markets of North and Central Americas, which boast the world's largest demand, are concerned about insufficient materials supply.
Given this market environment, in November 2016, the Group decided to make a capital investment of 19.6 million yen in the Logan Mill of Tri-Arrows Aluminum Inc. (TAA), which staggering can stock production efficiency. We will simultaneously increase production capacity and improve profitability, and proactively take on the anticipated demand for can stock materials as an issue of concern. We will also prepare to increase the supply of base materials in the growth field of automotive body sheets.
In addition, CUA, our joint-venture automotive body sheet manufacturing and sales company that began sample shipments in June 2016, is running smoothly with the support of base materials being supplied from the Logan Mill and other sources. In February 2017, the decision was made to install state-of-the-art equipment at UACJ Automotive Whitehall Industries, Inc. (UWH) in anticipation of increasing demand for automotive structural materials.
By establishing a powerful supply network comprised of TAA, CUA and UWH, and having North and Central America companies in the Group working together as one, we will further strengthen the system. This will enable us to actively seek out and capture expanding business opportunities while keeping a close eye on growing demand for automotive body sheets and structural materials, and respond to concerns about can stock supply.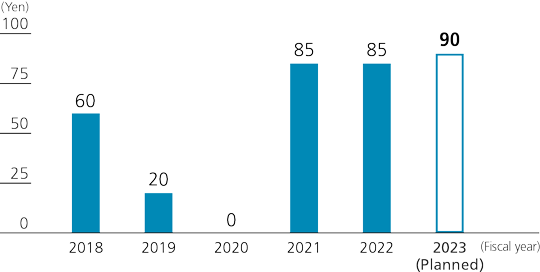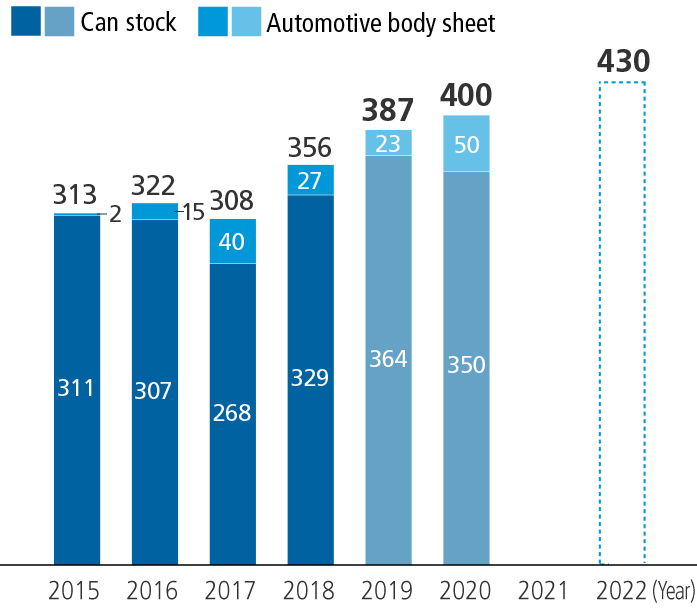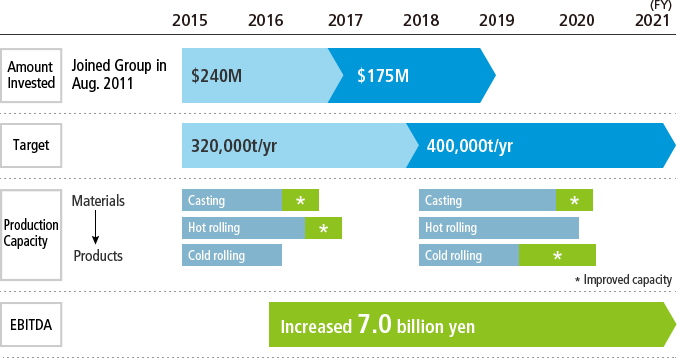 Strengthening Financial Foundation through Capital Procurement
To secure capital for this type of aggressive investment and further strengthen our financial foundation, in March 2017, 14.6 billion yen was raised in a public offering and 40 billion yen in subordinated loans was taken on. The public offering raised an appropriation of 20 billion yen in commercial paper issued as the capital investment for the third phase at UTAH. The subordinated loan was procured mainly in response to the funds required for the capital investment. Rating and Investment Information, Inc. will recognize 50% of the total value of the subordinated loan as "equity credit attributes," and such recognition will contribute to strengthening the equity credit attributes for UACJ's credit rating. By taking on the subordinated loan at the same time as the public offering, we have established a strong financial foundation capable of responding to changes in the environment, while minimizing dilution of the stock price. We are planning to achieve continued growth based on this financial foundation.
Forecast and Returning Profits to Shareholders
For the fiscal year ending March 31, 2018, thanks to expected higher demand for can stock, automotive body sheet materials, aluminum foil for lithium-ion batteries and other products, we anticipate a significant increase in sales and profits. The forecast is for net sales of 630 billion yen, operating income of 36 billion yen, ordinary income of 30 billion yen, and net income attributable to owners of the parent company of 17 billion yen. As for returning profits to shareholders, we will continue to pay stable dividends taking into consideration capital investment and financial conditions. As in fiscal 2016, UACJ plans to pay an interim dividend of 3 yen per share and a year-end dividend of 3 yen per share, for a total annual dividend of 6 yen.*
In fiscal 2017, the Global Step I Mid-term Management Plan will be in its final year. With the vibrant market to date, we have continued to invest aggressively investments. To maximize investment effects, we must push forward with a system that enables us to become an aluminum industry leader in a competitive global market. The next Mid-term Management Plan, which describes how we will continue to grow, will be announced in March 2018.
Our ultimate goal is to meet shareholders' expectations for UACJ Group growth. Thank you all for your continued guidance and support.
* Announced prior to the change in number of shares constituting one unit of stock and consolidation of shares (changed October 1, 2017).