Aiming for the next stage of growth as we look forward to steady returns on past investments under our new mid-term management plan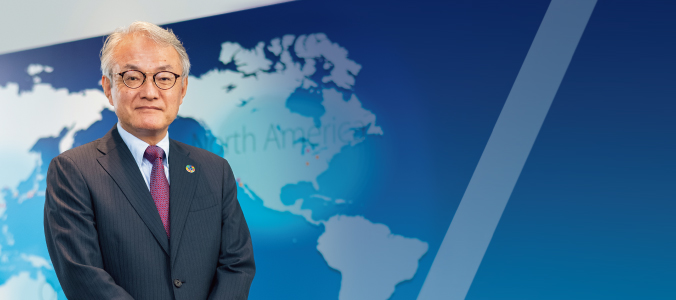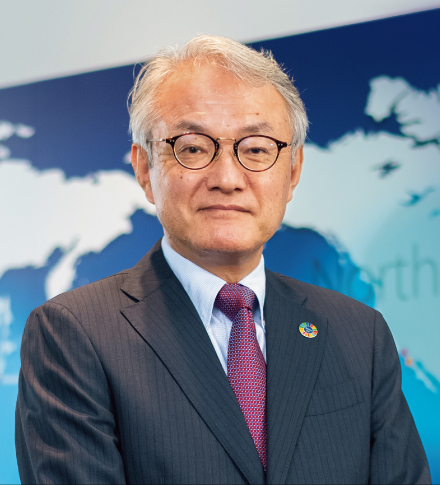 Miyuki Ishihara
Representative Director & President
Having been appointed as president and representative director on June 21, 2018, I am extremely delighted to report on UACJ Corporation's fiscal 2017 financial results along with management's outlook and plans going forward. I look forward to working with all members of the UACJ Group to accelerate growth and maximize corporate value based on our future vision of maximizing the possibilities of aluminum in ways that contribute to society and the environment.
Looking back on financial results in fiscal 2017
In fiscal 2017, the Company's fiscal year ended March 31, 2018, the global economy picked up on the whole. In Japan, the economy continued to recover moderately on the back of a strong job market. In the United States, however, the government moved ahead with various protectionist trade policies in March of this year. Due to that shift and various other factors, the outlook for the global economy grew increasingly uncertain.
Against that backdrop, the UACJ Group continued to fine tune its international supply network to more effectively tap global demand for aluminum products. Our efforts were reflected in consolidated financial results for fiscal 2017, as net sales rose 9.8% year on year to 624.3 billion yen. Operating income climbed 12.9% to 29.2 billion yen, but ordinary income slipped 2.1% to 19.4 billion yen. On the other hand, net income attributable to owners of the parent company jumped 40.6% to 12.3 billion yen compared with the previous fiscal year.
The increase in net sales was largely thanks to a year-on-year increase in shipments of aluminum can stock, automotive materials and thick plate for semiconductor and liquid-crystal production equipment produced by UACJ (Thailand) Co., Ltd. Rising primary aluminum ingot prices also contributed to the growth in sales. Meanwhile, there were several reasons for the decrease in ordinary income despite the increase in operating income. Firstly, a reversal of deferred tax assets associated with Logan Mill, one of the Group's main production facilities, was incurred as a result of a recent tax reform law in the United States. Secondly, a loss from investment in affiliates was posted due to increased business startup costs at Constellium-UACJ ABS LLC, an equity-method affiliate. The same U.S. tax reform law also resulted in a lower tax burden for Tri-Arrows Aluminum Inc., which contributed to the year-on-year jump in net income attributable to owners of the parent company.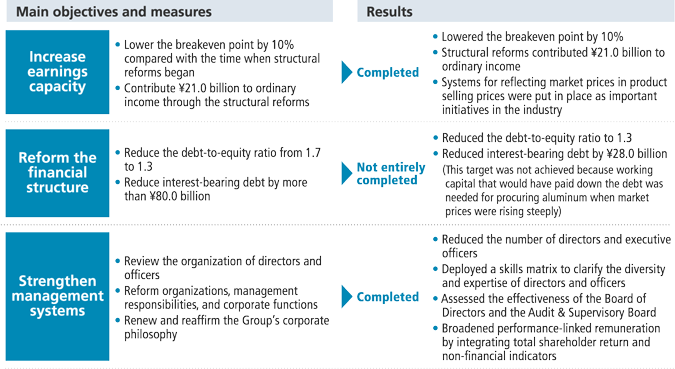 A look at our new mid-term management plan
Fiscal 2017 was the final year of our three-year mid-term management plan called Global Step I, and from the new operational foundation put in place under that plan, we launched a new mid-term management plan effective from fiscal 2018. In accordance with the new plan's four major policies, management is committed to doing everything possible to generate returns on past investments and increase capital efficiency while maintaining a focus on raising corporate value for shareholders. At the same time, we will strive to realize our future vision of making UACJ a company that maximizes the possibilities of aluminum in ways that contribute to society and the environment.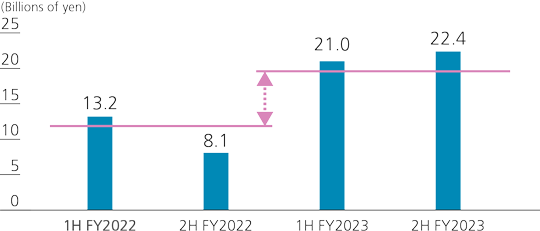 Continuing our focus on growth markets and industries
Over the three years of our previous mid-term management plan, we accelerated the expansion of the UACJ Group's global supply network in order to effectively capture surging demand for aluminum products worldwide. Now under our new plan, we anticipate solid results from returns on past investments made in the Group's operations in the growth markets of Asia and North America, and in its businesses targeting the automotive industry, which we regard as a key growth industry.
In Asia, we are striving to improve productivity at UACJ Thailand, in particular, so that it can contribute to consolidated profits over the next three years of the new plan. In North America, Tri-Arrows Aluminum is taking steps to tap demand for aluminum automotive materials in addition to its mainstay can stock products. Although those steps will increase the burden on its production facilities, we plan to expand capacity at the company's Logan Mill, which already boasts world-leading productivity, with the goal of boosting sales volume. Also in North America, group company Constellium-UACJ is working to meet rising demand for aluminum automotive body sheet by upgrading its first production line and setting up a system for ensuring a stable supply of products.
In automotive-related markets, we anticipate growing demand for parts and components supplied by our core businesses, specifically the flat rolled products, extrusion, precision-machined components, foil, and casting and forging businesses. Accordingly, we will continue focusing on this growth industry across the entire UACJ Group. By strategically leveraging the Group's core operational resources, including Research & Development Division, we are determined to expand earnings capacity going forward.
Expecting steady returns on past investments while emphasizing ROIC
Recognizing these growth markets and industries as the source of the Group's growth, we have been proactively investing in related businesses over the past several years. Consequently, we expect returns on these past investments to gradually appear in 2019 and eventually lead to substantially higher profits by fiscal 2020.
Meanwhile, starting from the new mid-term management plan, we have positioned return on invested capital (ROIC) as a key performance indicator for increasing capital efficiency. While paying close attention to ROIC results, we intend to strictly manage the Group's business portfolio while strategically targeting and focusing on key businesses at an even quicker pace.
Principles of conduct created to guide the Group as it expands globally
For the UACJ Group to expand globally, all of its members must work together to achieve growth with a common sense of purpose. From that standpoint, we established our own principles of conduct for all employees to share. Named the UACJ Way, it consists of three core principles of conduct that we hope all employees will practice in their daily work and lives, and eventually come to cherish. We will be promoting the UACJ Way at every company of the Group in Asia, North America, and other parts of the world.
Fiscal 2018 forecast and shareholder returns
In fiscal 2018, the first year of the new mid-term management plan, we project higher sales volume for can stock, automotive materials, and aluminum foil for lithium-ion batteries. At the same time, the Group expects to incur higher costs for energy and rising expenditures for strategic investment in the Logan Mill. Taking those factors into consideration, we forecast net sales of 670.0 billion yen, 7.3% above the amount in the fiscal year under review. Operating income is forecast to decrease by 4.1% to 28.0 billion yen, compared with a 3.1% increase in ordinary income to 20.0 billion yen. Net income attributable to owners of the parent company is forecast at 10.0 billion yen, down 18.4% year on year.
The Company paid a fiscal year-end dividend of 30 yen per share for fiscal 2017, following the payment of an interim dividend of the same amount (originally three yen per share, but equivalent to 30 yen per share following a reverse stock split conducted afterwards). Management regards the payment of dividends as an essential means for returning profits to shareholders. Accordingly, our basic policy is to ensure dependable and continuous dividend payments, while giving full consideration to other related factors when making decisions, including changes in the Company's financial results, measures for strengthening its financial condition, and necessary expenditures for investments intended to raise corporate value and for R&D aimed at bolstering the Group's competitiveness.
While the distribution of profits depends on the Company's financial results and outlook, in principle, we will aim for a total return ratio of at least 30%. Under the new mid-term management plan, we will target a consolidated dividend payout ratio within the range of 20 to 30%, based on the amount of profit for the full fiscal year. Reflecting our intention to flexibly return profits to shareholders based on full fiscal year profits, we decided to abolish the interim dividend and pay a single annual dividend at the fiscal year-end.
We are confident that the Company's shareholders can look forward to the growth of the UACJ Group in the future. As we work towards that goal, we ask for their continued input and support.