We aim to take a leading role in realizing a recycling-based society while building on the progress of structural reforms to generate stable earnings.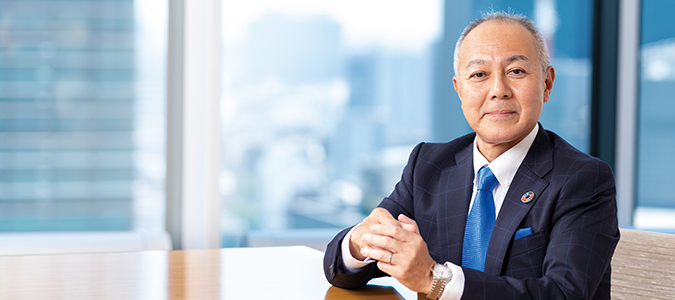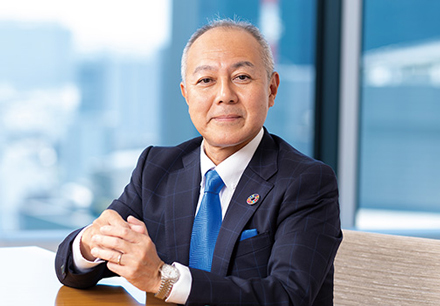 Miyuki Ishihara
Representative Director & President
Looking back on fiscal 2022
Applications for aluminum products have been expanding in various industries amid growing awareness of the metal's environmental benefits among users. Against this backdrop, the UACJ Group's total sales volume increased year on year by 37,000 tons in fiscal 2022, ended March 31, 2023. Sales volume of its mainstay product, flat-rolled aluminum for can stock, in particular, increased at subsidiaries in the United States and Thailand as demand remained brisk in various regions of the world. Likewise, amid rising global demand for air conditioners, group companies in Thailand and Japan recorded higher sales volume of aluminum compressor fins for air conditioners. Although demand for these products has continued to be strong up to the present, demand for automotive extruded parts and panels decreased due to semiconductor shortages and supply chain bottlenecks in the auto industry, resulting in lower sales volume year on year. Sales volume of aluminum foil also decreased. Nevertheless, sales volume was up overall thanks to increased shipments of can stock to markets outside Japan.
Reflecting this growth in sales volume, consolidated net sales rose 23.0% year on year to ¥962,885 million. Regrettably, however, consolidated income decreased at every level compared with the previous fiscal year. Although group companies in the United States and Thailand performed solidly on the back of global demand for can stock, their profits were substantially impacted by soaring prices of energy and alloy additives. Furthermore, due to the supply chain bottlenecks in the auto industry, automakers ordered fewer custom-order auto parts and components than originally anticipated, impacting profits. As a result of these and other factors, operating income decreased 71.1% to ¥17,207 million, ordinary income fell 83.3% to ¥8,732 million, and net income attributable to owners of the parent decreased 85.3% to ¥4,703 million.
Higher earnings capacity with the completion of structural reforms
Since October 2019, UACJ had been carrying out structural reforms aimed at increasing earnings capacity, reforming its financial structure, and strengthening management systems. We initiated these reforms because demand for aluminum products had declined steeply in 2018 largely due to a trade war between China and the United States along with a slow-down of China's economy. At the same time, the Company was completing its largest capital investment since its establishment in 2013.
To increase earnings capacity, one of the three main objectives of the reforms, we took steps to rationalize production in Japan and generate returns on large investments made in the United States and Thailand. As a result, in fiscal 2022, the final year of the structural reforms, we succeeded in lowering the Company's breakeven point by 10% compared with the time when the structural reforms commenced. Overall, the structural reforms contributed ¥21.0 billion to ordinary income, achieving our target and demonstrating how earnings capacity had grown.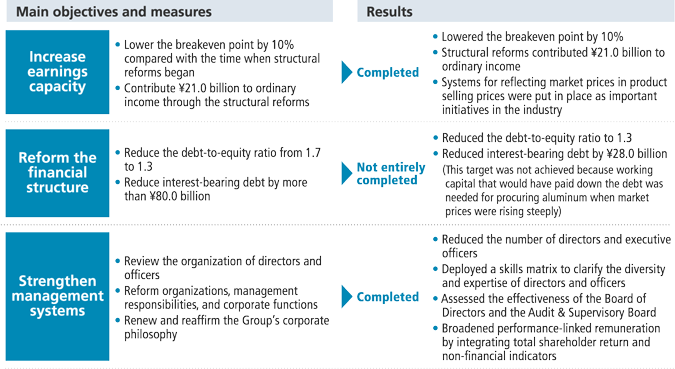 While carrying out the structural reforms, there were times when we fell short of our targets due to the impact of the global COVID-19 pandemic. Nevertheless, with strong resolve, we promptly executed additional measures that helped pave the way to the achievement of these targets. Our success in quickly and effectively executing the reforms from the second half of fiscal 2022 reflected our prior efforts to strengthen management systems. For example, we were able to promptly respond to soaring market prices of energy and raw materials by setting up systems for reflecting these costs in product selling prices. This demonstrated how the Group's management can swiftly respond to the operating environment and adapt itself accordingly.
To ensure stable earnings going forward, we believe that our sustainability-driven initiatives will be essential. Therefore, we will push ahead with such initiatives and strive to respond to changes in the operating environment with even greater speed while anticipating medium- and long-term trends.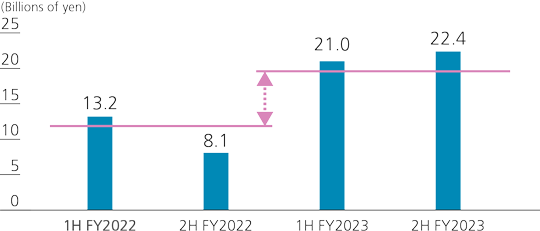 Outlook for fiscal 2023
Guided by the Group's long-term roadmap, UACJ Vision 2030, we aim to help make the world more sustainable with solutions to issues facing people today. To achieve this, we are developing highly recyclable aluminum materials for an even wider range of applications. Over the long term, we envision taking the lead in realizing a recycling-based society by putting aluminum at the heart of the circular economy. As we look to accomplish the goals of UACJ Vision 2030, we have positioned fiscal 2023, the final year of our current mid-term management plan, as a time for reinforcing and building on the progress and results we made through the completion of the structural reforms.
Demand for aluminum products is projected to rise even higher amid ongoing awareness of the metal's environmental benefits and recyclability. Moreover, demand for aluminum automotive parts and components is expected to rebound as automobile production steadily resumes and stabilizes after production was cut due to supply chain bottlenecks and semiconductor shortages. The supply of semiconductors is also gradually returning to normal, so strong demand for aluminum thick plates used in semiconductor manufacturing equipment is expected over the medium and long terms. We believe all of these factors will contribute to the Group's sales.
Although profits continue to be impacted by high prices of energy and alloy additives, our systems for reflecting these costs in selling prices will give a big boost to profits. Since energy costs are projected to rise even further, however, we are examining more measures for ensuring stable earnings going forward.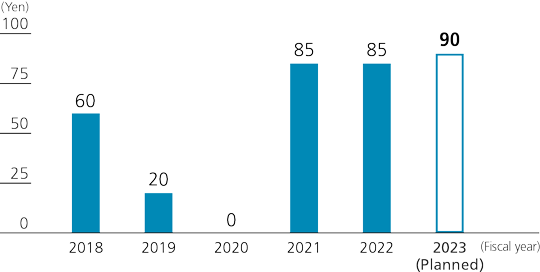 We closely considered all of the factors, above, in our forecast of consolidated financial results for fiscal 2023. The forecast includes net sales of ¥970 billion, operating income of ¥34 billion, and net income attributable to owners of the parent totaling ¥15 billion. Having reinforced the Company's revenue base through the structural reforms, we expect earnings to remain stable. Therefore, to return profits to shareholders, the Company plans to pay both an interim and fiscal year-end dividend for fiscal 2023.
Among our recent activities we began offering UACJ Smart Mass Balance flat-rolled aluminum in April 2023. The aluminum that goes into this product is produced using electricity generated from renewable energy sources, and, therefore, users can determine their greenhouse gas emissions. We will also make our aluminum products more attractive to customers by using renewable energy sources for all electricity consumed at 17 locations of our precision-machined components business, accounting for over 60% of the Group's manufacturing facilities in Japan.
Looking ahead, while leveraging our unique ability to bring out the potential of aluminum materials, we intend to make the UACJ Group more valuable for all of its stakeholders by promoting broader applications for aluminum products and helping build a circular economy for aluminum.