Global production and sales networks designed to meet the growing demand for aluminum.
Thanks to its exceptional material qualities, worldwide demand for aluminum has skyrocketed in recent years, leading the two parent companies behind UACJ to expand their global locations in response. UACJ combines the worldwide production and sales networks cultivated by both companies, operating in China and other Asian locations showing outstanding growth, as well as Europe with its many automobile manufacturers and the expansive North America market.
These combined facilities and regional bases ensure UACJ has the global supply network to meet the needs of customers around the world in a timely manner. The scale produced by merging the two companies also ensures better cost performance, and allows for optimal choice of production region.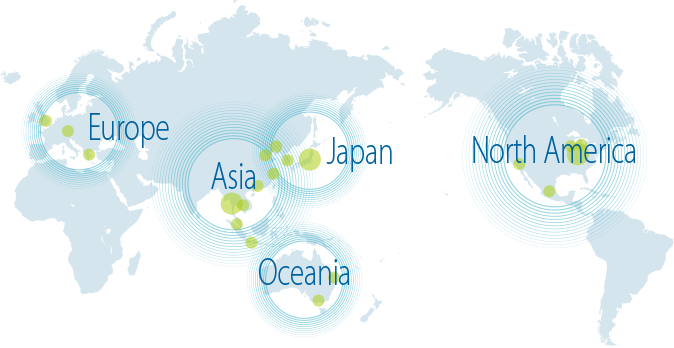 Aluminum sheet demand for cans around the world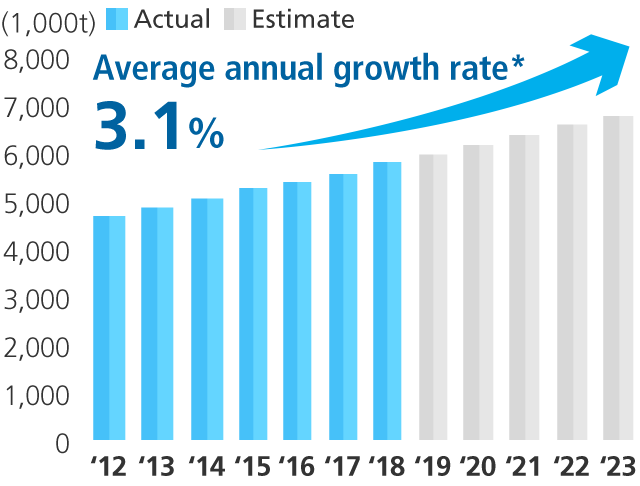 * Average annual growth rate from 2018 to 2023
Source: CRU
Aluminum sheet demand for worldwide transportation*1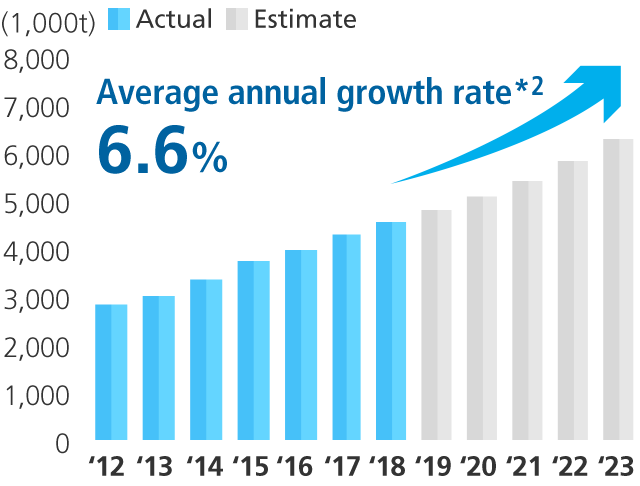 *1 Collective terms for automobiles, aircraft, ships, etc.
*2 Average annual growth rate from 2018 to 2023
Source: CRU

America
Maximizing Production in the US, Home to 40% of the World Aluminum Can Market

The US market accounts for 40% of the global demand for aluminum cans, with further growth expected. In August 2011, UACJ purchased one of the world's largest aluminum sheet manufacturing and sales operations, located in America, through a joint investment with four other Japanese companies (with UACJ investing 35%). This investment ensures we have the capacity to meet the robust demand of the US market, and at the world's lowest costs.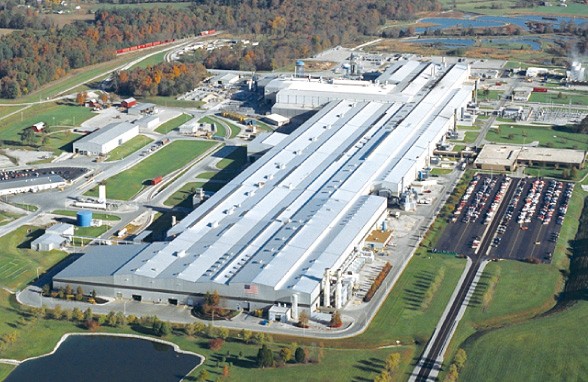 Thailand
Japan Aluminum Industry's First Overseas Comprehensive Rolled Sheet Plant

As the Asian market continues to grow and expand, the demand for aluminum sheet has spiked sharply. To meet this need, UACJ built a comprehensive rolled sheet plant in Rayong, Thailand, commencing integrated manufacturing at the plant in August 2015. The new factory is an overseas first for a Japanese rolled aluminum company and its quality and cost advantages are expected to give us a powerful edge over our competitors.
Special Feature: UACJ (Thailand) Rayong Works Completion of Fully Integrated Manufacturing Line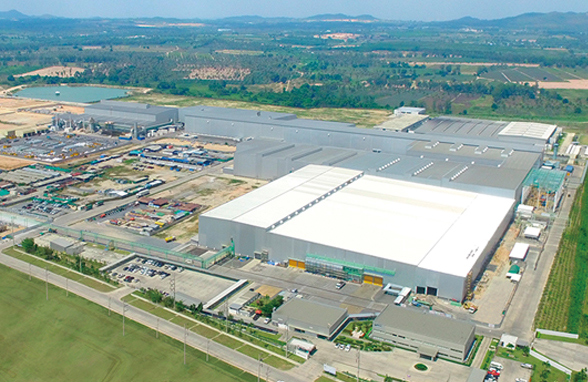 China
Enhancing Plants throughout China to Meet Asia's Soaring Demand for Aluminum

The rapid economic growth seen in China in recent years has boosted the demand for aluminum in a variety of fields ranging from infrastructure to consumer items. UACJ is currently enhancing its product manufacturing plants so it can better meet the needs of each region.
This includes automotive heat exchanger parts in Tianjin, foil for electrolytic capacitors in Ruyuan, and large-scale processed products for heavy electrical machinery controllers in Wuxi. We will continue to meet the expanding needs of the Chinese market, working from our sales base in Shanghai.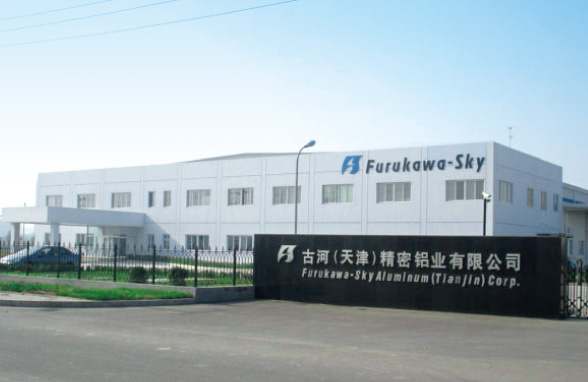 Europe
Streamlining Networks to Meet the Needs of International Automobile Manufacturers in a Timely Manner

Demand for aluminum body parts is on the rise in Europe as its many automobile makers work to lightweight vehicles and improve fuel consumption. UACJ's European network is configured to meet market needs in a timely manner, and includes a manufacturing and sales company in the Czech Republic handling extruded products for automotive air conditioners, and a sales company in Greece supplying sheet for automotive heat exchangers.