Social Contribution Activities
The UACJ Group fulfills its duty as a good corporate citizen by using its business for the benefit of society, and by being a reliable and trustworthy corporate group that engages in activities that contribute to a sustainable and prosperous society.
Basic Approach
The UACJ Group's follows the UACJ Way, which is based on the Group's concept of sustainability "Passing down a better world over the next century." The UACJ Way is to use our business activities to address social issues and to generate sustainable growth in our corporate value.
We seek to coexist and prosper with our stakeholders through activities centered on the three areas of developing the next generation of society, promoting culture, art, and sports, and protecting the environment.
Related information: The UACJ Way action
Objectives
Contribute to solving global social issues
Contribute to solving social issues in the local communities in which we operate
Respond to the needs of our stakeholders
Effectively engage and apply the UACJ Group management resources of human resources and technology
Foster a spirit of taking on challenges, strengthen creativity and teamwork abilities, and cultivate a strong sense of empathy among employees
Further enhance the UACJ Group brand value
Promotion Structure
The UACJ General Affairs and Public Relations departments plan and implement programs that combine strengths of the UACJ manufacturing sites and Group companies to address social issues. In accordance with internal regulations, the relevant departments review the appropriateness prior to distribution of donations and membership fees to non-profit organizations, such as incorporated associations, foundations, NPOs and NGOs.
UACJ encourages employees to participate in social welfare, disaster recovery, and environmental conservation activities and has created a volunteer leave system* to support employee participation in society.
* The volunteer leave system provides paid leave separate from the regular paid leave program for participation in volunteer activities.
Nurturing the Next Generation
Nurturing the Next Generation through Sports
Nurturing the Next Generation with the Tokyo Yakult Swallows
UACJ collaborates with the Tokyo Yakult Swallows professional baseball team to present various social contribution activities intended to foster the youth who will be next-generation leaders in sports.
On May 28, 2022, after a three-year hiatus, we joined with the Swallows to offer the UACJ Baseball Camp for elementary school students on baseball teams in Fukaya City, Saitama Prefecture, the location of our Fukaya Works. Former Swallows players taught baseball skills to roughly 100 elementary school students.
We also hosted UACJ Special Day on July 8, inviting players on Fukaya City baseball teams and their families see the Swallows professional baseball game at Jingu Stadium in Tokyo. The elementary school age players cheered loudly when the Swallows players made great plays.
In addition, on November 12, for the first time in three years, we held the UACJ Baseball Clinic for elementary school students on baseball teams near our Fukui Works in Sakai, Fukui Prefecture. The 113 students who joined the event received coaching tips from Swallows catcher Yuhei Nakamura and former Swallows players.
Cultivating the next generation with Utsunomiya Brex
UACJ also joins with the Utsunomiya Brex professional basketball team to contribute to society.
After a three-year hiatus, on July 24, 2022, Group companies UACJ Extrusion Oyama and UACJ Foundry & Forging held the UACJ x Utsunomiya Brex Basketball Clinic on the foundry grounds for elementary students on junior basketball teams in Tochigi Prefecture, where the companies are located. Utsunomiya Brex coaches and players Yusuke Endo and Seiji Ikaruga taught basketball skills to roughly 80 elementary school students.
Sponsoring the Challenge A Next-generation Education and Sports event
In 2019, UACJ became a sponsor of the Challenge A next-generation education and sports event for elementary and junior high school students presented by the Asahi Shimbun newspaper.
The 300 students who joined the 2022 Challenge A held on December 18 participated in talk shows and hands-on instruction by athletes about the importance of taking on challenges.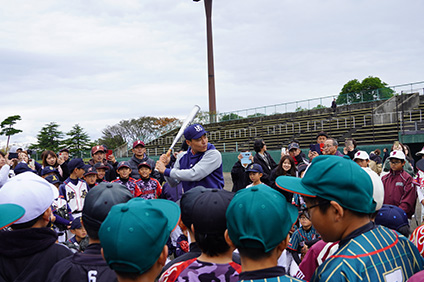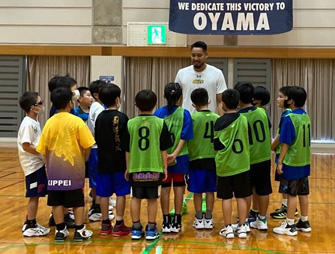 Nurturing the Next Generation through Environmental Education
Lending a Hand with the Global Classroom Environmental Education Project
In fiscal 2018, UACJ began sponsoring Earth Class, an environmental education project presented by the Asahi Shimbun for elementary school students.
In FY2022, we contributed to the Earth Class project by providing editorial assistance for environmental education textbooks, of which some 260,000 copies were distributed to 1,600 elementary schools nationwide. We also sponsored the Earth Class 2022/One-day Environmental School presented on September 23, which included lecture presentations by UACJ employees.
We also dispatch employees to present lectures entitled Earth-Friendly Aluminum, highlight the advantages of using aluminum, including the over 90% recycling rate for aluminum cans, and how its light weight and strong characteristics are helping lower the weight of automobiles. Our presenters visited Kamo Elementary School in Sakaide, Kagawa Prefecture, on December 2 and Oishida Municipal Elementary School in Oishida, Yamagata Prefecture on December 22.
In addition, on February 13, we presented classes at the Mikuni Nishi Municipal Elementary School in Sakai, Fukui Prefecture and hosted students on a tour of the Fukui Works.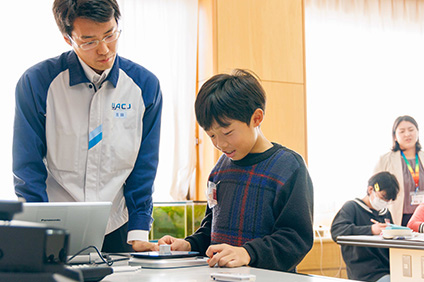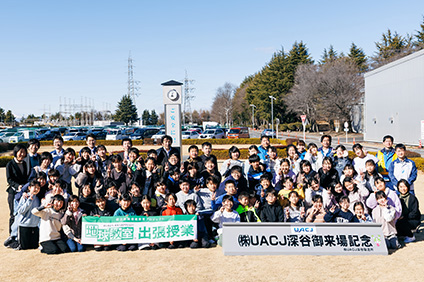 Sponsoring the SDGs Journal Education Project
In fiscal 2021, UACJ became a cosponsor of the SDGs Journal aimed at middle and high school students created by the Asahi Shimbun newspaper as part of its SDG education project.
In our role as sponsor, in fiscal 2022 we provided editorial assistance for the SDGs Journal education kit, which was distributed to 15,000 middle schools and high schools nationwide. The kits included material on UACJ's contribution to achieving the SDGs.
In addition, employees also presented a lecture entitled "Aluminum and the SDGs" on December 15 at Daito Junior High School in Sukagawa, Fukushima Prefecture, and on December 20 at Toyosaki Junior High School in Hachinohe, Aomori Prefecture. The presentations introduced the features of aluminum that help reduce the impact on the environment and our company's efforts to achieve the SDGs.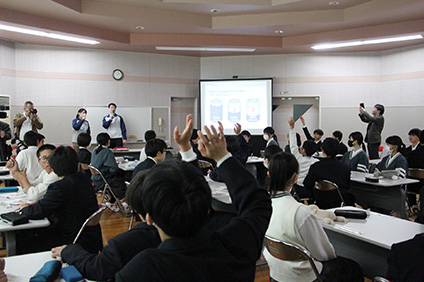 Sponsoring the Career Education Project "Nikkei Education Challenge for SDGs"
Since 2019, UACJ has been a co-sponsor of the Nikkei Education Challenge, a career education project for high school students sponsored by Nikkei Inc.
At the August 3, 2022, event, UACJ employees presented a class titled Can you chase two rabbits and still catch them both?How aluminum can contribute to a low-impact world. The class covered aluminum's high recycling rate of over 90% and how its light weight is lowering automobile weights, the importance of finding solutions for trade-off issues, and even the career paths of the UACJ presenters.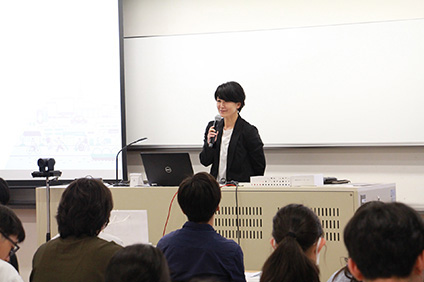 Internship System
Every year, UACJ accepts 10 to 15 undergraduate and graduate university and technical college students for internships. We provide a valuable opportunity to think about the meaning of working in a company or in society. The internships provide valuable opportunities for students to gain an understanding of what it means to work in a company and in society through tackling actual business topics in the R&D department as well as to gain an appreciation of the importance of academic education and research.
Supporting Education and Research
The UACJ Group provides research grants to universities and research institutes focused primarily on supporting local cultural and artistic activities.
We also participate in research commissioned by the Ministry of Economy, Trade and Industry and in industry, government, and academia collaborations aimed at creating a mechanism for developing human resources among young engineers and university students. In addition, we provide corporate practical training sites for Super Science High Schools and support the Japan International Cooperation Agency's training programs and education and training activities in Japan and overseas.
Supporting Local Community Education and Research
The UACJ Group cooperates with schools near its business sites to accept interns and provide training for teachers at private companies.
Related information: Communication with Local Communities
Supporting Culture, the Arts, and Sports
Supporting Sports
UACJ sponsors sports activities with the aims of improving its brand power and contributing to society and local communities. As of March 2023, we are providing sponsorship support to the Tokyo Yakult Swallows professional baseball team, Utsunomiya Brex basketball team, FC Gifu soccer team, and the Japan Blind Football Association.
In fiscal 2019, we became a sponsor of the sports education program of the Japan Blind Football Association, a specified non-profit organization.
In fiscal 2022, we invited blind soccer player Hiroyuki Komazaki to coach a blind soccer experience event for UACJ employees with the aims of promoting understanding of diversity and strengthening communication and team building.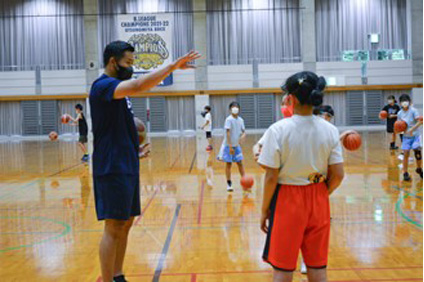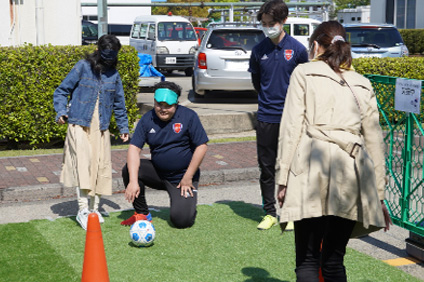 Supporting International Musicians
Since fiscal 2019, UACJ has been a cosponsor of Music Sharing, a non-profit organization led by its president Midori Goto, who was designated a United Nations Messenger of Peace in 2007. The purpose of this organization is to use great music as a transformative spark for helping children to expand their capacity for developing relationships, understanding other cultures, and actively participating in the creation of music.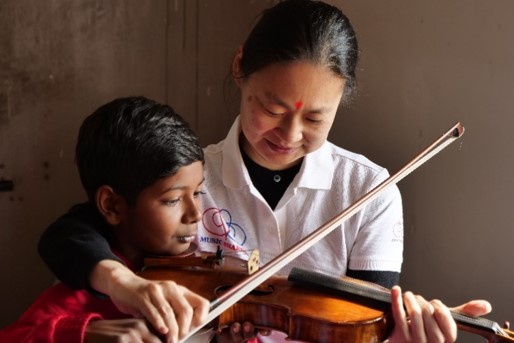 Co-sponsoring the Professional Shogi Ryuo Tournament
UACJ has been cosponsoring the professional shogi Ryuo Tournament hosted by the Yomiuri Shimbun and Japan Shogi Association since fiscal 2020. The UACJ Group extends its value to be curious and take on challenges to supporting high-level competition and contributing to culture and the development of the next generation of society.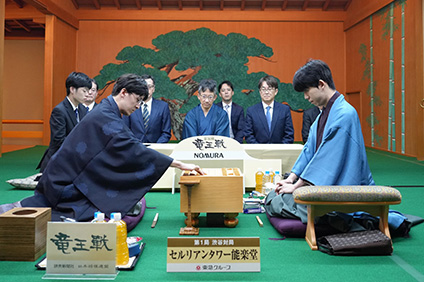 Supporting Artists with Disabilities
As part of its efforts to promote diversity in society, in fiscal 2021 UACJ became a Gold Partner of the Organization for Promotion of Independence for Persons with Disabilities and holds design competitions for artists.
The theme of the fiscal 2022 design competition was "A Low Impact World." Group employees voted for one Grand Prix and two UACJ Award winners from among 88 entries.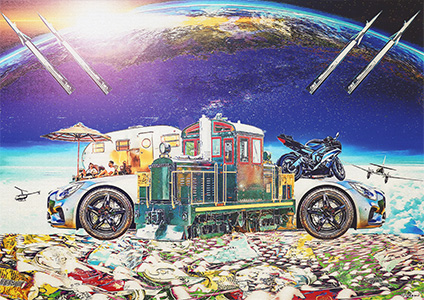 Environmental Protection and Neighborhood Cleanups
Leading Community Cleanup Campaigns
Since fiscal 2018, UACJ has been a sponsor of green bird, a specified non-profit corporation engaged in beautification activities around UACJ factory sites, and joins in clean up events as part of our urban beautification and environmental protection efforts.
After a three-year hiatus25 Group employees and family members gathered at Kasai Rinkai Park at Tokyo Bay on June 4, 2022, to collect microplastics, which have physical and chemical impacts on sea creatures.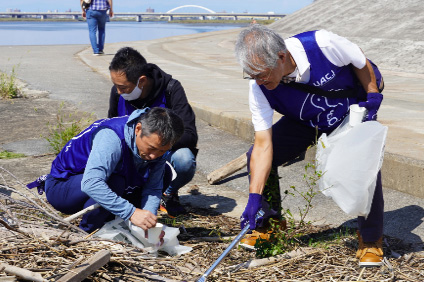 Conducting Corporate Afforestation Activities
UACJ signed a corporate forestation agreement with Fukui Prefecture and Sakai City through which UACJ is promoting regional environmental conservation with tree planting and forest management of the UACJ Fukui Forest.
In fiscal 2022, employees of the Fukui Works and their families gathered four times for forest stewardship activities including clearing underbrush and planting additional trees.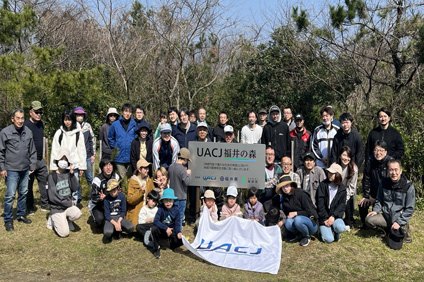 Participating in Local Community Environmental Conservation and Cleanup Activities
The UACJ Group's community-based CSR activities include actively participating in the environmental beautification activities of local community groups as well as carrying out cleanup activities around its factories.
Related information: Communication with Local Communities
Supporting Disaster Relief
Supporting Disaster Relief Activities
As part of its effort to support recovery from the Great East Japan Earthquake, UACJ became a cosponsor in fiscal 2019 of Ishinomaki Farm in Ishinomaki, Miyagi Prefecture. Ishinomaki Farm started as a place where young people with mental disorders following the earthquake can experience farm work. UACJ supports the farm by assisting with cultivating hops for use in brewing beer, working with manufacturers to provide equipment for filling beer into aluminum bottles, and providing aluminum cups for events.
Supporting Water Storage for Emergencies
UACJ operates a supply and sales network for aluminum bottles of water with a shelf life of 12 years.
In fiscal 2022, our network delivered emergency water to the Iwata City Disaster Volunteer Center and other entities in Shizuoka Prefecture to aid people in areas where typhoon Nanmadol had cut off the water supply.
Teaching the Uses of Aluminum Foil in Disaster Situations
UACJ and UACJ Foil have joined with the non-profit organization Plus Arts to present educational activities on how aluminum foil can be used in disaster situations.
We insert My Foil Plus illustrated instructions to our aluminum foil product packages to show the uses of foil in disaster situations, distribute them as novelty items, andalso make the information available on a web page with videos.