Feature 1: Contributing to recycling in the U.S.
North American marketRecycling initiatives
Towards a sustainable supply chain in the world's largest can stock market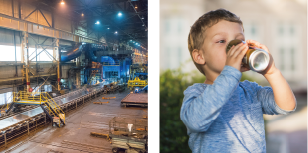 In the United States, the world's largest beverage can market, environmental awareness among consumers is growing as the market continues to expand. The UACJ Group manufactures flat-rolled aluminum for can stock in the U.S. primarily at Tri-Arrows Aluminum Inc. In this special feature, CEO Henry Gordinier explained how the company is promoting recycling and establishing a sustainable supply chain to ensure a stable supply of products.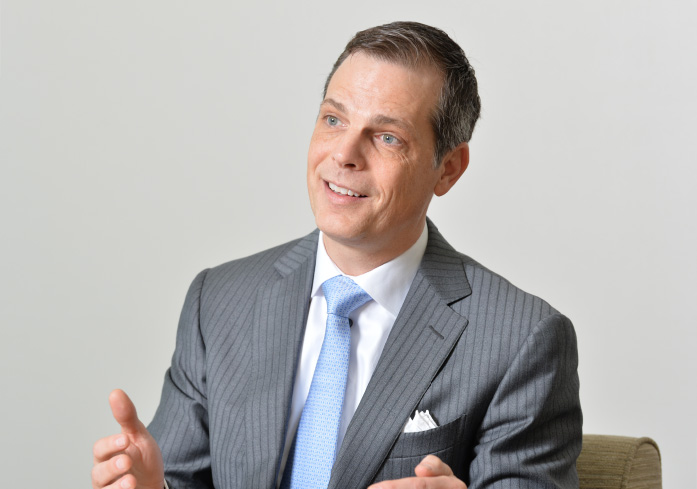 Supplying the growing can market
The U.S. is the world's largest consumer of can stock, with 93.2 billion cans used yearly compared with 22.2 billion in Japan. A reported 127,000 cans are recycled every minute, indicating the vast size of the recycling market.
At Tri-Arrows Aluminum, we see the growth in the U.S. can stock market as part of a longer term trend that is driven by two factors. Firstly, more brands are choosing the aluminum can for new product launches such as energy drinks, craft beers, and recently, even water. This past year, 60% of all new beverage products launched in North America were in cans, which is up from 35% just a couple of years ago. Secondly, the aluminum package supports environmental sustainability. Demand for the aluminum package has increased alongside a growing anti-plastic movement and consumer shifts to green products.
Notably, this growth in the U.S. can stock market is occurring alongside growth for aluminum auto body sheet, as well. The use of aluminum sheet provides for lighter vehicles and improvements in fuel economy standards. As a consequence of the market expansions, the overall balance between domestically produced supply and demand for aluminum sheet in the North American market is very tight. The market condition is exacerbated by U.S. trade policy and Section 232 of the Trade Expansion Act America, where imports, particularly from China, have decreased with the introduction of tariffs.
Against this backdrop, the Logan Mill has built a stable supply chain for can stock. The mill is co-owned by Tri-Arrows Aluminum, which is where the UACJ Group is mainly based in North America, and has the number one productivity rate in the world as an aluminum rolling mill. Furthermore, the recycle furnace built last year, and the expansion of the cold rolling mill in September this year, will further maintain Logan Mills' position as the highest producer of can stock in the world. All these factors will help Logan Mill deliver high-quality value over the long-term, while meeting today's growing demands with its enhanced capabilities and capacity.

Scrap usage fuels our environmentally conscious business
Logan Mill operates within a sustainable supply chain that concludes in the U.S., meaning there is no need to use fuel for import or export purposes. Also, with the opening of the mill's recycling furnace in 2018, scraps have been used to make secondary metal instead of bauxite, which consumes less energy in the process. This is a sustainable initiative, especially when considering 80% of our materials for can stock is made from scrap. Now, nearly 40% of U.S. aluminum supply is created through secondary production in the largest can market in the world. By expanding its supply, Tri-Arrows Aluminum will contribute to aluminum recycling going forward.
Making aluminum from scraps is not only good for the environment, it is also cost effective. With the influence of new trade laws, aluminum scraps produced in the U.S. cannot be exported or sold to China. This has led to lowering the cost of scraps, resulting in more profit generated by Tri-Arrows Aluminum.
On top of that, we also use our recycling furnace to create ingots for can stock and supply our competitors, who are mainly focused on the automotive industry. This is all possible because of aluminum's high recyclability, which contributes a great deal to our environmentally friendly approach towards business.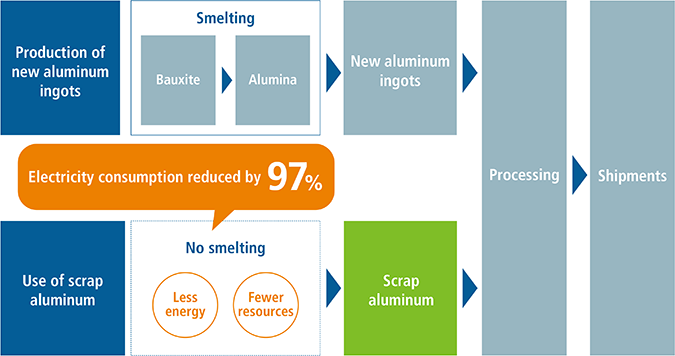 Logan Mill's drive for a sustainable planet
Logan Mill is very aggressive in terms of everything it can do to reduce its environmental footprint. It has a team focused on the running and environmental aspects of the plant, and are determined to find new ways to bring down CO2 emissions, decrease the volume of chemicals used, and reduce the amount of wastewater produced.