Bright & High Gloss

High-Gloss Aluminum Alloy Sheets
For reflective panels in copiers and lighting, etc.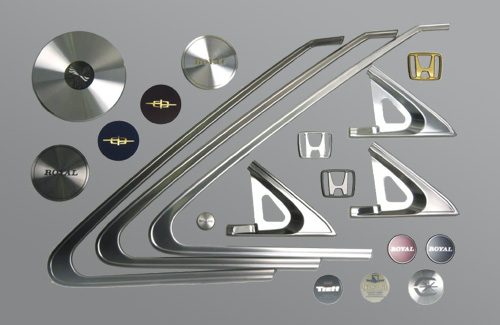 High-gloss aluminum alloy sheets that boast outstanding reflectance. Ideal for use in reflective panels and the like, as there is no excessive reduction in gloss even after alumite treatment. Simple bend working is also possible.

Types of High-Gloss Materials
Four Levels of Gloss: Comes in four levels of gloss from the highest reflectance SL to the standard HB.
Wide Range of Applications: The SL product, in particular, loses none of its extreme glossiness even after alumite processing. These products can be clear coated or alumite processed depending on usage environment or other factors, so they are perfect for wide range of applications.
Outstanding Corrosion Resistance: Our high-gloss aluminum alloy sheets are pure aluminum, so they are extremely corrosion resistant.
Beautiful Color Tones: Being very amenable to surface treatment, alumite processing can be applied to bring out the uniquely beautiful color tones of aluminum.
Applications
Reflecting plates for photocopiers, reflectors for lighting devices, etc.
With the exceedingly glossy surface of the base material, high-gloss aluminum alloy sheets can be used untreated or with alumite processing. They are suitable for use in either flat or simple curve configurations
Properties
Types and strengths
Surface finish level
Alloy type
Temper
Mechanical properties
UACJ designation
JIS designation
Tensile strength
(N/mm2)
Elongation (%)
SL
W13C1
-
H18
175–215
2–6
A370
-
H18
165–195
2–6
LF
A85
1085
H26
135–140
7–13
A70
1070
H26
135–145
6–13
SB,HB
A50
1050
H24
125–135
7–18
H26
145–155
3–7
Glossiness
Surface finish level
Surface roughness
Ra (μm) (transverse)
Regular reflectance (%)
Diffused reflectance (%)
Longitudinal
Transverse
Longitudinal
Transverse
SL
0.01–0.02
85
(84–86)
83
(82–85)
1.0–2.5
6–15
LF
0.02–0.03
79
(75–82)
74
(70–76)
1.3–3.0
8–18
SB
0.02–0.03
78
(75–81)
73
(68–76)
1.5–3.0
8–20
HB
0.03–0.05
74
(69–76)
67
(64–71)
2.0–4.0
18–30
Changes in Glossiness of High-Gloss Material
Glossiness change resulting from alumite processing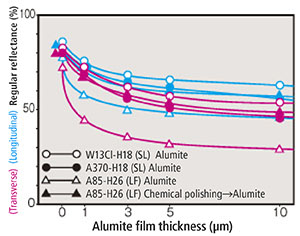 Changes in glossiness over time
(indoor)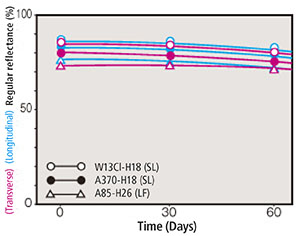 Changes in glossiness due to heating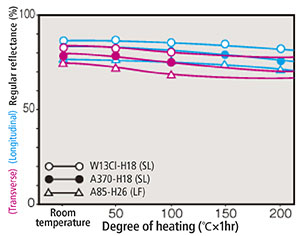 Contact Us