Improvement Objectives
The UACJ Group views the protection of biodiversity as one of the most important global environmental challenges, and we treat it as such within the UACJ Group Code of Conduct. We strive to ascertain the impacts of our businesses on biodiversity and aim to preserve biodiversity through various conservation activities related to our businesses.
Identifying Risks to Biodiversity
Considering all of the steps from the mining of product raw materials through product manufacturing, and the use and disposal of aluminum finished products, the possibility that UACJ's business activities and products have impacts on the natural environment and biodiversity cannot be denied. The UACJ Group strives to identify biodiversity risks associated with its business activities and believes that a particularly important risk may be impacts on aquatic life habitats by wastewater discharges from manufacturing locations. To minimize the possible impacts, we have set our own wastewater quality standards at levels stricter than regulatory standards and monitor our discharges 24 hours a day.
Regarding the UACJ Nikko Works, its location within Nikko National Park means that operations there are performed in strict compliance with Japan's Natural Park Law and other regulations. No UACJ business locations in Japan have been designated nature conservation areas by either the national or local governments.
Overview of the UACJ Nikko Works
Location: Kiyotaki Sakuragaokamachi 1, Nikko-shi, Tochigi Prefecture
Site area: 135,903 m2
Business activities: Manufacturing of aluminum sheet products
Making Packing Materials Recyclable
In the past, we used wood-based packing materials for some of the raw materials for our products. These wood-based materials, however, are not recyclable and must be disposed of as industrial waste. To improve upon this situation, we switched to cardboard packing materials, which are easily recyclable. By reducing our use of wood materials and producing less waste, the UACJ Group aims to help reduce the harvesting of trees, which provide habitats for various types of living organisms.
Waste Wood Generated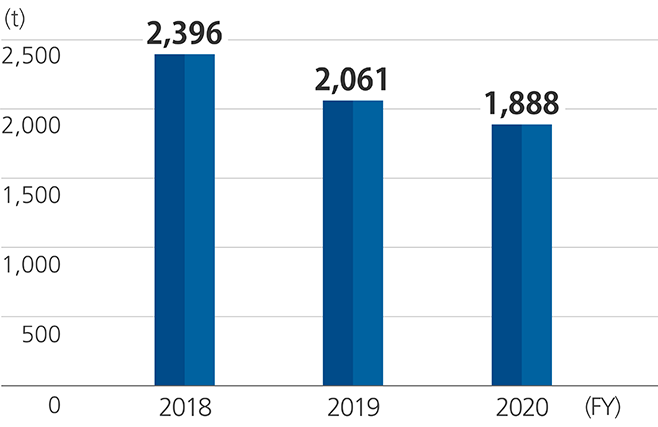 Helping to Eliminate Invasive Species
In an era of globalization, non-native species entering Japan as pets or as a result of the movement of goods and people are endangering native species by threatening their habitat and, through crossbreeding, their gene pools.
The UACJ Group cooperates with the invasive species extermination efforts of local governments and encourages employees to participate as volunteers.
Greening Activities
We are adding plant life to our business sites to create habitats for local flora and fauna.
Group Companies Participating in Thailand's Forest Regeneration Project
In fiscal 2019, UACJ (Thailand) Co., Ltd. participated in a forest regeneration project in honor of Princess Maha Chakri Sirindhorn in April 2019.
The project was sponsored by local companies to revitalize green spaces within and around factory sites by planting trees. Participants included local governments, the Amata City Industrial Estate, and factories it hosts. Two thousand seedlings appropriate for the soil conditions at the industrial park were prepared for the day of the project.
Two hundred UACJ (Thailand) employees joined in the project and reflected on their participation with comments such as "It is moving to see the trees we planted growing" and "I am now more aware of the importance of protecting natural resources."
UACJ (Thailand) aims to continue to take positive action to protect the natural environments of local communities.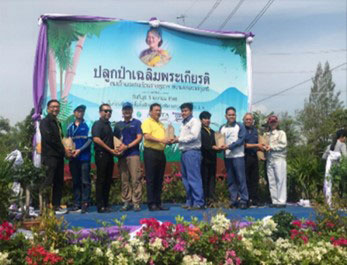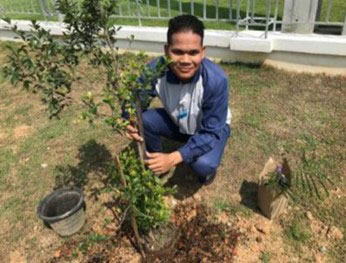 Scenes from the forest regeneration project