Environmental Initiatives
Basic Concept
The UACJ Group is thankful for the earth and the abundance of life it supports. That feeling underlies our basic stance on the environment, and we have publicly declared our aim to reduce our environmental burden in all aspects of our business activities.
The economic activities of humankind are now of such a scale that they are having enormous impacts on the global environment and giving rise to various problems, including extreme weather, imbalances in ecosystems, and depletion of natural resources. These are sustainability risks for the UACJ Group and ultimately for the earth. Our basic stance on the environment, therefore, is to ascertain what we can do to lower our environmental burden and then work steadily to achieve what is possible.
Key Objectives and Results
Fiscal 2017 Objective
Fiscal 2017 Performance
Assessment
Fiscal 2018 Objective
Elimination of Serious Environmental Accidents
Zero accidents
1 accident
×
Zero serious accidents
Measures to Fight Global Warming
Reduction of energy used per unit of production
0.4% decrease per unit of production
○
Reduction of energy used per unit of production
Realization of a Recycling-Oriented Society
Reduction of waste generated per unit of production
2.7% decrease per unit of production
○
Reduction of waste generated per unit of production
Continuation of zero emissions*
Maintained zero-emissions performance
○
Continuation of zero emissions*
Chemical Substance Control
Reduction of controlled chemical substances
Identified controlled chemical substances at all business locations
○
Reduction of controlled chemical substances
* Within the UACJ Group, "zero emissions" is defined as direct landfill disposal of less than 1% of all industrial waste generated.
Looking to the Future
In fiscal 2017, the final year of the Mid-term Management Plan, we came very close to completing the transfer of products among manufacturing facilities to optimize production and saw benefits from our energy-saving initiatives. We, therefore, were able to achieve our per-unit-production objective for energy usage, even with a decline in production volume.
In fiscal 2018, we will take additional steps and try new approaches to achieve progress toward our objective.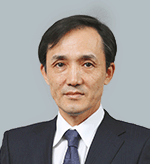 Comment by the Executive in Charge
Aluminum is regarded as an environmentally friendly metal because it is easy to recycle and, in recent years, increasingly expected to be a useful material for reducing vehicle weight as automakers comply with stricter environmental regulations. With demand for aluminum on the rise, the UACJ Group is focusing on supplying a wide range of aluminum materials and products by leveraging its entire group-wide network of operations, including R&D facilities. These activities have been designated as priority measures under our mid-term management plan launched in April 2018.
Over the past few years, we have initiated various environmental measures in our manufacturing operations. For example, a group company in the United States recently began operating a new furnace for melting scrap aluminum at its factory, enabling it to increase the ratio of recycled aluminum in the overall raw materials it uses.
As a world-class aluminum manufacturer, the UACJ Group intends to continue making the most of aluminum's diverse properties to help reduce environmental burden and contribute to society through its manufacturing processes and products.