Environmental Consideration in Products
Improvement Objectives
The UACJ Group, is contributing to the realization of a low-carbon, recycling-oriented society by working to improve the functionality of aluminum materials.
For example, providing customers with aluminum materials that offer similar functionality to earlier materials but weigh less helps to lighten the final shipping vehicles and container products our customers make, improve fuel efficiency, and, ultimately, reduce CO2 emissions.
The UACJ Group will continue to help solve global environmental issues by developing and providing products with emphasis placed on environmental considerations.
Product Development and Improvement
Contributions that Benefit the Environment and Society
Development and application of aluminum can materials with outstanding recyclability
Making lighter-weight cans that save resources and reduce costs
Development and application of high-performance heat exchanger tubes
Improving performance of heat exchangers to reduce equipment sizes and save resources
Development and improvement of aluminum materials for car air conditioners compatible with the European requirement to use CO2 as a refrigerant
Making lighter-weight vehicle bodies that save resources and improve fuel economy
Fighting global warming by adopting CO2 as a refrigerant
Development and improvement of aluminum materials for hybrid automobiles
Making lighter-weight vehicle bodies that save resources and improve fuel economy
Approximately two-thirds of the materials used to make aluminum cans in Japan (in fiscal 2019, 21.7 billion cans weighing approximately 330,000 tons) are made by UACJ. As the top manufacturer, we believe it is our responsibility to promote the recycling of aluminum cans, and we do so actively.
Furthermore, we are rationalizing our use of packing materials for the delivery of products, and recovering and reusing them in conjunction with our rationalization of our logistics.
Control of Chemical Substances included in Products
The UACJ Group is strict in its exercise of proper controls over designated chemical substances included in products. In response to changes in domestic and overseas environmental laws (e.g. The addition of the EU's REACH*1 regulation), we revise our chemical substance management standards and common procurement documentation, and take other necessary steps.
We also devote significant effort to the registration of SDSs (Safety Data Sheets*2) and to the improvement of our browsing cabinet.
*1 REACH regulation: Registration, Evaluation, Authorization and Restriction of Chemicals.
*2 SDS: Safety Data Sheet: Products containing chemical substances designated by the Poisonous and Deleterious Substances Control Act, Industrial Safety and Health Law, and the Pollutant Release and Transfer Register Law at percentages greater than specified in these laws must be accompanied by a Safety Data Sheet with the required information when they are transferred or provided from one commercial party to another.
REACH Regulation Initiatives
The UACJ Group, though it is not required to be registered under the REACH regulation, examines all of its products to determine whether they include an SVHC (Substance of Very High Concern) specified in the REACH regulation and informs customers of any products that do.
If substances are newly designated as SVHCs, and we determine that they are included in our products, we will swiftly provide customers with the relevant information.
Environmental Quality Management System Certifications by Customers
At its business locations required to have specified supplier certifications, the UACJ Group emphasizes the practice of chemical substance management that satisfies customer standards, and undergoes environmental quality management system certifications by customers. Going forward, we will continue to practice management that enables proper responses to customer demands.
Communicating Information on Chemical Substances in Products
Raw material manufacturers provide UACJ with information on the chemical substance content of their products, and UACJ has established a management system that allows it to properly communicate this information to its own customers.
Information on chemical substances is provided, with the cooperation of the Quality Assurance and Environmental Management departments, in industry-specific formats, depending on the customer request.
[Examples of Information Provision Formats]
SDS (Safety Data Sheet) * Provision of GHS (Globally Harmonized System of Classification and Labeling of Chemicals)-compliant content
JAMA (Japan Automobile Manufacturers Association) JAMA Sheet
UACJ also issues customer requested certifications that certain substances have not been used in production or are not contained in a product.
Conversion to Low-Environmental-Impact Raw Materials
The UACJ Group is striving to use low-environmental-impact raw materials. For the raw materials that, as in the case of free-cutting alloys, include lead or other metallic elements that are covered by EU directives, we are working with customers to switch to materials that do not include controlled substances. Switching to low-environmental-impact raw materials is important and we will continue with this effort going forward.
We have also taken action regarding cleaning solutions for the finishing of sheet and extruded products. In the past, we used chlorine-based organic solvents, which are designated substances under the PRTR Law. However, given multiple instances of groundwater contamination with these substances across Japan, we ceased using chlorine-based organic solvents in the final cleaning processes at all of our business locations.
The paints used on aluminum can materials and colored aluminum are another area in which we are taking action. Oil-based products had been the most commonly used paints for these products, but have now been largely replaced with water-based paints, which are said to have low environmental impact. The Group is promoting the use of water-based paints by recommending them to customers and working with customers to test their use.
Product Development that Helps to Lower Environmental Burden
Promoting the Use of Aluminum in Automobile Manufacturing
Regulations on automobile exhaust gases are being tightened throughout the world in an effort to help rein in global warming. In response to these stricter regulations, automobile manufacturers in Japan and other countries are working to improve engine performance and lighten vehicle bodies, and aluminum is playing a key role in reducing weight.
Aluminum weighs only about 45% of an equivalent volume of steel, while offering high strength, excellent corrosion resistance, and ease of recyclability. The amount of aluminum used per vehicle has nearly doubled over the past 25 years, and this metal is expected to find even more uses in eco-friendly cars and various other types of vehicles going forward.
The UACJ Group, as a leading manufacturer of aluminum materials, makes the most its wealth of technology and know-how to provide a wide range of aluminum components for automobiles. Looking to the future, we will continue to help improve the environmental performance of automobiles by developing lightweight, high-strength aluminum components.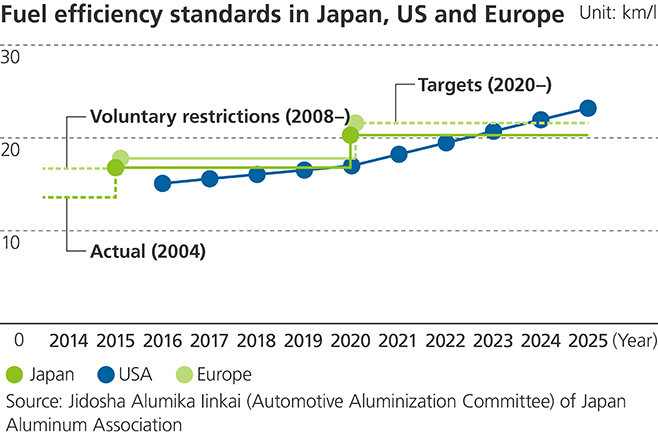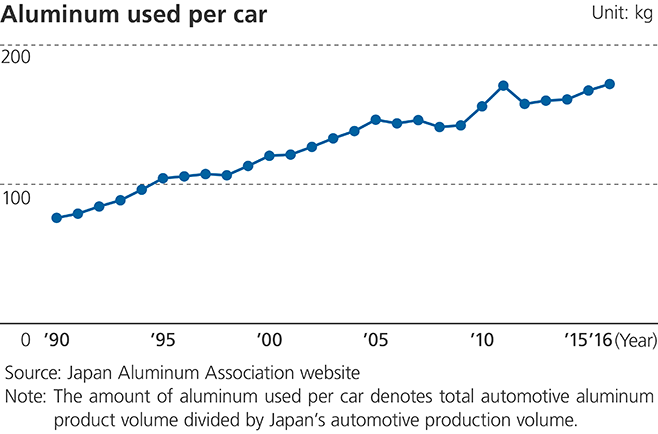 Product Development that Helps to Reduce Atmospheric Carbon
In Japan, rising numbers of extremely hot days and natural disasters have made the effects of global warming palpable, and measures to counter climate change have become matters of great urgency for companies and other organizations. CO2 emissions, a cause of global warming, continue to rise and are said to be approximately 60% higher than they were 30 years ago. In response to such circumstances, the Paris Agreement adopted at the 21st Conference of the Parties to the United Nations Convention on Climate Change (COP21) held in December 2015 in Paris included the goal of creating a zero-carbon society and achieving effectively zero greenhouse gas emissions by the second half of the 21st century. The UACJ Group has taken up the challenge of developing products that will help to achieve this goal.
Manufacturing Foil for Lithium-ion Batteries for Automobiles
Zero greenhouse gas emissions means zero carbon and a complete halt to the use of oil, gas, and other fossil fuels. The automobile industry, therefore, is moving ahead with a shift to electric vehicles.
Lithium-ion batteries, which are essential for electric vehicles, use aluminum foil on the positive electrode and copper foil on the negative electrode. UACJ Foil Corporation, a member of the UACJ Group, is the only Japanese manufacturer capable of producing both aluminum and copper foil. Having excellent alloy and rolling technologies, UACJ Foil makes a unique contribution in improving the performance of lithium-ion batteries.
In China, public and private sectors are cooperating to promote the adoption of electric vehicles and this is expanding demand for lithium-ion batteries. Seizing on this opportunity, Ruyuan Dongyangguang UACJ Fine Aluminum Foil Co., Ltd., a company in which UACJ has invested, announced in 2018 that it will build a new battery foil production facility. The company aims to construct a production system integrating manufacturing of everything from foil base to collectors and foil for battery exteriors and plans to start production in 2020.