Business Activities and Environmental Impacts
Fiscal 2019 Material Balance
To support efforts to reduce industrial waste and substances of environmental concern, the UACJ Group works to accurately determine conditions with regard to the environmental impacts of its business activities. For fiscal 2019, data on substances of environmental concern and industrial waste were collected for the principal business locations, which comprise more than 95% of the UACJ Group's total energy usage.
Fiscal 2019 Material Balance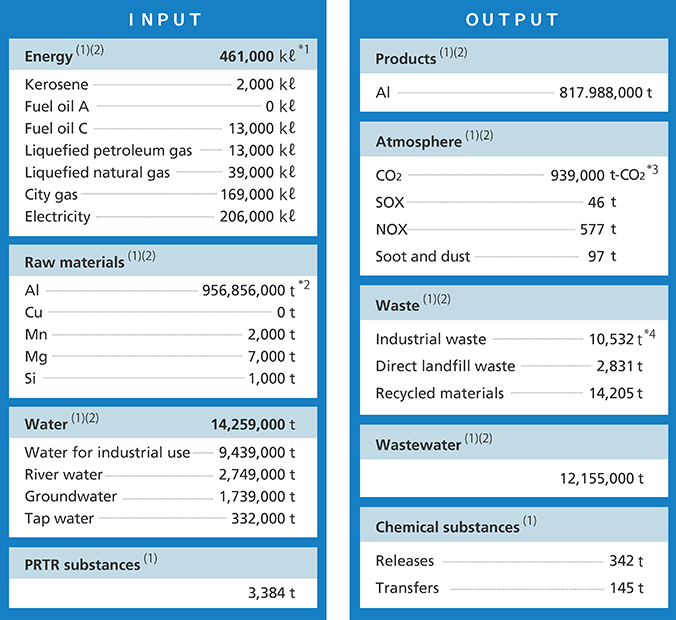 * Measurement scope: 14 locations, including UACJ (Nagoya, Fukui, Fukaya, Nikko), UACJ Color Aluminum Corporation, UACJ Extrusion Nagoya Corporation (Nagoya, Anjo), UACJ Extrusion Oyama Corporation, UACJ Extrusion Gunma Corporation, UACJ Extrusion Shiga Corporation, UACJ Foil Corporation (Isesaki, Shiga, Nogi), and UACJ Foundry & Forging Corporation.
*1 Crude oil equivalent.
*2 Total of new and recycled metal, scrap, ingots, etc.
*3 Based on an electric power generation CO2 emissions factor of 0.378kg-CO2/kWh.
*4 The amount of industrial waste consigned to outside parties for processing, less the amount recycled.