Basic Stance
In light of the need to fight global warming, the pursuit of energy-saving activities is one of the UACJ Group's most important management concerns. Accordingly, we are steadily taking action on this front, focusing on what we can do in the present.
Fiscal 2016 Results
In fiscal 2016, the fourth fiscal year following the merger that created UACJ, we moved forward with production optimization, in line with the Mid-term Management Plan. Production was streamlined through measures such as transferring the manufacturing of various products among our works. Domestic production declined slightly, but CO2 emissions and energy consumption both increased marginally compared to fiscal 2015 levels. CO2 emissions also exceeded the fiscal 2015 per-unit-of-production level (assuming a fixed emissions factor for electric power).
UACJ CO2Emissions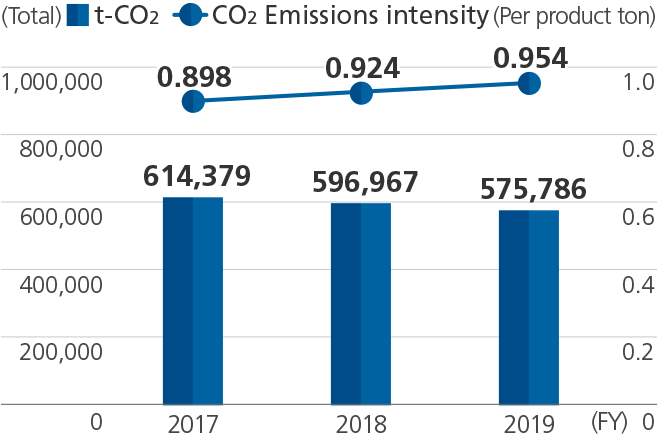 UACJ Group CO2Emissions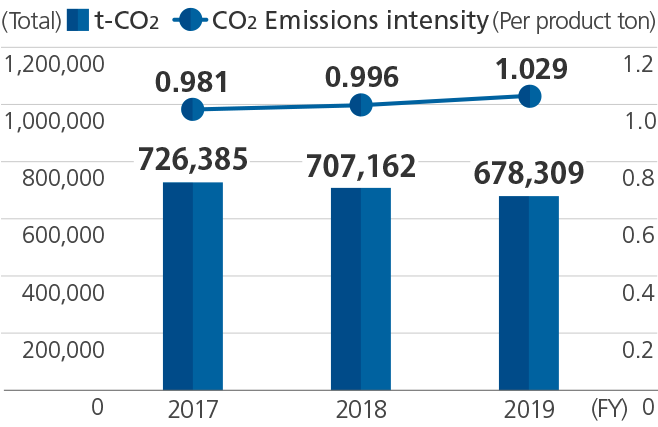 *1 The CO2 emissions factor is the one used for electricity generation, 0.378kg-CO2/kWh.
*2 Measurement Scope: UACJ (Nagoya, Fukui, Fukaya, Nikko), UACJ Color Aluminum Corporation, UACJ Extrusion Nagoya Corporation (Nagoya, Anjo), UACJ Extrusion Oyama Corporation, UACJ Extrusion Gunma Corporation, UACJ Extrusion Shiga Corporation, UACJ Foil Corporation (Isezaki,Shiga,Nogi), UACJ Foundry & Forging Corporation, UACJ Copper Tube Corporation
Main Initiatives in Production Processes
Switching to LNG as a Heat Source for Production Processes
LNG results in 30% lower CO2 emissions than does heavy oil to generate the same amount of heat. UACJ, therefore, is systematically switching to LNG to provide heat for its production processes.
As of fiscal 2016, LNG (including city gas) accounted for approximately 77% of fuel usage at UACJ's four works, in terms of heat generated.
Energy Saving Subcommittee
At the UACJ Group, meetings of the Energy Saving Subcommittee are held on a regular basis. These meetings serve as opportunities for key participants - representatives of the facilities departments at multiple business locations - to share information, consider differences in facility performance, and hear case presentations, all to achieve further improvements in energy saving endeavors.
Examples of Energy-Saving Activities
The UACJ Group's principal energy-saving activities for fiscal 2016 are given in the table below. In addition to those initiatives, actions such as updating of chillers and air-conditioning systems, adoption of inverter technology for pump motors, fixing of steam leaks, reduction of energy usage by disengaging power, application of insulating coatings to reduce heat losses, and adoption of devices to improve coolant circulation through air-conditioning piping were taken at business locations throughout the Group.
Examples of CO2 Emissions Reductions (New for fiscal 2016)
Business Location
Theme
CO2Emissions Reduction Impact
(t‐CO2/yr.)
Nagoya Works
Change in the fuel-control approach to reduce overall city gas usage
300
UACJ Extrusion Nagoya Corporation, Nagoya Works
Reduction of electricity consumption by the main extrusion press pump by eliminating the makeup pump.
300
UACJ Extrusion Oyama Corporation
Air-leak repair campaign
200
Common themes for all works
Adoption of LEDs for ceiling lights
200
UACJ Copper Tube Corporation
Reduction of rolling line idling losses
100
UACJ Foil Corporation, Nogi Works
Adoption of energy-saving compressors
100
Main Initiatives in Logistics
UACJ is working to save energy in its logistics processes. Considered a Specified Consignor (*2) under the Energy Saving Law (*1), UACJ has established the goal of a 1% improvement in the 5-year average amount of energy used per ton-kilometer of shipments and is taking steps toward achieving it.
In fiscal 2016, lower production volume had a major impact in increasing the amount of energy used for shipping, per unit of sales, to a level significantly above that for fiscal 2015.
To address another concern, CO2 emissions, we and business partners in the same industry have been cooperating since 2001 to improve shipping efficiency by jointly transporting certain extruded aluminum products.
*1 Energy Saving Law:Under an ordinance established by the Ministry of Economy, Trade and Industry under the Act on the Rational Use of Energy, a consignor, who is in the position of requesting services from a freight carrier, is required to develop an energy-saving plan, and work to reduce energy consumption.
*2 Specified Consignor:
A consignor whose annual shipments of its own freight equals or exceeds 30 million ton-kilometers
Amount of Energy Used for Shipping, per Unit of Sales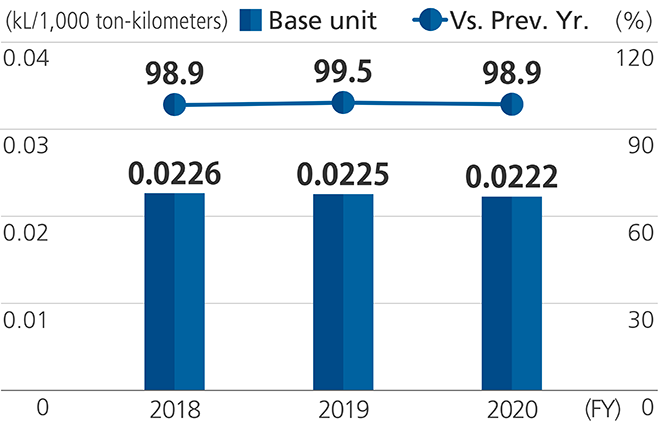 * Figure submitted in regular reports
Main Initiatives in Offices
Energy-Saving Activities in Offices
UACJ's offices are actively working to cut electricity usage by implementing the Japanese government's "cool biz" and "super-cool biz" hot-weather measures, raising thermostats in the summer and lowering them in the winter, and systematically turning off lighting, electronic devices, and other electricity-consuming items when not in use.
Office-Based Environmental Protection Measures
As environmental protection initiatives, individual UACJ offices separate waste into paper and plastic, and recyclables into newsprint, copy paper, magazines, and cardboard.
For office supplies, items complying with the Law Concerning the Promotion of Procurement of Eco-Friendly Goods and Services by the State and Other Entities and eco-mark items are purchased to the extent possible.