Basic Stance
In light of the need to fight global warming, the pursuit of energy-saving activities is one of the UACJ Group's most important management concerns. Under the leadership of the executive officer in charge of energy management, we are focusing on what we can do in the present to achieve annual decreases in the amount of energy we use per unit of production. Over the medium-to-long term, our aim is to achieve 1% average annual improvements in our energy usage per unit of production, the target set forth in Japan's Energy Saving Law*.
* The Energy Saving Law is more formally known as the Act on the Rational Use of Energy.
Fiscal 2019 Results
In fiscal 2019, the Group used a total of 14,141,334GJ of energy (14,112,148GJ of energy from fossil fuels and 29,186GJ of renewable energy), 3.7% less than the total energy used in fiscal 2018.
The Group's CO2 emissions came to 678,309t-CO2 (401,516t-CO2 of direct emissions and 276,793t-CO2 of indirect emissions), about 27,600 tons less than the figure for fiscal 2018. Group CO2 emissions per product ton came to 1.029t-CO2, 3.3% higher than the figure for fiscal 2018 (assuming a fixed emissions factor for electric power).
This increase resulted from lower production and a consequent relative increase in the fixed component of energy usage, a change in the composition of products made, and the need to operate under irregular circumstances due to natural disasters and other causes.
* Beginning with fiscal 2018, reporting of energy usage is no longer being based on the crude oil (1,000 kl) equivalent but on GJ (gigajoules), as recommended in the GRI guidelines.
UACJ Group CO2 Emissions (Japan)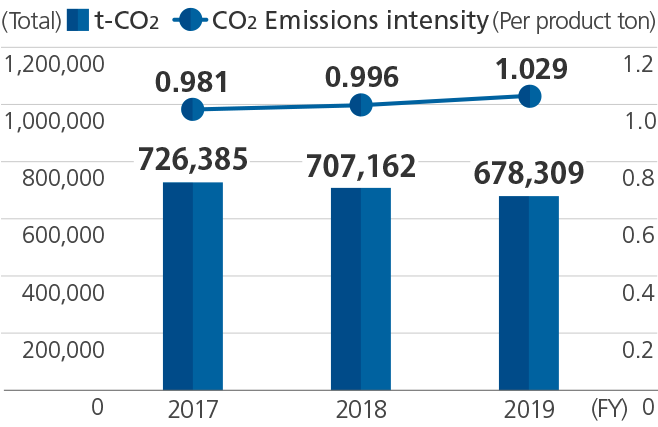 * Measurement scope: UACJ Group business locations in Japan
UACJ Group CO2 Emissions (Overseas)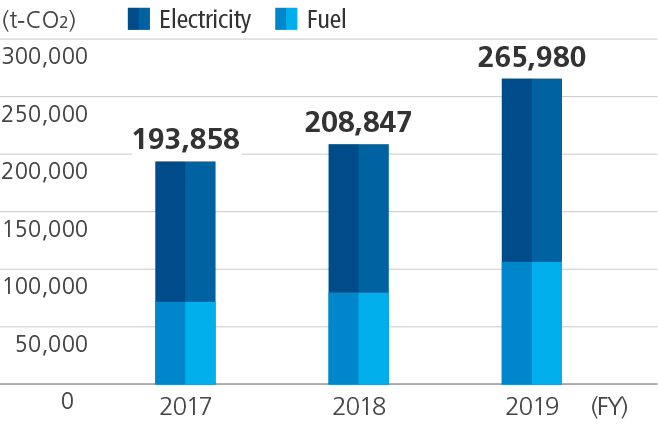 * Measurement scope: UACJ (Thailand) Co., Ltd.、UACJ Extrusion (Thailand) Co., Ltd.、UACJ Extrusion Czech s.r.o.、UACJ Extrusion (Tianjin) Corporation、PT. UACJ-Indal Aluminium、UACJ Foundry & Forging (Vietnam) Co., Ltd.、UACJ Automotive Whitehall Industries, Inc.、UACJ Foil Malaysia Sdn. Bhd.
UACJ CO2 Emissions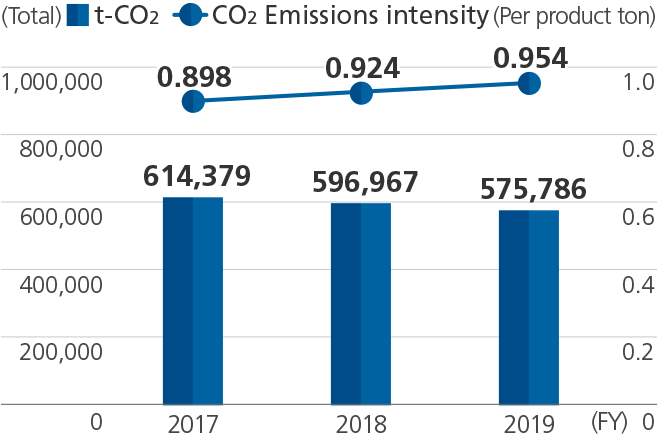 Energy Usage
| | Fiscal 2017 | Fiscal 2018 | Fiscal 2019 |
| --- | --- | --- | --- |
| Fossil fuels | 15,012,498 | 14,645,773 | 14,112,148 |
| Renewable energy | 41,667 | 37,132 | 29,186 |
| Total | 15,054,164 | 14,682,905 | 14,141,334 |
* Energy usage and CO2 emissions per unit production are based on the volume of products shipped.
* The CO2 emissions factor is the one used for electricity generation, 0.378kg-CO2/kWh.
* Measurement scope: UACJ (Nagoya, Fukui, Fukaya, Nikko), UACJ Color Aluminum Corporation, UACJ Extrusion Nagoya Corporation (Nagoya, Anjo), UACJ Extrusion Oyama Corporation, UACJ Extrusion Gunma Corporation, UACJ Extrusion Shiga Corporation, UACJ Foil Corporation (Isezaki,Shiga,Nogi), UACJ Foundry & Forging Corporation.
Main Initiatives in Production Processes
Energy Saving Subcommittee
At the UACJ Group, meetings of the Energy Saving Subcommittee are held on a regular basis. These meetings serve as opportunities for key participants - representatives of the facilities departments at multiple business locations - to share information, consider differences in facility performance, and hear best-practices examples presentations, all to achieve further improvements in energy saving endeavors.
Examples of Energy-Saving Activities
The UACJ Group's principal energy-saving activities for fiscal 2019 are given in the table below. In addition to those initiatives, we updated aging air conditioning equipment and boilers, replaced deteriorating insulation, applied insulating coatings to reduce heat losses, and fixed steam and air leaks to save energy at Japanese business locations throughout the Group.
Examples of CO2 Emissions Reductions (New for fiscal 2019)
| Business Location | Theme | CO2Emissions Reduction Impact (t-CO2/yr.) |
| --- | --- | --- |
| Fukaya Works | Improvement of batch annealing furnace emissions per unit production | 700 |
| Fukui Works | Switching of soaking furnace fuels | 500 |
| UACJ Foil Corporation, Shiga Works | Introduction of cogeneration | 400 |
| Multiple business locations | Conversion to LED lighting fixtures | 400 |
| Fukaya Works | Reduction of electric power used by rolling mill auxiliary equipment | 300 |
Switching to LNG as a Heat Source for Production Processes
LNG results in 30% lower CO2 emissions than does heavy oil to generate the same amount of heat. UACJ, therefore, is systematically switching to LNG to provide heat for its production processes.
In fiscal 2019, we replaced LPG with LNG as a soaking furnace fuel at the Fukui Works.
As of the end of fiscal 2019, LNG (including city gas) accounted for approximately 81% of fuel usage at UACJ's four works, in terms of heat generated.
Introduction of Cogeneration
UACJ Foil Corporation installed a cogeneration system (450kW) in March 2020. With this system, the company will use waste heat from power generation to make steam and generate hot and cold water to realize overall high efficiency in power generation and air-conditioning. Cogeneration is expected to reduce the company's CO2 emissions by about 400 tons annually.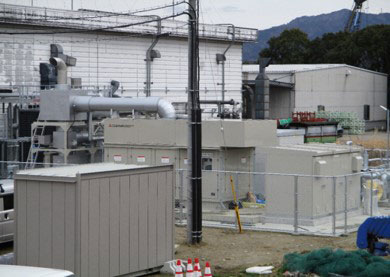 Use of Renewable Energy
Nikko City, Tochigi Prefecture, the location of UACJ's Nikko Works, has taken advantage of its mountainous terrain and abundant rainfall to generate a significant amount of hydroelectric power, a renewable energy that does not add CO2 to the atmosphere. The Nikko Works, which has been in operation since 1933, is UACJ's oldest manufacturing location, and, true to its location, fulfills a portion of its electricity needs with hydroelectric power.
In fiscal 2019, the Nikko Works used 29,186GJ of renewable energy in the form of hydroelectric power. This amounted to 0.21% of the total energy used by the UACJ Group for the fiscal year.
Main Initiatives in Logistics
UACJ is working to save energy in its logistics processes. Considered a Specified Consignor*2 under the Energy Saving Law*1, UACJ has established the goal of a 1% improvement in the 5-year average amount of energy used per ton-kilometer of shipments and is taking steps toward achieving it.
In fiscal 2019, the impacts of measures such as loading factor improvements and use of ship transport resulted in a 0.5% improvement in the amount of energy used for shipping, per unit of sales, compared to fiscal 2018.
To address another concern, CO2 emissions, we and business partners in the same industry have been cooperating since 2001 to improve shipping efficiency by jointly transporting certain extruded aluminum products.
*1 Energy Saving Law: Under an ordinance established by the Ministry of Economy, Trade and Industry under the Act on the Rational Use of Energy, a consignor, who is in the position of requesting services from a freight carrier, is required to develop an energy-saving plan, and work to reduce energy consumption.
*2 Specified Consignor: A consignor whose annual shipments of its own freight equals or exceeds 30 million ton-kilometers.
Amount of Energy Used for Shipping, per Unit of Sales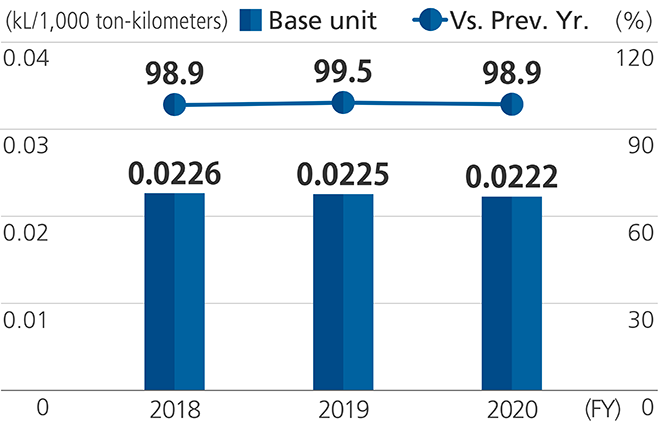 * Figure submitted in regular reports.
Main Initiatives in Offices
Energy-Saving Activities in Offices
UACJ's offices are actively working to cut electricity usage by implementing the Japanese government's "cool biz" and "super-cool biz" hot-weather measures, raising thermostats in the summer and lowering them in the winter, and systematically turning off lighting, electronic devices, and other electricity-consuming items when not in use.
Office-Based Environmental Protection Measures
For office supplies, items complying with the Law Concerning the Promotion of Procurement of Eco-Friendly Goods and Services by the State and Other Entities and eco-mark items are purchased to the extent possible.
Response to Climate Change Risk
Identifying Business Risks and Opportunities of Climate Change
With global warming driving a rise in natural disasters, climate change has become a global social and economic concern demanding urgent responses by both the public and private sector.
At the G20 Summit in Osaka, held in June 2019, the Japanese government announced its long-term growth strategy under the Paris Agreement and set the target of reducing CO2 emissions 80% by 2050 to help keep the global rise in temperature to less than 2℃. Later, numerous Japanese municipalities that had suffered major damage from 2019 typhoons 15 and 19 announced that they will achieve zero CO2 emissions by 2050. The Japan Aluminium Association, in announcing the Long-term Vision for Global Warming Countermeasures of Japanese Aluminium Industry to 2050 in March 2020, called for an approximate 80% reduction in CO2 emissions. This reduction is to be achieved through improved raw material manufacturing processes applying technical innovations enabling greater use of recycled ingots incorporating scrap, and the use of virgin ingots produced with reduced emissions. In response, the UACJ Group will continue and deepen its efforts to save energy in production processes. In addition, we have begun to consider a long-term vision for reducing CO2 emissions by raising our usage rate for recycled materials (scrap and ingots) and developing technology for making the best use of these materials. With further discussion by relevant parties, we plan to complete formulation of this vision during fiscal 2020.