Basic Stance
In light of the need to fight global warming, the pursuit of energy-saving activities is one of the UACJ Group's most important management concerns. Under the leadership of the executive officer in charge of energy management, we are focusing on what we can do in the present to achieve annual decreases in the amount of energy we use per unit of production. Over the medium-to-long term, our aim is to achieve 1% average annual improvements in our energy usage per unit of production, the target set forth in Japan's Energy Saving Law*.
* The Energy Saving Law is more formally known as the Act on the Rational Use of Energy.
Fiscal 2018 Results
In fiscal 2018, the Group used a total of 15,328,726GJ of energy (15,291,594GJ of energy from fossil fuels and 37,132GJ of renewable energy), 1.8% less than the total energy used in fiscal 2017.
The Group's CO2 emissions came to 738,015t-CO2 (432,824t-CO2 of direct emissions and 305,191t-CO2 of indirect emissions), about 21,000 tons less than the figure for fiscal 2017. Group CO2 emissions per product ton came to 0.978t-CO2, 1.6% higher than the figure for fiscal 2017 (assuming a fixed emissions factor for electric power).
This increase resulted from lower production and a consequent relative increase in the fixed component of energy usage, a change in the composition of products made, and the need to operate under irregular circumstances due to natural disasters and other causes.
* Beginning with fiscal 2018, reporting of energy usage is no longer being based on the crude oil (1,000 kl) equivalent but on GJ (gigajoules), as recommended in the GRI guidelines.
UACJ CO2 Emissions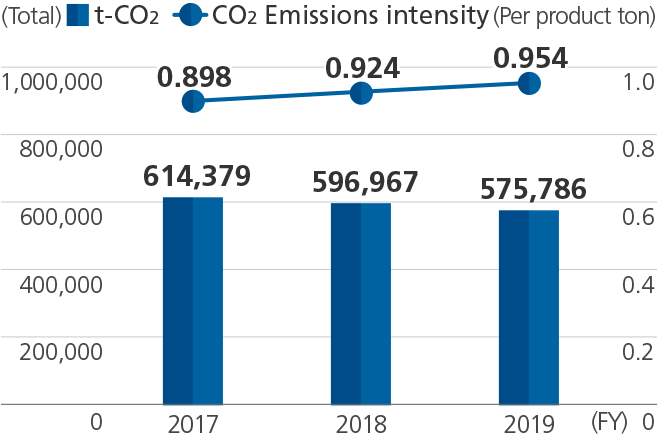 UACJ Group CO2 Emissions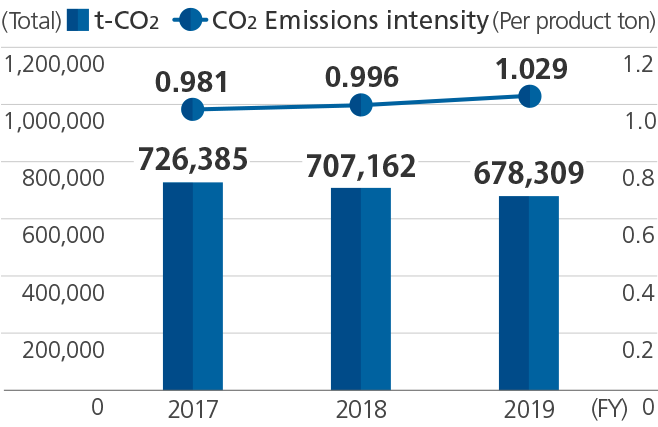 Energy Usage
| | Fiscal 2016 | Fiscal 2017 | Fiscal 2018 |
| --- | --- | --- | --- |
| Fossil fuels | 15,485,465 | 15,509,302 | 15,291,594 |
| Renewable energy | 45,543 | 41,667 | 37,132 |
| Total | 15,531,008 | 15,550,969 | 15,328,726 |
* Energy usage and CO2 emissions per unit production are based on the volume of products shipped.
* The CO2 emissions factor is the one used for electricity generation, 0.378kg-CO2/kWh.
* Measurement Scope: UACJ (Nagoya, Fukui, Fukaya, Nikko), UACJ Color Aluminum Corporation, UACJ Extrusion Nagoya Corporation (Nagoya, Anjo), UACJ Extrusion Oyama Corporation, UACJ Extrusion Gunma Corporation, UACJ Extrusion Shiga Corporation, UACJ Foil Corporation (Isezaki,Shiga,Nogi), UACJ Foundry & Forging Corporation, UACJ Copper Tube Corporation.
Main Initiatives in Production Processes
Energy Saving Subcommittee
At the UACJ Group, meetings of the Energy Saving Subcommittee are held on a regular basis. These meetings serve as opportunities for key participants - representatives of the facilities departments at multiple business locations - to share information, consider differences in facility performance, and hear best-practices examples presentations, all to achieve further improvements in energy saving endeavors.
Examples of Energy-Saving Activities
The UACJ Group's principal energy-saving activities for fiscal 2018 are given in the table below. In addition to those initiatives, we made adjustments to combustion facilities, updated compressors, replaced deteriorated insulation, applied insulating coatings to reduce heat losses, fixed steam and air leaks, and installed solar panels on plant roofs to save energy at business locations throughout the Group.
Examples of CO2 Emissions Reductions (New for fiscal 2018)
| Business Location | Theme | CO2Emissions Reduction Impact (t-CO2/yr.) |
| --- | --- | --- |
| Fukui Works | Upgrade to once-through boiler | 2,200 |
| All business locations | Conversion to LED ceiling light fixtures | 1,200 |
| Copper Tube | Billet heating furnace upgrade | 800 |
| Nagoya Works | Replacement of electrical components for hot-rolling line | 700 |
| All business locations | Upgrades, installation of energy-saving equipment, and other air-conditioning improvements | 200 |
Switching to LNG as a Heat Source for Production Processes
LNG results in 30% lower CO2 emissions than does heavy oil to generate the same amount of heat. UACJ, therefore, is systematically switching to LNG to provide heat for its production processes.
As of the end of fiscal 2018, LNG (including city gas) accounted for approximately 79% of fuel usage at UACJ's four works, in terms of heat generated.
Making Effective Use of Steam Turbine Compressor Exhaust Steam
The Nagoya Works uses a waste-heat boiler to generate over half of the steam it needs for its operations. In the past, a pressure control valve vented steam to the atmosphere, but now some of that steam is being recovered and re-used as feed water by condensing it and draining it into the feed-water preheater. This improvement has resulted in an equivalent 90-ton reduction in annual CO2 emissions.
Replacement of Hot Rolling Line Electrical Components
Due to aging, maintaining the principal electrical components of the Nagoya Works' hot rolling line was becoming more difficult. Therefore, the mill drive was upgraded to a high-efficiency model in fiscal 2017 and this resulted in an approximate 700-ton reduction in CO2 emissions in fiscal 2018.
Use of Renewable Energy
Nikko City, Tochigi Prefecture, the location of UACJ's Nikko Works, has taken advantage of its mountainous terrain and abundant rainfall to generate a significant amount of hydroelectric power, a renewable energy that does not add CO2 to the atmosphere. The Nikko Works, which has been in operation since 1933, is UACJ's oldest manufacturing location, and, true to its location, fulfills a portion of its electricity needs with hydroelectric power.
In fiscal 2018, the Nikko Works used 37,132GJ of renewable energy in the form of hydroelectric power. This amounted to 0.24% of the total energy used by the UACJ Group for the fiscal year.
Main Initiatives in Logistics
UACJ is working to save energy in its logistics processes. Considered a Specified Consignor*2 under the Energy Saving Law*1, UACJ has established the goal of a 1% improvement in the 5-year average amount of energy used per ton-kilometer of shipments and is taking steps toward achieving it.
In fiscal 2018, the impacts of measures such as loading factor improvements and use of ship transport resulted in a 1.1% improvement in the amount of energy used for shipping, per unit of sales, compared to fiscal 2017.
To address another concern, CO2 emissions, we and business partners in the same industry have been cooperating since 2001 to improve shipping efficiency by jointly transporting certain extruded aluminum products.
*1 Energy Saving Law: Under an ordinance established by the Ministry of Economy, Trade and Industry under the Act on the Rational Use of Energy, a consignor, who is in the position of requesting services from a freight carrier, is required to develop an energy-saving plan, and work to reduce energy consumption.
*2 Specified Consignor: A consignor whose annual shipments of its own freight equals or exceeds 30 million ton-kilometers.
Amount of Energy Used for Shipping, per Unit of Sales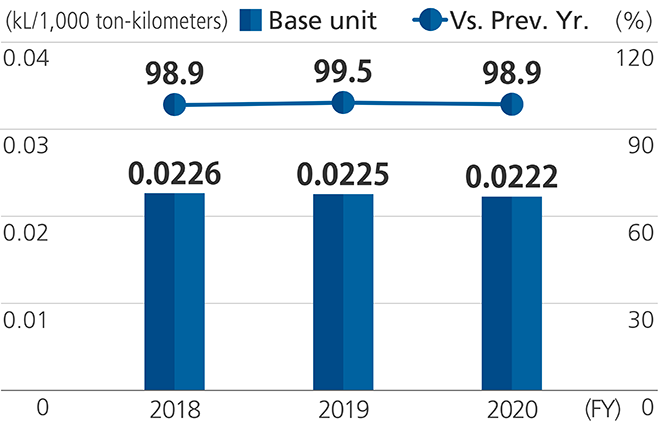 * Figure submitted in regular reports.
Main Initiatives in Offices
Energy-Saving Activities in Offices
UACJ's offices are actively working to cut electricity usage by implementing the Japanese government's "cool biz" and "super-cool biz" hot-weather measures, raising thermostats in the summer and lowering them in the winter, and systematically turning off lighting, electronic devices, and other electricity-consuming items when not in use.
Office-Based Environmental Protection Measures
For office supplies, items complying with the Law Concerning the Promotion of Procurement of Eco-Friendly Goods and Services by the State and Other Entities and eco-mark items are purchased to the extent possible.
Response to Climate Change Risk
Identifying Business Risks and Opportunities of Climate Change
With global warming driving a rise in natural disasters, climate change has become a global social and economic concern demanding urgent responses by both the public and private sector. At the G20 summit held in 2017, a report on a framework for financial disclosures related to climate change was presented by the Financial Stability Board's Task Force on Climate-related Financial Disclosures (TCFD). In that report, it was recommended that companies disclose information on medium-to-long-term climate-change-related risks and opportunities, and related financial matters.
In consideration of such developments in recent years, the UACJ Group began in fiscal 2019 to collect and summarize information for ascertaining current conditions and making forecasts for the purpose of identifying business risks and opportunities wrought by climate change and resulting social changes. Looking to the future, we plan to conduct group-wide discussions to identify climate change risks and opportunities for the UACJ Group, and will report our findings starting with the 2020 Sustainability Report.