ESG highlights- Environment

Building a System to Help Reduce Vehicle Weight
One of the most important challenges in protecting the global environment is lowering the environmental impact of automobiles. And with fuel efficiency standards become stricter, mainly in advanced nations, there are high hopes for efforts to reduce the weight of automobiles, something that would both increase fuel economy and reduce exhaust gas emissions.
Attention, therefore, has focused on aluminum, a material with a specific gravity of only about one-third that of iron or copper. Automobile manufacturers in the U.S. have been particularly enthusiastic about shifting to aluminum and are turning out an increasing number of high-end models with all-aluminum bodies. In response, we established the Automobile Business Promotion Division in October 2016 as part of a larger effort to promote greater application of the wide array of UACJ Group aluminum products and technologies in automobiles.
Anticipating greater demand for aluminum automobile body panels going forward, we established Constellium-UACJ ABS LLC to manufacture and sell automobile body panels in North America, and it achieved full-scale operation in fiscal 2016. In the same vein, we also added UACJ Automotive Whitehall Industries, Inc., a leading manufacturer of automobile structural components, to the UACJ Group, and have undertaken other measures, as well, to strengthen our supply system.
Led by the Automobile Business Promotion Division, the UACJ Group will draw on the full range of its resources to help reduce the environmental impact of automobiles by making them lighter.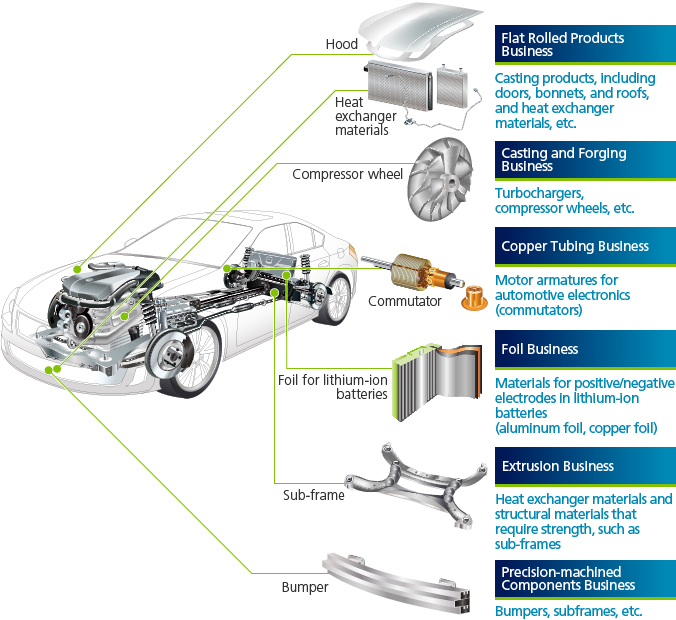 TAA Working to Reduce Environmental Impact
Aluminum is a material that excels in recyclability. When primary aluminum ingots are manufactured from recycled aluminum cans, for example, the amount of electricity used is only about 3% of what is needed to make aluminum ingots from ore. Aluminum, therefore, is very well-suited for creating a recycling-oriented society.
In the U.S., one of the world's leading consumers of canned beverages, the recycling of aluminum cans has taken on enormous proportions, with approximately 127,000 cans recycled every minute. Recycling makes up a significant portion of the operations of Tri-Arrows Aluminum Inc. (TAA), which manufactures mainly aluminum can stock in the U.S. Indeed, approximately 80% of the raw material TAA uses to make cans at its Logan Mill is from recycling.
With demand for can stock rising globally, there is a strong need for stable supplies of this material. To achieve a high level of recycling capacity, UACJ decided in fiscal 2016 to move ahead with a capital investment to increase TAA's casting-furnace capacity to around 400,000 tons a year. The completed facilities are scheduled to come online in fiscal 2018.
By simultaneously increasing production capacity and lowering environmental impact, the UACJ Group is responding to product demand while also helping to build a recycling-oriented society.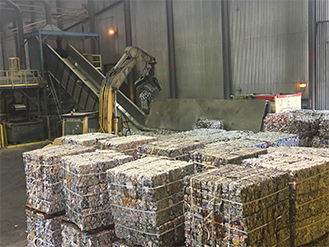 Participating in a National Project by Researching Manufacturing Processes for Promoting the Use of Aluminum
The automobiles, airplanes, and trains used every day throughout the world are indispensable forms of infrastructure for daily life, but heavy usage has made reducing the related environmental impacts a key concern. The use of increasing amounts of aluminum for automobile and train bodies, and airframes, is expected to reduce weight and, therefore, improve fuel economy and significantly lower environmental impacts. In substituting aluminum for steel and other materials, however, reducing the cost of aluminum has become a major issue.
UACJ, therefore, is working, as a participant in the New Energy and Industrial Technology Development Organization's (NEDO) Research and Development Project for Innovative Structural Materials, to develop a less expensive process for manufacturing aluminum.
The process for manufacturing aluminum is already approaching the limits of efficiency. Refining aluminum requires large amounts of electricity and reducing this electricity consumption is being viewed as a key to achieving significant cost savings. UACJ is working to develop a new aluminum refining approach that uses an ionic liquid and will require much less electricity and, therefore, entail commensurately lower cost. Through this research, UACJ hopes to expand the use of aluminum in transportation equipment and ultimately reduce environmental impacts on society.