ESG highlights- Governance

The Chairman of the Board and Outside Directors in a Roundtable Talk on Governance
In June 2017, the Chairman of the Board sat down with the Company's two outside directors for a roundtable talk on governance and how management issues are addressed at UACJ.
This discussion followed a similar conversation held in fiscal 2015, between the outside directors and the outside auditors. During their recent discussion, the Chairman of the Board and the two outside directors talked about their thoughts on the current status of the Board of Directors and issues it should address to improve its operation and strengthen the Company's governance. They also shared their opinions on topics such as what is needed to promote governance, and a corporate culture, appropriate for a global company.
UACJ Report – Roundtable Talk on Governance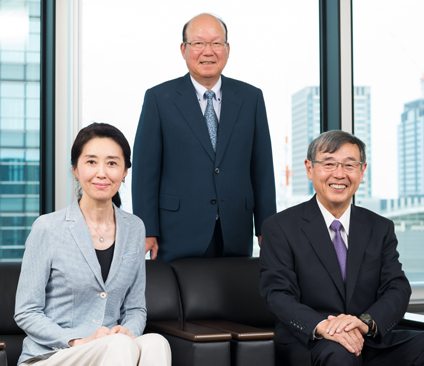 Continuous Improvement of Governance Based on Board Effectiveness Evaluations
UACJ is working to enhance its governance function and ensure, and enhance, management soundness and transparency based on the principles set forth in Japan's Corporate Governance Code, which came into effect in June 2015.
As part of that effort, directors and auditors were asked to complete a survey the point of which was to improve board effectiveness, in 2016. Survey results were discussed in an April 2017 meeting of the Board of Directors where it was confirmed that the board is of an appropriate size, diverse in composition, and capable of exercising its management oversight function. The result of the self-evaluation, therefore, was that the Board of Directors is operating appropriately. In addition, it was confirmed that progress is being made to resolve two issues concerning the Board of Directors, namely allowing sufficient time for considering important matters and engaging in active discussions of them, and providing outside auditors with ample prior explanations and explanatory materials.

Strengthening Compliance Systems for Overseas Group Companies Amid Business Expansion
In its drive to become a global aluminum industry leader, UACJ is moving forward with expansion of its overseas business. As we do this, we are also strengthening compliance education at Group companies not only in Japan but also overseas.
Toward that end, we held a training session for the leaders of Group companies in China, in May 2017. This event included a review of key points on compliance with Chinese law and local customs, and an open discussion of the UACJ Group's compliance system.
Meanwhile, in North America, where we have been actively acquiring companies and establishing subsidiaries, we appointed an executive to oversee legal matters and took other steps to ensure thorough compliance and strengthen governance functions at UACJ North America Inc., the company managing Group business activities in that part of the world. As we move forward, we will continue with education and other initiatives to strengthen compliance across the global UACJ Group.