Risk Management
We are constructing a comprehensive system for preventing the realization of all types of risks.
Risk Management System
At UACJ, individual departments identify business risks, and take measures to avoid or mitigate them. Progress in implementing risk management measures is reported to the CSR Committee, which then assesses the propriety of the measures taken.
BCP (Business Continuity Plan)
UACJ is working to develop a business continuity plan (BCP) that would allow it to continue to provide products and services, or enable the rapid restoration of these activities, in the event of a major earthquake, widespread emergence of infectious disease, or other emergency situation.
Response System for Major Earthquakes and Other Disasters
In preparation for an earthquake, fire, or other such disaster, UACJ has built a response system that provides for the safety of employees, minimizes damage by preventing secondary disasters, and speeds recovery.
At a more specific level, we have implemented employee safety confirmation systems, established an emergency contact network, and equipped business locations with emergency radio equipment.
In fiscal 2016, we implemented safety confirmation systems at three companies, bringing to 26 the total number of companies where these are in place. This is out of a total of 29 domestic Group companies for which we plan to implement these systems. Implementations at three companies are scheduled for fiscal 2017. When this work is completed, safety confirmation systems will be in place at all domestic Group companies.
In fiscal 2016, emergency radio equipment was installed at six business locations belonging to four domestic Group companies, bringing the total number of locations with emergency radio equipment to nine at UACJ Corporation and 34 at 17 domestic Group companies. Installations of emergency radio systems are planned for more locations in fiscal 2017.
To help ensure our ability to act swiftly and reliably in times of emergency, we regularly conduct training exercises at individual business locations. In November 2016, training focused on the establishment of a disaster response headquarters was conducted at the Company's headquarters
Everyone, including the chairman, president, all other executives working at the headquarters, and all 300 or so rank-and-file employees participated in this exercise, in which we tested skills in setting up, operating, and breaking down a disaster-response headquarters; and fighting fires. Training for responding to a power outage was also conducted.
Disaster response initiatives tailored to circumstances at individual business locations are also being taken. The Nagoya Works provides a particularly good example. Lying in an area specifically addressed by the Large-Scale Earthquake Countermeasures Law, this facility has been steadfast in taking steps such as seismically reinforcing the works' main structure, securing evacuation routes, installing early warning devices, and setting aside disaster supplies. At the same time, it has prepared an earthquake preparedness manual, which serves as the basis for annual comprehensive preparedness training for a possible earthquake and tsunami.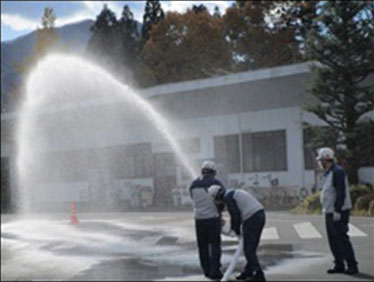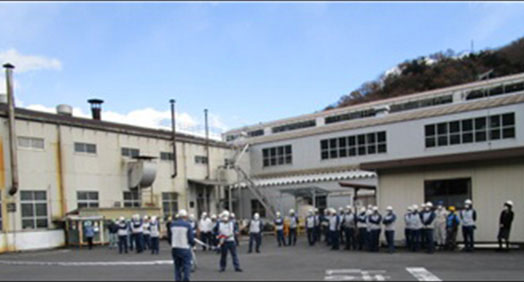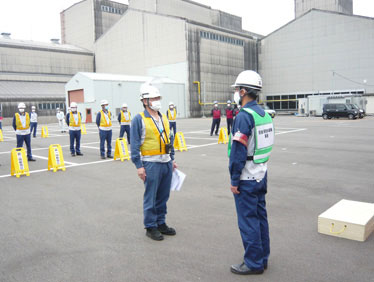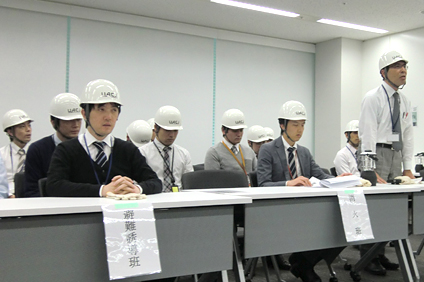 Training for the set-up of a disaster-response headquarters at UACJ's headquarters
Disaster-Response Training by Business Location
Business Location
Training Conducted
Headquarters
Firefighting, safety confirmation, evacuation, emergency life-saving, setting up a disaster-response headquarters, radio communications
Nagoya Works
Comprehensive training for responding to a major earthquake in the Nankai Trough (Setting up a disaster-response headquarters, evacuation, safety confirmation, radio communications, emergency life-saving, use of firefighting equipment, etc.)
Safety confirmation, radio communications
Fukui Works
Comprehensive disaster-response training (Setting up a disaster-response headquarters, evacuation, safety confirmation, radio communications, firefighting, using stretchers to transport injured people, etc.)
Safety confirmation, radio communications, AED training class.
Fukaya Works
Comprehensive disaster-response training (Setting up a disaster-response headquarters, evacuation, safety confirmation, firefighting, emergency life-saving, etc.)
Safety confirmation, radio communications
Nikko Works
Comprehensive disaster-response training, firefighting at individual worksites, AED instruction, safety confirmation, radio communications