Basic Concept
Management Philosophy
"The UACJ Group strives to offer products and services deserving of our customers' satisfaction and trust, and believes that sound and sustainable business development is key to making broad-reaching contributions to society."
At the UACJ Group, we believe that robust corporate governance and sound, transparent management are essential for living up to our management philosophy. By working to strengthen and enhance our corporate governance, we not only enhance our efforts to achieve ongoing increases in corporate value but also advance the interests of shareholders, customers, suppliers, employees, local communities, and other stakeholders.
Key Objectives and Results
Fiscal 2016 Objectives
Fiscal 2016 Results
Assessment
Fiscal 2017 Objectives
Strengthen Corporate Governance
Begin efforts to comply with Japan's Corporate Governance Code
Resolution calling for compliance with Japan's Corporate Governance Code adopted by the Board of Directors
○
Continue efforts to achieve compliance with Japan's Corporate Governance Code
Highlight Compliance
Enhance understanding of the Group Code of Conduct among all employees
Implemented Code of Conduct education programs at all domestic Group companies and nine overseas Group companies

Prepared a Brazilian Portuguese version of the Group Code of Conduct
○
Strengthen Code of Conduct education programs for overseas Group companies

Prepare more foreign-language versions of the Group Code of Conduct
Enhance understanding of reporting rules and eliminate reporting failures
Clarify reporting standards

Enhanced understanding through the Group General Affairs/Human Resources Liaison Committee and other avenues
○
Enhance understanding of reporting rules and eliminate reporting failures

Improve consistency of internal reporting rules

Began implementing reporting rules at overseas Group companies
Further enhanced awareness and credibility of the internal hotline
Properly addressed seven matters reported via the hotline

Used code of conduct education programs and other opportunities to enhance awareness of the hotline
○
Further enhance awareness and credibility of the internal hotline

Establish a hotline contact for employees on overseas assignments
Promote Risk Management
Implement risk management activities for the entire company
Internally disseminated information on department-level activities on a semi-annual basis

Activity status reports were presented in CSR Committee meetings
○
Continue to implement risk management activities for the entire company

Consider implementing risk management activities at domestic Group companies
Update the BCP and develop rules and manuals
Developed rules and manuals

Discussed matters concerning a BCP framework
○
Rebuild the organization for promoting BCP

Develop a BCP framework

Consider implementing at domestic Group companies
Looking toward the Future
In October and November of every year, UACJ and its 31 subsidiaries in Japan conduct Group Code of Conduct education programs. In fiscal 2017, we will begin to examine conditions at all of our overseas subsidiaries with the intent of conducting similar programs tailored to the needs of these companies, as well. Furthermore, we will begin formulating a common set of rules for the entire Group as part of our effort to establish a Group-wide compliance system.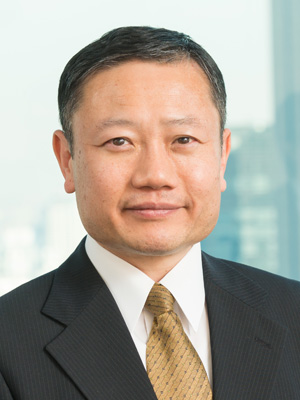 Comment by the Executive in Charge
The UACJ Group sees its corporate social mission as earning the trust of customers and suppliers by continuously providing society with products, technologies, and services that are useful and safe, and as using the results of sound business activities to benefit shareholders, employees, and local communities. Corporate governance is the basic framework for managing our business activities in our relationships with stakeholders.
With Japan's Corporate Governance Code having taken effect in 2015 and Japan's Ministry of Economy, Trade and Industry having issued its Practical Guidelines for Corporate Governance Systems in March of this year, demands for greater corporate governance effectiveness are on the rise. Examples of how this increase in effectiveness is to be achieved include strengthening of management oversight by boards of directors and greater involvement by outside directors.
Moving to enhance its corporate governance in response to these developments, UACJ is conducting surveys to assess the effectiveness of its Board of Directors and using the results to make improvements. Based on the fiscal 2016 survey data, it was determined that the Board of Directors is appropriate in terms of its size and diversity of composition. Furthermore, the Board of Directors was found to be operating properly and to be structured in a way that enables it to perform its management oversight function. Regarding outside directors, as discussed in the description of the roundtable talk between the Chairman of the Board and the outside directors (see ESG highlight – Governance TOPIC1), the outside directors are drawing on their experience and knowledge to contribute to UACJ's management.
At UACJ, we will continue to enhance corporate governance, which is essential to the sound pursuit of business activities, as we fulfill our role of contributing to society through manufacturing.