Relationships with Local Communities
The UACJ Group engages in various types of activities to not only contribute to society through business activities as a good corporate citizen but also coexist with and contribute to local communities as a corporate group trusted by society.
Basic Approach
The UACJ Group places great value on coexisting with the communities where we pursue business activities. We, therefore, support activities promoting environmental conservation, the development of children, the well-being of people with disabilities, local festivals, and other locally oriented activities.
Promoting Employee Participation
At UACJ, we encourage employees to participate in volunteer activities by not only inviting them to join in company activities supporting social welfare, disaster recovery, environmental conservation, and other such causes but have also implemented a volunteer leave system* that supports social participation by individual employees.
* Under the volunteer leave system, employees are allowed to take paid time off, separate from their regular paid leave, to participate in volunteer activities.
Environmental Protection and Neighborhood Cleanups
The UACJ Group, in its pursuit of CSR activities rooted in local communities, actively participates in the beautification activities of local governments and cleans areas adjacent to its plants.
Nagoya Works
The Nagoya Works contributes to local beautification efforts by conducting cleanups of areas surrounding the works. Participation in these twice-a-year events (held in May and September in fiscal 2017) consists mainly of supervisors numbering 60 or so for each occasion.
Fukui Works
The Fukui Works participates in environmental beautification activities promoted by Fukui Prefecture, and performs cleanup activities in areas next to its facility. In fiscal 2016, these cleanup activities were held on four occasions – in June, September, December, and March – with a total of 622 participants. Held every year, they have now become regular events for the community surrounding the works.
The Fukaya Works and Six Group Companies in the Fukaya Area*
Since 2001, the Fukaya Works and six Group companies in the Fukaya area have participated in Fukaya City's semiannual (May and November) "zero garbage" activities and conducted their own local cleanup activities. In fiscal 2017, a total of 106 people, including Group company employees joined in a cleanup of areas along the Maenogawa River as it passes along the western side of the Fukaya Works.
* ACE21, UACJ Logistics, UACJ Fukaya Service, UACJ Metal Components Corporation, UACJ System Corporation, UACJ Green-net Corporation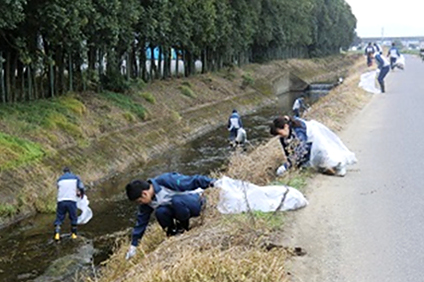 Nikko Works
The Nikko Works performs cleanup activities in the area around its facility and in neighboring areas. Thirty employees from indirect departments and cooperating companies participated in the activity held in June – Environment Month - of fiscal 2016.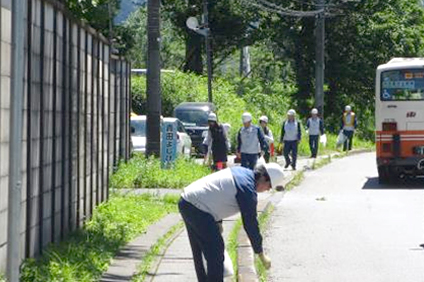 UACJ Copper Tube Corporation and UACJ Copper Tube Packaging Corporation
UACJ Copper Tube and UACJ Copper Tube Packaging hold cleanup activities in the areas around their facilities, as part of Toyokawa City's Cleanup Day, an event held twice each year in accordance with the city's ordinance on littering and cleaning up after pets.
In fiscal 2016, the city held its Cleanup Days in May and September, and UACJ Copper Tube Corporation and UACJ Copper Tube Packaging Corporation employees, numbering 90 in total, joined in the collection of non-burnable and burnable waste.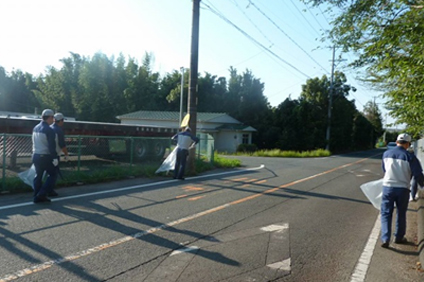 UACJ Extrusion Oyama Corporation and UACJ Foundry & Forging Corporation
Every four months, around 30 employees of UACJ Extrusion Oyama Corporation and UACJ Foundry & Forging come together to clean the approximate 2.5km footpath that surrounds the plant. They have also continuously participated in cleanup activities sponsored by Oyama City. In fiscal 2016, a total of 40 employees participated in the cleanup of the Watarase Yusuichi recreation area, in April; the cleanup following the Oyama fireworks event, in July; and the Furusato cleanup event in Omoigawa, in October.
UACJ Extrusion Gunma Corporation
UACJ Extrusion Gunma Corporation holds activities to remove litter and other discarded items from along public walkways, roads, and water channels, in areas near its plant. In fiscal 2017, these activities were held in April, July, December, and March, with 13 participants representing management and workers on each occasion. Items collected were processed by the city under a fee exemption and included cans, plastic bottles, and a variety of other items, with a total weight of 50 kg.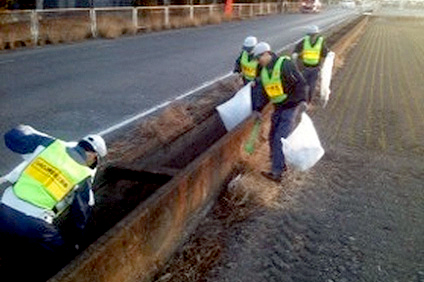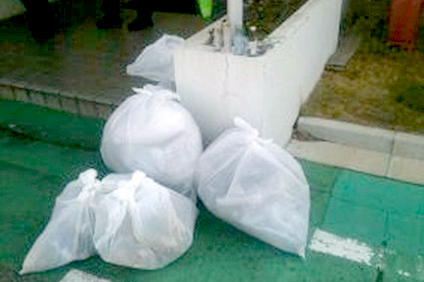 Cleaning up the public roads and water channels around the facilities of UACJ Extrusion Gunma Corporation
UACJ Extrusion Nagoya Corporation, Anjo Works
Working together with neighborhood associations, the Anjo Works of UACJ Extrusion Nagoya Corporation conducts cleanup activities mainly in areas adjacent to or near its plant at the end of every month. As an additional contribution to local beautification, the works also sweeps up litter and fallen leaves after stormy weather and on other occasions as necessary.
UACJ Extrusion Shiga Corporation
UACJ Extrusion Shiga Corporation participated in the June 2017 Lake Biwa Clean Fishing event, which was organized to help eliminate invasive species from Lake Biwa and preserve its environment.
UACJ Extrusion Shiga Corporation participates in this annual event held jointly by all Shiga Prefecture municipalities.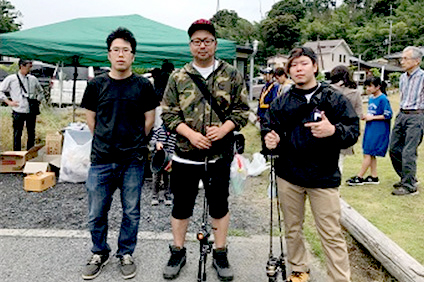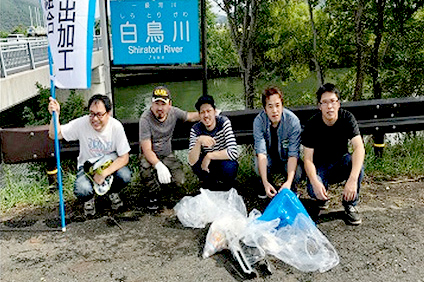 UACJ Extrusion Shiga Corporation employees participating in the Lake Biwa Clean Campaign
UACJ Foil Corporation, Nogi Works
In June of every year, the Nogi Works of UACJ Foil Corporation cleans the roughly 2km walking path between the works and Nogi Station, helping to beautify the area in the process. In fiscal 2017, 12 volunteers including Nogi Works employees and employees of business partners performing work on site joined in this event.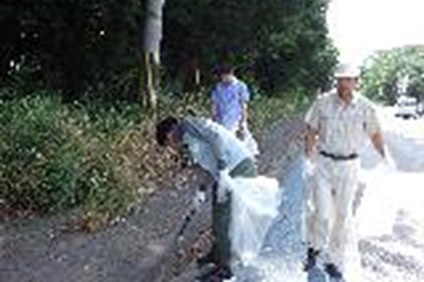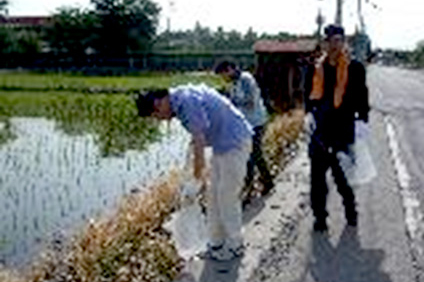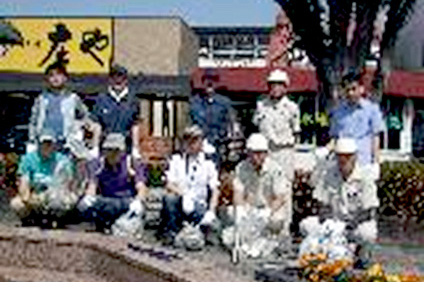 UACJ Foil Corporation, Shiga Works
The Shiga Works of UACJ Foil Corporation held an event on December 28, 2017 to collect leaf litter from areas surrounding the works and to clean the parking lot. Attention focused in particular on storm drains, which had become clogged, causing the formation of large puddles from rainfall.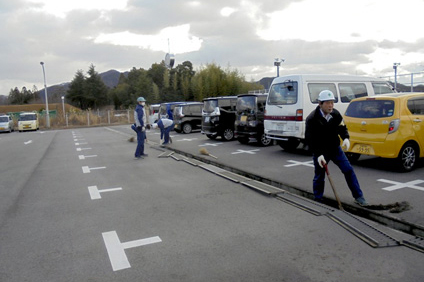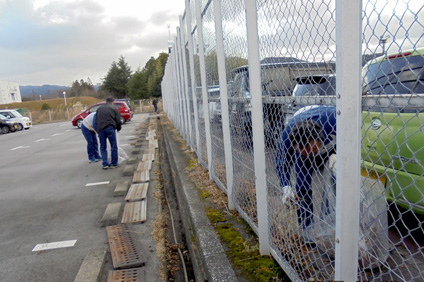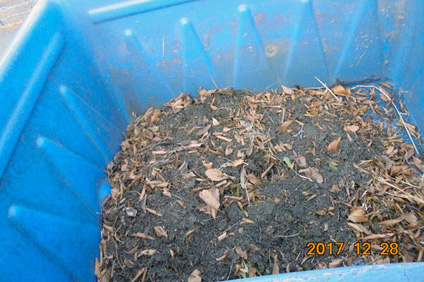 UACJ Foil Corporation, Isesaki Works
The Isesaki Works of UACJ Foil Corporation helps to advance global environmental beautification activities by holding a cleanup activity for a water channel running along the south side of the works. In fiscal 2017, this event was held on June 21, and participants, including recent new hires, worked together to clear the water channel of cans, plastic garbage, leaf litter, and other matter.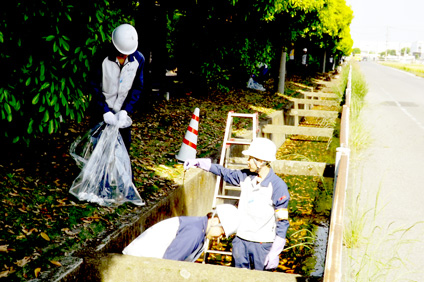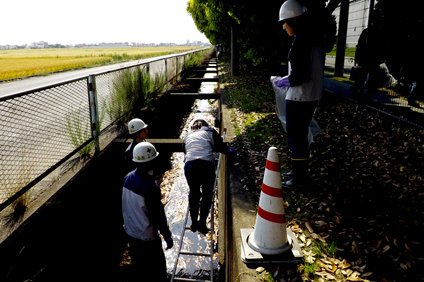 Nikkin Co., Ltd., Saitama Plant
Every year, the Saitama Plant of Nikkin Co., Ltd. helps to install and remove lanterns for the cherry blossom festival sponsored by the Kiyoku Industrial Park in March, joins in the industrial park's zero-garbage activities in May and November, and helps to set up and manage the Noryo Fireworks Festival held on the industrial park's athletic field in July.
In addition, the plant performs activities such as collecting garbage and leaf litter, and trimming grass, once a week in surrounding areas.
Sansen Co., Ltd.
For over 10 years, Sansen Co., Ltd. has been conducting its "Sawayaka Undo" cleanup activities in areas (junior high school, school for special needs education, hospital, and other places) surrounding the Nagoya Works of UACJ Corporation.
These activities are held on a monthly basis and draw participation by about 10 employees on each occasion.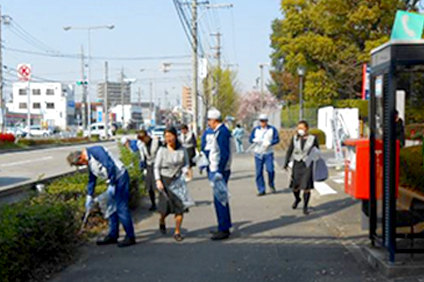 Support for Education and Research
The UACJ Group provides support for university and other research institutions, and for community-based cultural and arts activities. We also participate in the Japanese Ministry of Economy, Trade and Industry's commissioned research, are moving forward with the development of a joint industrial-government-academia development program for young engineers and university students, act as a corporate practical training venue for the Super Science High School, support training activities sponsored by the Japan International Cooperation Agency, and support other types of education and training initiatives, as well, inside and outside Japan.
Internship System
The UACJ offers internships to 10-15 university (including graduate school) and technical college students every year. Participants are given a chance to experience actual operations in R&D and production technology departments, and in so doing gain a better understanding of the value of study and research in an academic environment and what it means to work at a company and in society.
Fukui Works
As one way of contributing to the local community, the Fukui Works welcomes visitors for plant tours. In fiscal 2016, the works conducted tours for nine groups of elementary and junior high school students and the general public. The total number of participants came to approximately 200 and the works was happy to help them learn more about UACJ.
Fukaya Works
In August, the Fukaya Works conducted a plant tour for high school students as part of its cooperation with the Ministry of Education、Culture、Sports、Science and Technology's Super Science High School project. The aim of this project is to develop people who can be active participants in science and technology at the international level. It is doing this by helping students develop scientific abilities and skills, and capacities for scientific thinking, judgment, and self-expression, through advanced math and science high-school education. Eight high school students participated in the plant tour, which gave them an opportunity to see the inside of the Fukaya Works and the R&D Center.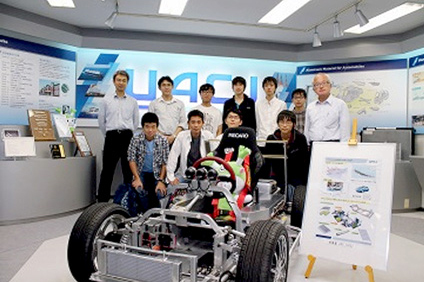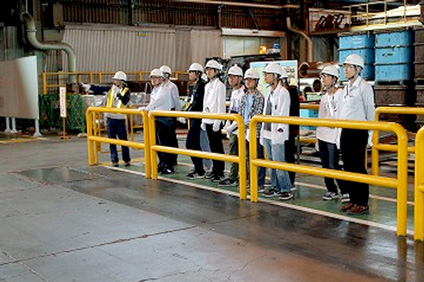 UACJ Extrusion Oyama Corporation
UACJ Extrusion Oyama Corporation welcomes local junior and senior high school students for workplace tours every year. Comments reflecting surprise at the quantity and size of equipment in the plant and recognition of the importance of workers simply greeting each other show that observing plant operations has impressed students in various ways.
UACJ Color Aluminum Corporation
UACJ Color Aluminum accepts students from Utsunomiya Kogyo High School in Utsunomiya City, Tochigi Prefecture, for internships in October of every year. In fiscal 2016, two students studying electrical engineering at the school were welcomed for a five-day internship (October 24-28) in the company's painting facility. Afterward, the students said that the internship gave them a better sense of the demands and importance of work and that their experience would be useful in making decisions about education and employment. For its part, UACJ Color Aluminum aims to enhance his contributions to the local community through internships and other means as well.
UACJ Copper Tube Corporation
Every year, UACJ Copper Tube Corporation accepts interns from a local high school.
In fiscal 2016, two students from Toyokawa Technical High School were welcomed for a three-day (October 18-20) internship in the facility maintenance department. For their internship, the students got a taste of maintenance work by participating in the dismantling and assembly of equipment actually used by the company.
UACJ Metal Components Corporation, Shiga Works
The Shiga Works of UACJ Metal Components Corporation participates in a program in which public school teachers undergo training at private sector companies. Over the past 17 years, it has regularly welcomed teachers into its facilities, and conducted training for 16 teachers in total. From October through December of fiscal 2017, a teacher from a local elementary school participated in assembly, packaging, and other types of work together with employees in the craft and manufacturing area of the Shiga Works.
UACJ Metal Components Corporation, Ena Works
The Ena Works of UACJ Metal Components Corporation accepts students from Nakatsugawa Kogyo High School and Ena Kita Junior High School, both in Gifu Prefecture, for internships. It also conducts plant tours for local elementary, junior high, and high school students. As a member of Ena City's environmental committee and labor standards association, the works also participates in events sponsored by these organizations.
Nalco Koriyama Co., Ltd.
Nalco Koriyama Co., Ltd. offers internships to students from Koriyama Kita Kogyo High School. In fiscal 2017, 3 second-year students from the school's machinery program participated in the three-day internship (July 11-13), which included classes on safety and how to read technical diagrams, and hands-on experience in performing light-duty work.
ACE21 Nara Center
ACE21 Nara Center participates in the experiential learning education program of the nearby Shikige Junior High School. In fiscal 2017, the center took great pride in guiding 2 students through a three-day program in the basics of processing sheets of aluminum.
UACJ Marketing & Processing
Since fiscal 2012, UACJ Marketing & Processing Corporation has been conducting a practical learning program for people with disabilities. Its intent is to support their efforts to live independently. In fiscal 2017, the company accepted one student from Anjo Special Needs Education School for the program, as has become its annual practice. With the help of detailed discussions with the school, and proper attention paid to safety during the program, the student accepted for the program completed it with flying colors.
Toyo Fitting Co., Ltd.
Toyo Fitting participates in an experiential learning project for local junior high school students. In fiscal 2016, it hosted 20 students from four schools, leading them through a program that included a plant tour and hands-on experience with tasks such as product packaging.
Disaster Response Support for Communities
Nagoya Works
Supporting the City of Nagoya's aims under its program for making the city more resilient against natural disasters, the Nagoya Works has signed a memorandum of understanding with a local committee working to prepare the Nakagawa school district for natural disasters. The agreement is for the provision of materials and equipment for responses to large-scale disasters. By entering into this relationship, the works is cooperating with the City of Nagoya's efforts to have communities and companies work together to improve their area's ability to deal with major disasters.
The Nagoya Works also signed an October 2012 memorandum of understanding in which it has agreed to make its unmarried employees' dormitory available free of charge as a tsunami evacuation site for students of a nearby school for disabled children, and it continues to conduct tsunami evacuation drills with the school.
UACJ Copper Tube Corporation
In an effort to support local disaster preparedness, UACJ Copper Tube Corporation entered into an agreement for firefighting and disaster response support with Toyokawa City in March 2013. The company also registered as a business that will cooperate in firefighting for the city and has employees participate in firefighting activities.
Toyo Fitting Co., Ltd.
In support of the local disaster preparedness, Toyo Fitting has signed a memorandum of agreement with a local neighborhood association regarding evacuation sites to be use in times of emergency.
Other Forms of Communication
Fukui Works
Cooperating with Sakai City's efforts to make itself more livable for people with disabilities, the Fukui Works began in fiscal 2008 to make donations of 9 million yen in five-year cycles, providing equipment for schools for special needs children and other social welfare facilities, as well.
The works' donation for the fiscal 2012-2016 period has been used for purposes such as the purchase of a bus for the Reihoku School for Children with Special Needs and installation of audio guidance systems for the visually impaired in five of the city's multipurpose toilets.
Fukaya Works and Six Group Companies in the Fukaya Region*
Since 2007, the Fukaya Works and six Group companies in the Fukaya region have been making contributions to programs that assist disabled people.
These contributions are overseen by the UACJ Shogai Fukushi Kikin. Together with funds donated by the six Group companies, a total of two million yen is contributed to the fund every year to promote projects for the benefit of disabled people in Fukaya City.
* ACE21 Corporation, UACJ Logistics Corporation, UACJ Fukaya Service Corporation, UACJ Metal Components Corporation, UACJ System Corporation, and UACJ Green-net Corporation
Nagoya Works, UACJ Copper Tube Corporation
The Nagoya Works holds the Inari Festival, which begins with a dedication ceremony at Inari Shrine, located on the grounds of the works, in April of every year, and UACJ Copper Tube Corporation holds its Summer Festival in August. Both of these festivals are attended by large numbers of local residents and are, therefore, good opportunities for deepening communication with local communities. The Nagoya Works and UACJ Copper Tube Corporation also actively co-sponsor and participate in festivals, sports, and other events held by local school districts.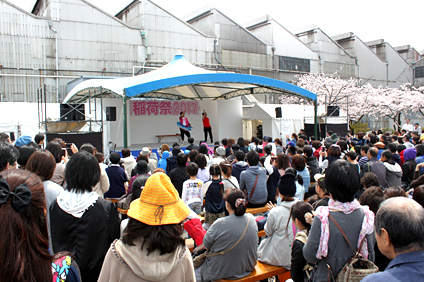 UACJ Copper Tube Corporation and UACJ Copper Tube Packaging Corporation
As part of their efforts to support people with learning disabilities, UACJ Copper Tube Corporation and UACJ Copper Tube Packaging Corporation began in April 2013 to allow Smile, an organization supporting people with learning difficulties, to sell its baked goods within their companies every Wednesday, excluding holidays. Popular with employees, these items – all 150 Smile brings – are sold out in only about 15 minutes.
The companies also outsource the sorting of waste items to Smile and Mokusei no Hana, another organization supporting disabled people.
UACJ Extrusion Oyama Corporation, UACJ Foundry & Forging Corporation
At UACJ Extrusion Oyama Corporation, employees, mostly younger ones, participate in the Mikoshi Neriaruki parade that is the highlight of every July's Oyama Summer Festival Opening Carnival.
Donations and other forms of support are provided on an ongoing basis to Tochigiken Bohan Kyokai (crime-prevention organization), Oyamashi Shakai Fukushi Kyokai (social welfare organization), and other charitable organizations.
UACJ Extrusion Gunma Corporation
Since fiscal 2015, UACJ Extrusion Gunma Corporation has been hosting students from Isezaki Senior Special Needs School for on-site group practical training. And in April 2016, students who participated in this training were welcomed as new employees. At an October 2016 seminar on hiring people with disabilities, sponsored by the school and the public job placement office in Isezaki City, representatives of the company gave a talk on the company's initial steps in hiring people with disabilities and its practical training program. The seminar proved to be a prime opportunity for attendees, 15 people from 13 companies, to learn and share information on hiring people with disabilities.
Nalco Koriyama Co., Ltd.
With help from the city of Koriyama, Nalco Koriyama Co., Ltd. organized a summer festival sponsored by the association of companies with operations in the Koriyama Nishibu Dai-ni Industrial Park. The festival, which was held on July 21, 2017, attracted roughly 840 visitors, including local residents. Following an opening address by the mayor of Koriyama, the festival commenced with a can-stacking game, a comedy performance, and other attractions visitors thoroughly enjoyed.