Relationships with Customers
The UACJ Group contributes broadly to society by striving to provide customers with products and services that earn their satisfaction and trust.
Basic Policies and Systems for Quality Management
Basic Policies
We will constantly strive to improve our capabilities in technological development, quality management, and frontline execution.
We will fulfill demands put before us.
We will carefully consider the quality objectives we have established and results we have obtained, and allocate management resources as needed.
We will undertake quality improvement activities with participation by all Group members to ensure that all employees understand our policies on quality.
All Group employees will act based on a clear understanding of our stance on quality and will participate in quality improvement activities.
Quality Management System
The UACJ Group has established its Quality Committee, chaired by the Executive in Charge of Quality, as the highest organ for advancing quality management. The Quality Committee discusses and reports on the status of quality, significant problems, and other quality-related matters.
Quality control groups have been established for each of the Group's businesses - flat rolled products, extrusion, foil, casting and forging, and precision-machined components. These individual quality control groups work together with the Quality Management Department and the leaders of organizational units, as they pursue quality management activities.
Formulation of the UACJ Group's Annual Quality Management Direction
A uniform, annual quality management direction is established for the entire UACJ Group. For fiscal 2018, quality objectives and priorities were clearly stated under the slogan, "Further strengthen the quality platform to realize world-class competitiveness," and measures for improving quality were undertaken. In fiscal 2019, the Group is working to achieve quality objectives through new growth based on quality contributions by all employees.
Fiscal 2018 Results
The results of fiscal 2018 initiatives to achieve quality objectives are presented below.
To achieve "zero major quality problems (quality anomalies)," uniform standards were created for the entire Group and special attention was paid to sharing information on a Group-wide basis to prevent problems from recurring. As a result, we experienced fewer major quality problems than in fiscal 2017. Presently, no UACJ Group products have had sales suspended because of, or are the subject of disputes related to, major quality problems.
Regarding the objective of achieving "10% or greater year-on-year improvements in numbers of complaints," measures focusing on key objectives succeeded in reducing complaints, both those involving claims for damages and those that do not, by 10% compared to the previous fiscal year.
For fiscal 2019, the quality objectives for fiscal 2018 have been retained and key objectives reflecting the future vision have been set to achieve further quality improvements under the slogan, "Achieve new growth based on quality contributions by all employees."
Fiscal 2018 Quality Objectives
Zero major quality problems (quality anomalies)
10% or greater year-on-year improvements in numbers of complaints, both those involving claims for damages those that do not.
Key Objectives
Identify fundamental causes of problems to prevent recurrences and human error.
Identify customer needs and expectations, and respond to them swiftly to increase customer satisfaction.
Secure necessary capabilities and understanding, based on appropriate education, training, and experience.
Implement DR (design reviews), change management, and initial flow control.
Strengthen the quality management system.
Fiscal 2019 Quality Objectives
Zero major quality problems (quality anomalies)
10% or greater year-on-year improvements in numbers of complaints, both those involving claims for damages those that do not.
Key Objectives
Increase customer satisfaction through responses to customer needs and expectations.
Prevent recurrences of quality problems and human errors by identifying causes.
Prevent defects through proper implementation of design reviews, change management, and initial flow control.
Maintain necessary capabilities and practice compliance on a foundation of proper education, training, and experience.
Promote systemization and automation of testing and inspection.
Quality Management based on International Certifications
The UACJ Group practices quality management in accordance with the international quality management system certifications obtained by UACJ and its Group companies. For Group companies that have yet to obtain these certifications, the Quality Management Department provides support enabling quality management that conforms to international certification requirements.
In fiscal 2018, one overseas business location was newly certified.
Preparing Quality Assurance Guidelines (UACJ ver.)
Over the past several years, there have been multiple incidents in which manufacturers have falsified quality-related data and used unqualified personnel to perform quality inspections. In response, the Japan Aluminum Association introduced quality assurance guidelines for the aluminum industry in March 2018.
The UACJ Group then used these guidelines to create its own quality assurance guidelines. The UACJ Quality Assurance Guidelines, which were introduced in August 2018, reflect circumstances related to the quality management system and other aspects of the UACJ Group, while remaining consistent with the industry's guidelines.
The UACJ Quality Assurance Guidelines have further strengthened the quality assurance system by incorporating concrete schedule guidance for systemization and automation initiatives for shipping inspection/testing data. In fiscal 2018, concerted efforts were made to educate individual Group business locations on implementation of quality assurance practices in accordance with the new guidelines.
Product Safety Initiatives
Aluminum is a strong, lightweight material that is easy to process, resistant to corrosion, and readily recyclable, so it has come to be used as a raw material for various industrial product components, packaging material, and various other products across all aspects of daily life. Because many of the products made with aluminum - for example, automobile components, aircraft components, food wrapping, etc. - have a direct impact on the safety of human lives, consumer safety is viewed with particular importance.
At UACJ, the Quality Management Department leads product safety initiatives to address product safety risks in particular from the unintentional inclusion of certain elements and other impurities, in violation of legal or regulatory standards, in alloy production and other processes.
More specifically, product safety is reviewed at checkpoints established in design reviews, and strength, presence of impurities, and other product safety items are thoroughly checked at the manufacturing stage based on specifications determined together with the customer.
In addition, mill sheets, which display testing results, are checked to determine whether product information is properly presented.
Provision of Product Defect Information
The UACJ Group has established rules for responding to major incidents concerning product quality and safety. Under the Major Incident Response Rules when an incident, such as a product defect or regulatory violation, comes to light, a special incident investigation committee is established, details of the situation are clarified, and relevant information is provided to customers and consumers. To date, there have not been any incidents requiring that these steps be taken.
Proportion of Products for which Safety Evaluations Are Performed
Safety evaluations are performed for 100% of products that have been confirmed to be in compliance with specifications agreed upon with customers and for 100% of products for which shipping inspections are performed as a matter of legal or regulatory compliance.
Compliance with Product Safety Laws and Regulations
In fiscal 2018, there were no violations of legal, regulatory, or the UACJ Group's own provisions on product quality and safety, or the display of product information.
Measures to Improve Customer Satisfaction
In both its management philosophy and basic policies on quality, the UACJ Group states that it will strive "to offer products and services deserving of our customers' satisfaction and trust."
Knowing what customers want, therefore, is essential. To gather customer feedback, we conduct customer satisfaction surveys at least once a year. In fiscal 2018, we asked key customers to participate in surveys at least one time. We also hold gatherings where customers can tell us directly what they think and what they would like to see in our products. Having collected feedback from activities such as these, we analyze it and then apply findings in improvement activities and development of new products.
Responding to Customer Questions
On its website, the UACJ Group has created a page where customers can submit questions on matters such as orders for aluminum materials and technical issues concerning applications, and ask for prepared information. Regardless of the nature of the inquiry, we make a point of providing customers with swift, accurate responses.
Going forward, we intend to further deepen our interaction with customers and reflect what we learn in the development of new products and other activities, as well.
Dissemination of Information on New Products and Technologies
Publication of a Technology and Research Journal
UACJ issues UACJ Technical Reports once a year to present technical papers on UACJ Group research results and new products and technologies. The fiscal 2018 edition, Vol.5, No.1, was published in March 2019.
To make UACJ Technical Reports content, which covers aluminum and aluminum alloy technology, available to as wide an audience as possible, we also post it on our website.
UACJ Technical Reports will continue to be an important channel for disseminating the latest information on UACJ Group products and technology.
Maintaining Strong Customer Relations
Promoting joint research and development with partners worldwide to contribute to society and the growth of the UACJ Group
Director, senior managing executive officer, and chief executive in charge of the Research & Development Division
Kazuhisa Shibue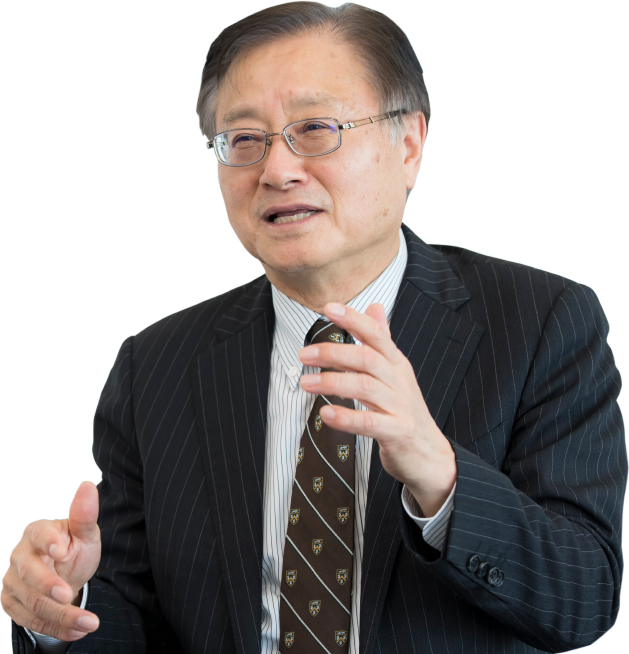 UACJ's R&D Center is at the helm of the Group's research and development activities. Located next to Nagoya Works in central Japan, the center conducts highly advanced research on aluminum materials and related manufacturing processes, and oversees the development of the Group's mainstay products, including flat-rolled aluminum for can stock and automotive body sheet and components.
The R&D Center deals with customers directly, cooperates closely with UACJ's factories, and applies expertise accumulated for over a century of doing business. These unique advantages enable the center to become integrally involved in developing products according to customers' specifications and needs, and smoothly complete the products by installing prototypes onsite in advance. Consequently, UACJ has earned the trust of customers as the top aluminum product manufacturer in Japan.
In the industry today, however, manufacturing is being carried out at an increasingly fast pace. To achieve that speed, it is essential to share data and integrate a wide range of knowledge through open innovation. Accordingly, in fiscal 2018, the R&D Center initiated a policy of promoting collaborative research and development projects. Toward that end, it has been facilitating cooperation among its own researchers and with the Company's factories and sales divisions, while creating opportunities for collaboration with customers and leading research institutes in an effort to develop new technologies and products at an even faster pace.
In fiscal 2018, UACJ established two facilities for promoting collaborative R&D with other companies and organizations: the U-AI Laboratory, an interactive exhibition space designed to appeal to potential collaborators, and an R&D facility on the premises of the National Institute of Advanced Industrial Science and Technology, one of Japan's largest public research organizations. This facility was established at the institute for the purpose of enabling highly specialized collaborative projects. Also in fiscal 2018, UACJ established its first R&D facility outside Japan in order to enable joint-research internationally. In addition, the R&D Center remodeled one of its floors, replacing private offices with an open innovation space as a means to stimulate collaboration among researchers.
Backed by the trust of customers, the R&D Center will continue to evolve by building on its expertise and capabilities through collaborative projects. Besides developing new technologies and products that meet the needs of customers and provide solutions, the center will work towards the Group's future vision: "Maximize the possibilities of aluminum in ways that contribute to society and the environment." In that way, we hope to continue earning the trust and meeting the expectations of customers and the public at large, and contribute to the growth of the UACJ Group and the communities it serves through research and development that is driven by the emerging needs of customers and society.