For Single-room Home-use Air Conditioners, Industrial Heat Exchangers and Cold/Hot Water Pipes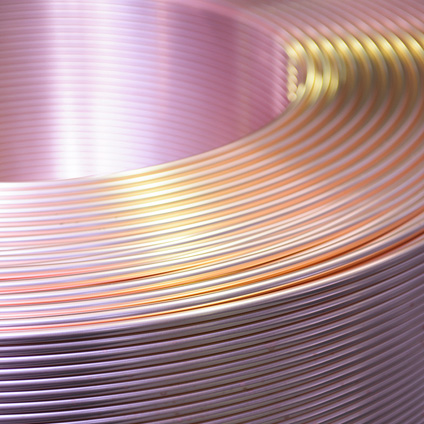 Due to its superior heat conduction properties, copper piping is widely used in a variety of applications, such as air conditioners and heat exchangers. Additionally, with better understanding in recent years of its antibacterial properties, the demand for copper pipe is expected to expand even further. UACJ offers copper, copper alloy and titanium tube, as well as compatible products, in a wide variety of sizes and for a diverse range of uses, including air-conditioners, cold/hot water supply pipes, and building plumbing.
Strengths
With over 100 years of in-depth experience and dependable technologies, UACJ manufactures high-quality, high-precision copper tubes.
With a full range of coatings, finned tubing, and other features for our copper, copper alloy and titanium tubes, UACJ offers a rich variation to meet all customer needs.
In order to meet expanding demand and diversifying needs, we have established production bases in countries such as Malaysia and China, as part of a powerful global network.
Product Applications
Air conditioners (heat exchangers)
Nuclear/thermal power stations (condensers)
Building plumbing
Desalination equipment (heat exchangers, pipes)
Cold/hot water supply pipes
Absorption refrigeration machines for regional heating and cooling
Medical gas pipes
Heat pipes for electronics cooling
Automobiles (motor parts)