Chemical Substance Management and Pollution Prevention
Basic Stance
The UACJ Group strives to properly manage chemical substances and control emissions while also switching to chemicals with low impacts on the environment and human health. We do this out of concern not only for effects on the natural environment but also for safety - for employees engaged in manufacturing our products and customers when they use our products. In our efforts to control emissions, we have established and abide by our own standards, which are stricter than those set forth in Japan's Air Pollution Control Law, Water Pollution Control Law, local government ordinances, and conventions.
Fiscal 2019 Results
In fiscal 2019, there was one incident in which environmental wastewater standards were exceeded. On October 30, 2019, a malfunction occurred in a chemical injection controller for a neutralization tank (for wastewater treatment) at the Fukui Works. Workers responded to an alarm by closing a gate to prevent outflow into a public wastewater outfall but were not in time to stop the discharge of wastewater with an abnormal pH. The discharge lasted only a short period of time and a downstream wastewater treatment center detected no abnormalities. To prevent a recurrence of this problem, we have improved the monitoring system and revised operating procedures so that equipment automatically stops discharges one malfunction occurs. We have also revised the emergency procedures manual and have implemented simulation-based training.
Pollutant Control at Individual UACJ Works (Fiscal 2019)
Measurement Item
Nagoya
Works
Fukui
Works
Fukaya
Works
Nikko
Works
Air
NOx, SOx, soot and dust
○
○
○
○
Water 
pH, BOD
○
(Note)
○
○
n-H (mineral oil), SS
○
○
○
○
(Note) pH temporarily exceeded standards in a public wastewater outfall. (October 30, 2019)
Control of PRTR Substances
The UACJ Group, in accordance with the PRTR system*, which is based on the Act on Confirmation, etc. of Release Amounts of Specific Chemical Substances in the Environment and Promotion of Improvements to the Management Thereof, identifies amounts of targeted substances handled, released, and transferred; and reports them as required; while also working to reduce these volumes.
In fiscal 2019, lower production meant that we handled a smaller amount of chemical substances than we did in fiscal 2018. As a result, the amounts of all covered chemical substances released and transferred by the Group as a whole declined by 17 tons (4.5%) and 5 tons (3.0%). respectively.
* PRTR system: This system is for the control of chemical substances that are harmful to human health or the ecosystem. Under this system, businesses ascertain the amounts of harmful chemical substances they have released into the atmosphere, water, or soil, or transferred to locations outside of their business facilities, and report this data to the national government. The national government then uses this data and estimates to summarize and disclose volumes of chemical substances released or transferred.
Amounts of PRTR Substances Handled
(Contain manganese, chromium, nickel, and lead as alloy substances)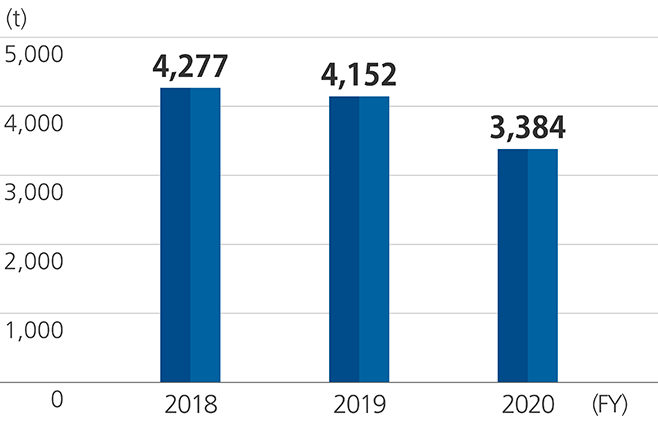 Amounts of PRTR Substances Released or Transferred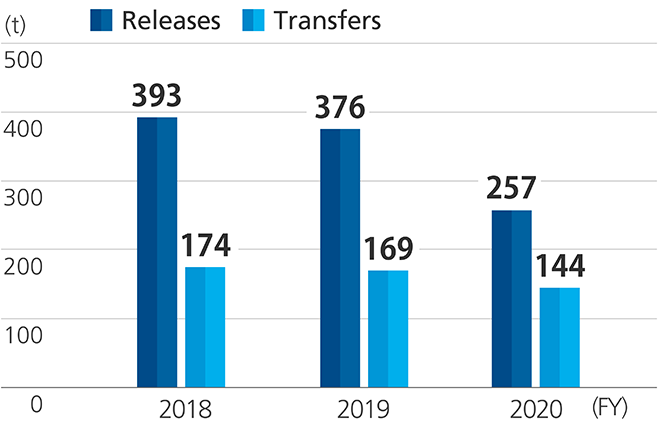 * Measurement Scope: UACJ (Nagoya, Fukui, Fukaya, Nikko), UACJ Color Aluminum Corporation, UACJ Extrusion Nagoya Corporation (Nagoya, Anjo), UACJ Extrusion Oyama Corporation, UACJ Extrusion Gunma Corporation, UACJ Extrusion Shiga Corporation, UACJ Foil Corporation (Isezaki,Shiga,Nogi), UACJ Foundry & Forging Corporation.
Handling, Releases, and Transfers of PRTR Substances (Fiscal 2019)
| No. | Substance | Amount Used (kg) | Amount Released (kg) | Amount Transferred (kg) |
| --- | --- | --- | --- | --- |
| 412 | Manganese and its inorganic compounds | 2,341,460 | 0 | 18,980 |
| 300 | Toluene | 728,580 | 185,823 | 54,498 |
| 80 | Xylene | 250,597 | 19,837 | 2,834 |
| 87 | Chromium and chromium(III) compounds | 225,470 | 25 | 27,902 |
| 273 | 1-dodecanol | 152,933 | 76,517 | 40,605 |
| 296 | 1,2,4-trimethyl benzene | 126,945 | 60,818 | 3,814 |
| 53 | Ethyl benzene | 101,097 | 3,078 | 682 |
| 374 | Hydrogen fluoride and its water-soluble salts | 56,213 | 1,663 | 14,994 |
| 71 | Ferric chlorides | 49,850 | 0 | 0 |
| 88 | Hexavalent chromium and its compounds | 27,704 | 0 | 50 |
| 297 | 1,3,5-trimethylbenzene | 26,471 | 17,761 | 600 |
| 308 | Nickel | 24,174 | 0 | 0 |
| 302 | Naphthalin | 7,246 | 169 | 44 |
| 407 | Polyoxyethylene = alkylether | 6,146 | 6,047 | 80 |
| 392 | n-hexane | 4,426 | 1,649 | 553 |
| 304 | Lead | 4,149 | 0 | 0 |
| 207 | 2,6-Di-tert-butyl-4-cresol | 4,093 | 1,754 | 2,339 |
| 133 | Ethylene glycol monoethyl ether acetate | 3,976 | 65 | 3 |
| 321 | Vanadium compounds | 2,318 | 0 | 0 |
| 411 | Formaldehyde | 1,417 | 28 | 3 |
| | Total | 4,145,267 | 375,236 | 167,981 |
* Measurement Scope: UACJ (Nagoya, Fukui, Fukaya, Nikko), UACJ Color Aluminum Corporation, UACJ Extrusion Nagoya Corporation (Nagoya, Anjo), UACJ Extrusion Oyama Corporation, UACJ Extrusion Gunma Corporation, UACJ Extrusion Shiga Corporation, UACJ Foundry & Forging Corporation, UACJ Foil Corporation (Shiga, Nogi, Isezaki), UACJ Copper Tube Corporation.
Reducing VOC Releases
Having targeted for reduction substances such as toluene, xylene, ethyl benzene, and 1,3,5-trimethylbenzene, the UACJ Group is cutting releases of these VOCs (Volatile Organic Compounds) into the air. In fiscal 2019, measures to reduce VOC emissions included switching to a thinner substitute and consideration of possibilities for installing exhaust gas treatment equipment.
Prevention of Air Pollution
The UACJ Group is working to reduce its emissions of air pollutants by keeping plant facilities in top working condition and converting from heavy oil to LNG as a fuel. At present, our efforts are succeeding in keeping SOx and NOx emissions at low levels.
NOx Emissions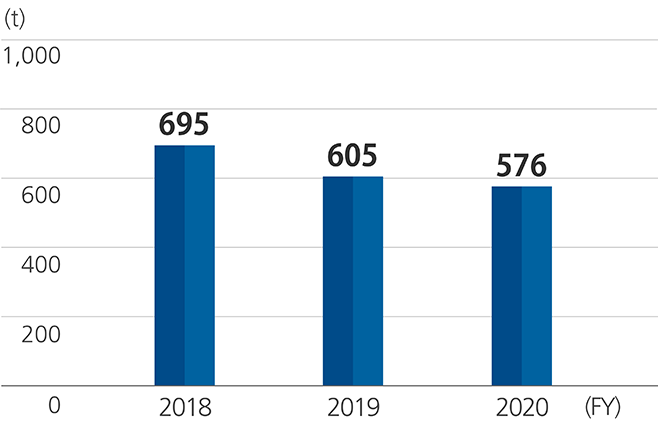 SOx Emissions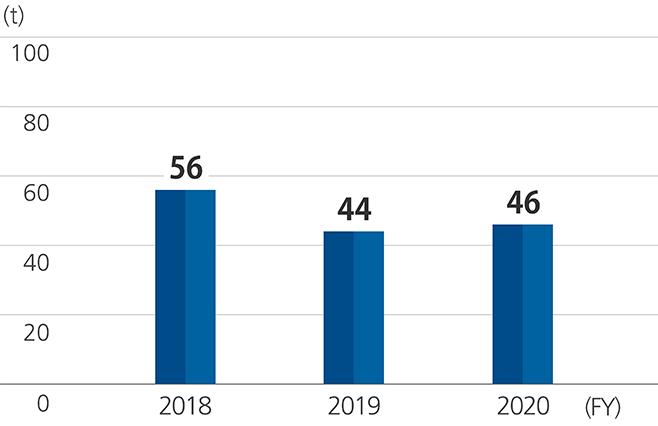 Measurement Scope: UACJ (Nagoya, Fukui, Fukaya, Nikko), UACJ Extrusion Oyama Corporation.
Control of PCBs
The UACJ Group, in accordance with the Law Concerning Special Measures Against PCB (Polychlorinated biphenyl) Waste, accounts for PCB-containing equipment for each of its plants, submits reports to supervisory authorities, and properly stores and manages these items. We also conduct surveys of fluorescent lamp ballasts and other small electrical devices and electrical devices suspected of containing small amounts of PCBs, and properly manage those exceeding standards.
To steadily and properly render PCB-containing equipment harmless, we have commissioned the Japan Environmental Safety Corporation to perform this work. We use certified processors as necessary to handle small amounts of PCB-contaminated oil. And we are working to complete the proper disposal of items with high concentrations of PCBs ahead of the deadline established by the amended Law Concerning Special Measures Against PCB Waste, which took effect in August 2016. The disposal deadline (March 31, 2021) for fluorescent lamp ballasts and other equipment at business locations in Aichi, Shiga, and Osaka Prefectures, in particular, is approaching and plans are in place to complete disposal by the designated date.
Addressing the Problem of Asbestos
The UACJ Group has carried out a study of its historical and current usage of asbestos in products, plant buildings, equipment and fixtures. At present, we are not using asbestos in products and have never sold products containing asbestos.
As for our plant buildings, to a very limited extent, we have used spray-on asbestos, which entails a high risk of dispersion into the air, and have been working to remove it since fiscal 2004. For spray-on asbestos that was used at UACJ Foil Corporation's Nogi Works and is still in place, we have confirmed that no asbestos is being dispersed into the air. In June 2020, regulations on asbestos in slate and other materials with a low risk of air dispersal were tightened under Japan's revised Air Pollution Control Law, and we will properly comply with the new regulations.
Regarding equipment and fixtures, we have already completed the replacement of items for which there was a risk of asbestos dispersion. Equipment and fixtures with a small risk of asbestos dispersion are being replaced when regular inspections are due and on other occasions, as well.
Measures to Control Dioxins
For its aluminum melting furnaces that qualify as designated dioxin-emitting facilities under the Law concerning Special Measures against Dioxins, the UACJ Group has implemented management that lowers dioxin concentrations in exhaust gases to levels below the regulatory standard.
More specifically, we prevent the development of dioxins by strictly managing the volume of combustion air for aluminum melting furnaces and closely controlling the materials put into them.
In addition, we annually measure levels of dioxins for aluminum melting furnaces, as required by law, and report results to the government. All of our measurements of dioxins for fiscal 2019 came in below regulatory standards for the 24 facilities covered by air pollution regulations and the 2 facilities covered by water pollution regulations.
Prevention of Water Pollution
With the partial revision of the Water Pollution Prevention Act, promulgated in June 2012, reporting of information on storage facilities, piping, etc. used for harmful substances and compliance with standards set for structures became mandatory.
At the UACJ Group, all necessary reports were prepared at individual business locations by the May 31, 2015 end of the deferment period.
Reuse of Wastewater from Our Works
The Nikko Works discharges its wastewater into the Otani River. Downstream from the works, a water treatment plant purifies river water for daily use by local communities. Understanding that, we have established pH, COD, SS, and other wastewater standards that are stricter than those mandated by law, and we rigorously monitor the quality of our water discharges 24 hours a day to ensure compliance with these strict standards.
* pH: Hydrogen ion concentration, COD: Chemical oxygen demand, SS: Suspended solids
Prevention of Soil and Groundwater Contamination
UACJ Extrusion Oyama Corporation, which has a history of using certain hazardous substances, and UACJ Color Aluminum Corporation have implemented continuous purification of contaminated groundwater as responses to past incidents of soil and groundwater contamination. Regular confirmations of the effectiveness of these measures have determined that contamination levels are falling.
At our other business locations, we conduct groundwater and soil contamination inspections when accidents occur but also when reconstructing buildings, performing large-scale maintenance, and on other occasions when it is deemed necessary. In fiscal 2019, there were no business locations requiring inspections.
Measures to Deal with Soil and Groundwater Contamination
| Business Location | Period | Contaminant | Response |
| --- | --- | --- | --- |
| UACJ Extrusion Oyama Corporation | Since fiscal 1999 | Tetrachloroethylene | Soil replacement, water extraction and purification |
| UACJ Color Aluminum Corporation | Since fiscal 2004 | hexavalent chromium, fluorine | Soil replacement, water extraction and purification |
For information on the management of chemical substances included in products, please refer to the section titled, "Environmental Consideration in Products."