CSR Management
UACJ has established its CSR Committee to address a broad array of social demands. Chaired by the president, the committee's membership also includes UACJ's full-time directors, works managers, the head of its Research & Development Division, the heads of relevant departments, and the presidents of principal Group companies.
System for Advancing CSR
At UACJ, the CSR Committee, chaired by UACJ's president and with membership consisting of UACJ's full-time directors, works managers, the head of its Research & Development Division, the heads of relevant departments, and the presidents of principal Group companies advances CSR activities throughout the company.
The CSR Committee has historically met annually to deliberate policies and measures on matters concerning all aspects of CSR, compliance, and risk management, and exercises supervision of every fiscal year's activities. Using case studies of compliance violations, and other tools, it also functions as a training venue for executives and managers.
Following the meeting, members of the CSR Committee share the committee's decisions with the units they oversee in an effort that disseminates this information throughout the company. Information on CSR policies and measures is disseminated to affiliates in Japan via the General Affairs Liaison Committee and other channels.
In addition, the Safety and Hygiene Committee, Environmental Committee, Quality Committee, HR Development Committee, and R&D Committee address CSR issues in their respective areas.
Expansion of the Measurement Scope
To gain a more detailed understanding of UACJ's overall environmental impact, we took the step in fiscal 2019 of expanding the measurement scope for CO2 emissions, industrial waste, and water usage to include the overseas business locations of our main businesses, and other facilities outside Japan.
In addition, we had an independent assurance review conducted to ensure disclosure reliability for CO2 emissions.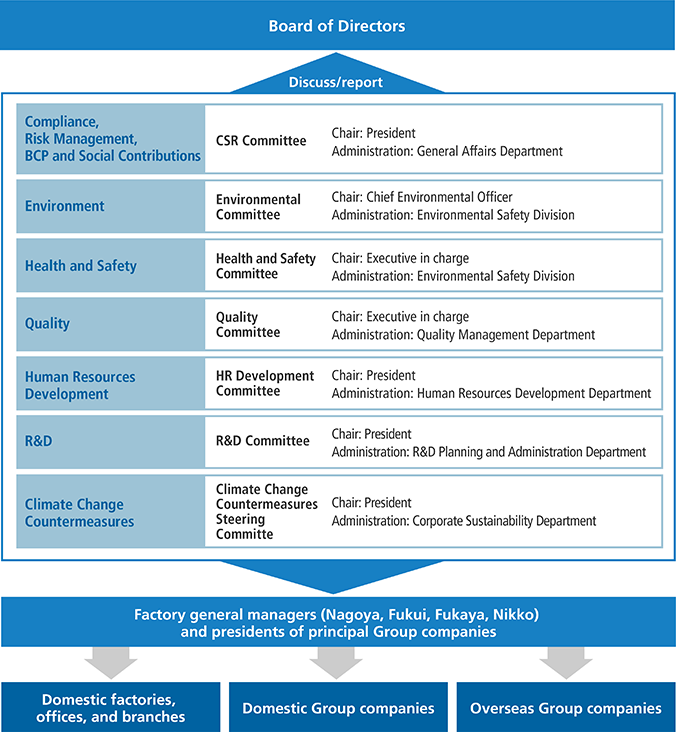 Responsibilities to and Methods for Communicating with Principal Stakeholders
Key Responsibilities
Communication Methods
Customers
Maintain and improve the quality of products and services

Provide products and services that are good for society

Use a wide variety of technologies and expertise to solve customers' problems
Dialogue in daily business dealings

Website

Dialogue through technology exhibits

Customer satisfaction surveys
Suppliers
Build sound relationships through fair transactions respecting laws and ordinances

Fulfill CSRs throughout the supply chain
Dialogue in daily business dealings
Environment
Reduce greenhouse gas emissions

Promote energy efficiency and recycling

Protect biodiversity

Reduce industrial waste

Manage and reduce harmful chemical substances
Operate within laws and regulations

Support the Kyoto Protocol on fighting global warming, the Nagoya Protocol on biodiversity, and other international agreements

Support environmental activities advanced by Japan's Ministry of the Environment and others
Investors
Provide appropriate returns

Make timely and appropriate disclosures

Increase corporate value
General meeting of shareholders

Shareholder communications

Results briefings

Telephone conferences

One-on-one meetings

Shareholder plant tours

Website
Employees
Respect human rights

Develop personnel, and provide fair evaluations and compensation

Protect worker safety and health (including mental health)

Support diverse working styles, and employee efforts to meet work and personal responsibilities
Company Newsletter

Intranet
Local Communities
Support sports and cultural activities, and efforts to nurture future generations

Participate in and support traditional events

Support and work with local and other NPOs
Plant tours

Local events

Neighborhood clean-up and other social contribution activities by employees
CSR Education and Training
Implementation of CSR Training for Managers
As awareness of global environmental sustainability has grown throughout the world, corporate social responsibilities have taken on even greater importance. Moreover, with attention focusing on ESG investment, there are changes afoot in the bases upon which corporate value is judged. UACJ has implemented CSR training to properly acknowledge these changes and enhance its CSR activities. In fiscal 2019, the total of 13 participants in this training included the president, executives in charge of CSR, and department and section heads. Through this training, the participants were able to deepen their understanding of recent CSR-related developments, and various topics related to investors, industrial circles, and international society. Going forward, UACJ will continue to identify materiality items* and work to create value that contributes to the resolution of global environmental conservation and social issues.
* Materiality items: Matters that could greatly impact organizational performance as it relates to a company's ongoing growth.