Social Contribution Activities
Nurturing the Next Generation
Nurturing the Next Generation through Sports
UACJ works with the Tokyo Yakult Swallows professional baseball team to contribute to the development of children.
On May 3, 2018, for example, we hosted an event for the members of a Little League team in Fukaya City, Saitama Prefecture, the location of our Fukaya Works. Team members and their families were invited to view the Swallows' practice session and attended a game held at Meiji Jingu Stadium, the Swallows' home field. Later, on May 12, we also held the UACJ Baseball Clinic, led by former Swallows players in Fukaya City.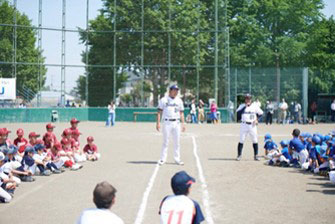 Lending a Hand with the Global Classroom Environmental Education Project
Beginning with fiscal 2018, UACJ is supporting the Global Classroom environmental education project Asahi Shimbun is conducting for elementary school students.
In fiscal 2018, we provided overall project support by assisting with the editing of an environmental textbook, approximately 260,000 copies of which were distributed to around 1,700 elementary schools throughout the country. We also provided support for the Global Classroom 2018 One-Day Environment School, an event held on September 24 in Tokyo.
To teach children about aluminum's benefits for the environment, we have employees serve as visiting instructors to lead classes on the topic of "Earth-friendly Aluminum." Two of these classes were held in 2018. One took place on November 16 at Kouda Elementary School in the Kumamoto Prefecture city of Yatsushiro, which is still recovering from the Kumamoto earthquakes of 2016, and the other was held on December 11 at Yuguchi Elementary School in the Iwate Prefecture city of Hanamaki, which was greatly impacted by the Great East Japan Earthquake. At both of these classes, employees provided an introduction to aluminum, touting the fact that over 90% of aluminum cans are recycled and describing how its light weight makes aluminum a key contributor in efforts to reduce the weight of automobiles.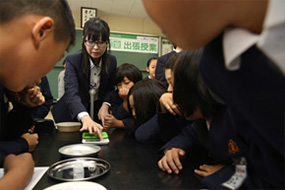 Supporting Culture, the Arts, and Sports
Support for Sports
UACJ engages in sports sponsorship activities to both promote its brand and contribute to society and local communities. As of September 2019, UACJ is a supporter of the Tokyo Yakult Swallows professional baseball team, the Utsunomiya Brex professional basketball team, FC Gifu professional soccer team, and the Japan Blind Football Association.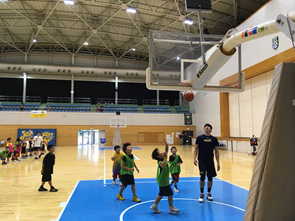 Support for Artistic Activities
UACJ Foil supports artists who use aluminum in their works. One such artist is Mayu Shiomi, who has used aluminum for numerous works, the first of which was a cat she created out of aluminum foil chocolate wrappers. UACJ Foil has been supporting Shiomi by providing her with aluminum foil since 2017. And Shiomi has returned the favor by participating in our Kids Day events in which the children of our employees come to see where their parents work. At these and other events, as well, Shiomi graciously communicates the wonders of art to children.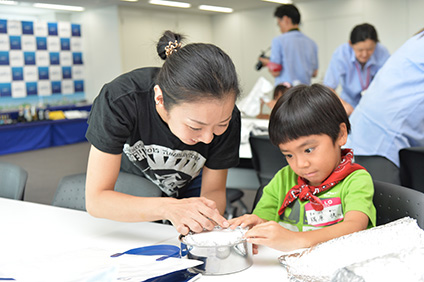 Support for Disaster Relief
Disaster Relief
In fiscal 2018, the UACJ Group contributed five million yen via the Japanese Red Cross Society to support victims of the torrential rains that struck western Japan in July 2018.