UACJ and Constellium Hold Opening Ceremony for Joint Venture Company That Will Manufacture and Sell Aluminium Materials for Automotive Panels in North America
September 15, 2016
On September 14, 2016, an opening ceremony was held at Constellium-UACJ ABS LLC (Headquarters: Bowling Green, Kentucky, United States; CEO: Simon Laddychuk; hereinafter "CUA"), a joint venture between UACJ Corporation (Headquarters: Chiyoda-ku, Tokyo; President: Mitsuru Okada; hereinafter "UACJ") and Constellium N.V. (Headquarters: Amsterdam, the Netherlands; CEO: Jean-Marc Germain; hereinafter "Constellium"). The ceremony was attended by 170 people, including the governor of the State of Kentucky, North American and Japanese customers, and related parties. Attendees from UACJ included Shigenori Yamauchi, Chairman of the Board, and Takayoshi Nakano, Senior Managing Executive Officer.
UACJ and Constellium issued the following information in a joint News Room in North America.
CUA, the joint venture between UACJ and Constellium, has begun operating a new plant in Bowling Green, Kentucky, supplying automakers in North America with aluminium materials for automotive panels.
The strategically located 20,900-square-meter facility will house an initial capacity of 100,000 metric tons. It has secured its metal supply with both partners' rolling mills. With cutting-edge equipment and technologies, the facility expects to offer a flat rolled product portfolio for a wide range of applications including closure panels, as well as body structures. The plant is currently in qualification phase, with ramp-up planned over the next two years.
<Comment from Mitsuru Okada, President of UACJ>
"We are thrilled to be opening this plant at a time when the aluminium automotive market in the US is extremely promising." said Mitsuru Okada, Representative Director & President of UACJ. "We are delighted to contribute to the automotive customers in North America not only with our automotive parts business, but also with Constellium-UACJ's advanced and innovative products with a state-of-the-art continuous annealing and pretreatment line."
<Comment from Matt Bevin, Governor of Kentucky>
"Kentucky is committed to remaining ahead of the curve as the automotive industry evolves," Governor Matt Bevin said. "Constellium-UACJ's commitment to supplying aluminium sheeting for lighter-weight vehicles stands as a great example of how the Commonwealth's auto industry is moving forward. Congratulations to South Central Kentucky and Constellium-UACJ for establishing what promises to be a very rewarding partnership."
<Comment from Jean-Marc Germain, CEO of Constellium>
"The opening of the first North American automotive body sheet finishing line with our partner UACJ, is an important milestone in our goal to become a global leader in aluminium automotive solutions," added Jean-Marc Germain, Chief Executive Officer of Constellium. "As a one-stop shop, Constellium is well-positioned to provide automotive OEMs with innovative rolled and extruded products, which lighten vehicle weight, while offering exceptional performance characteristics."
<Comment from Simon Laddychuk, CEO of CUA>
"Today's opening represents a significant step towards securing our position as a leading player in the fast-growing North American automotive body sheet market," said Simon Laddychuk, Chief Executive Officer of the joint venture.
The North American aluminium body sheet market is expanding rapidly to respond to stringent automotive regulations calling for major car weight reduction and fuel efficiency. As a growing number of automotive OEMs integrate aluminium in their models, the use of aluminium automotive body sheet in North America increased from 70kt in 2012 to approximately 500kt in 2015 and is forecasted to reach more than 1,000kt in 2020.
About Constellium-UACJ ABS LLC
Location
714 Commonwealth Blvd., Bowling Green, KY 42101, USA
Representative
Simon Laddychuk
Business
Production and sale of aluminium materials for automotive panels in North America
Facilities
Continuous heat-treatment and surface-treatment finishing line
Establishment
November 25, 2014
Investor ratios
Constellium U.S. Holdings I, LLC 51%
Tri-Arrows Aluminum Holding Inc. 49%
Production capacity
100,000 tons/year
Site area
20,900 square meters
Note: Tri-Arrows Aluminum Holding Inc. (Headquarters: Wilmington, Delaware; President: Takayoshi Nakano) is a U.S. company jointly capitalized by UACJ, Sumitomo Corporation, ITOCHU Corporation and ITOCHU Metals Corporation.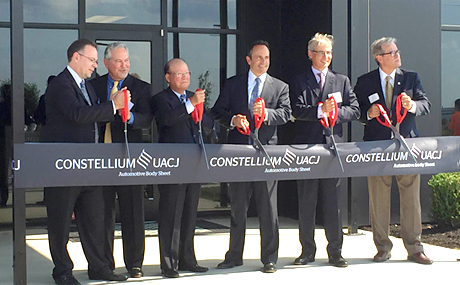 Opening ceremony at Constellium-UACJ ABS LLC
About Constellium
Constellium is a global sector leader that develops innovative, value-added aluminium products for a broad scope of markets and applications, including aerospace, automotive and packaging. Constellium generated €5.2 billion of revenue in 2015.