Special Feature(January 2015)

North and Central Americas, including the United States, Canada and Mexico, make up the world's leading aluminum market. Together with Japan and Thailand, the UACJ Group considers North and Central Americas to be vital to its global strategy, and is actively pursuing expansion in the region. This includes the establishment of manufacturing and sales bases focusing on can stock and Body-in-White materials.
Establishing the world's largest-scale manufacturing base in USA – the largest global market for aluminum can stock
Approximately 94 billion aluminum cans are consumed every year in the North American market, making it the world's largest market for can stock. In order to meet this thriving demand, approximately 2 million tons of can stock are produced by US rolled aluminum sheet manufacturers every year, of which approximately 1.6 million is used within North America. This amounts to a market scale approximately four times that of Japan.
Within this market, UACJ consolidated subsidiary Tri-Arrows Aluminum Inc. (hereafter TAA), which is a joint owner of Logan Aluminum Inc. Logan Aluminum operates the world's single largest mill producing can stock materials. With world-class cost competitiveness, TAA is foremost in the world for meeting demand for aluminum cans.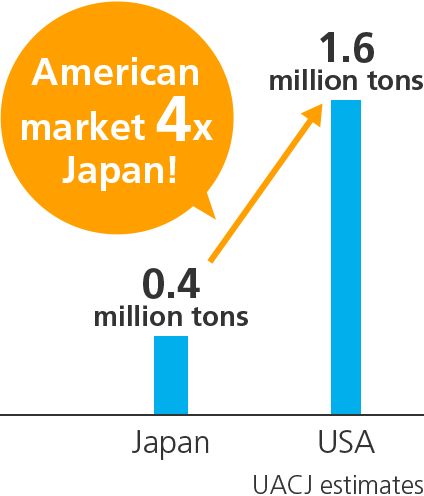 Expanding operations to meet increased automotive demand for lightweight aluminum due to gas mileage restrictions.
Due to increasingly strict gas mileage regulations, use of lighter weight aluminum for BiW panels in the automotive industry is accelerating swiftly in the North American market. The total amount of aluminum used per vehicle is expected to increase even further, with aluminum being introduced for parts such as doors and fenders.
In order to meet this increasing demand, UACJ has entered into an agreement with European company Constellium N.V. for a joint automotive BiW panel venture in the USA. We plan to procure cold-rolled coil at the newly constructed mill of Logan Aluminum Inc.—of which TAA is a joint owner. This will enable us to meet the needs of the US market in a timely and advantageous manner through the use of domestic cold-rolled coil.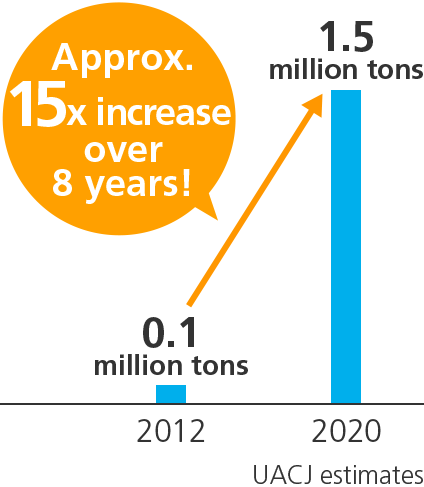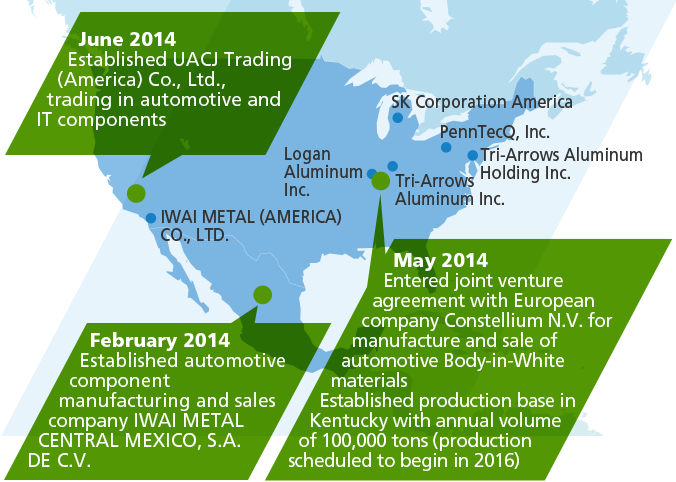 Bases prior to 2013