Special Feature(January 2014)

Meeting Growing Southeast Asian Demand with an Integrated Factory Offering Top Quality
In recent years, the demand for aluminum has increased worldwide, particularly in the automotive industry. This has led Japanese manufacturers to expand overseas, as they seek to provide high-quality aluminum products for the global market. The UACJ Group has also been establishing production and sales bases in regions around the world to strengthen our network and ensure stable supply.
As part of this plan, we are currently constructing a new integrated factory in Thailand. The facility will undertake all processes related to rolled sheet production, from melting to casting, rolling and finishing, making it the first such factory established overseas by a Japanese company.
A great number of beverage can manufacturers, automotive manufacturers, and other industries have expanded into Southeast Asia, especially Thailand. With our superior quality and technology, the UACJ Group can offer these companies a significant competitive advantage. Initially, the new Thailand factory will supply products such as can end and automotive heat exchanger materials.
Worldwide Aluminum Ore Production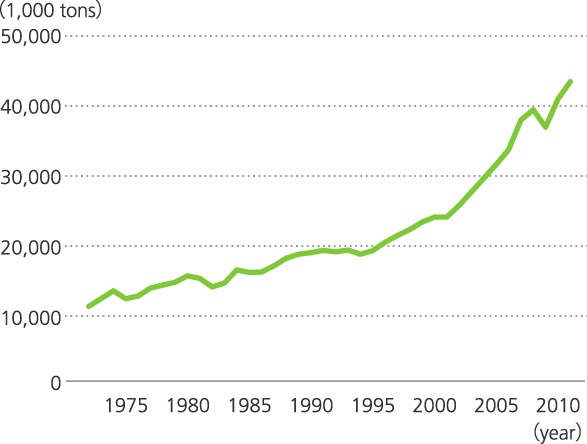 Creating a Global Supply Network That Combines High Quality with Cost-Competitiveness
Work on the new factory began in March 2012, with operation of the primary line commencing January 2014, when its construction and installation were finished. The primary line handles processes from cold-rolling to finishing.
Construction on the secondary line has also been underway since February 2013. This line is scheduled to handle processes ranging from casting to hot-rolling when it begins operation in the summer of 2015. The facility is expected to have a total production capacity of up to 180,000 tons/year. This volume will give us a clear edge in cost over our competitors, including Chinese and Korean manufacturers, who have grown in market strength in recent years.
The new Thailand factory will maintain a core position in the UACJ Group's global network. We believe its combination of high quality and cost-competitiveness will provide the edge necessary to dominate our competitors.