(Clad) Continuously Drawn Aluminum Pipe
For the piping materials of car/room air conditioners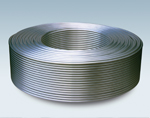 Mandrel extrusion pipe extruded with a large indirect extruder produces a profile without joints (seams), giving it better dimensional precision than material produced in a cold-drawing process using a continuous extrusion machine (bull block) and producing stronger pipe material. Also, by combining different materials for the core and outer surfaces, indirect extrusion can produce clad pipe materials having inner and outer surfaces of different components.
Features
Continuous extrusion machines can supply long coils to automated assembly lines at high speed.
As pipe produced in this manner does not have the welding joints as does port hole extruded pipe, it maintains a high degree of airtightness, avoiding the corrosion that tends to set in first at the joints.
Mandrel extrusion produces material with excellent homogeneity and dimensional stability in the direction of longitudinal extrusion.
Clad pipes on which sacrificial materials are used demonstrate corrosion resistant. For surfaces that use solder, solder material can be affixed to bare material.
Applications
Piping materials for car/room air conditioners
Examples of use in automobile heat exchangers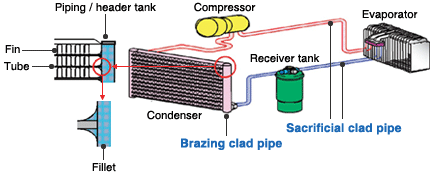 Radiator tubes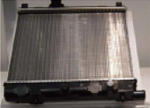 Product Characteristics
Comparison of clad/unclad properties
Corrosion after CCT mixed cycle test (60 cycles)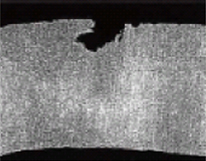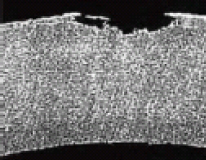 Comparison of growth in pitting corrosion using CASS test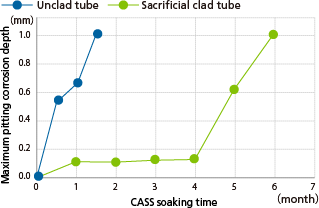 Production Technologies
Hollow material production methods
Mandrel method (seamless pipe)
This extrusion method uses a mandrel to pierce a billet. The space between the mandrel and the die determines the shape produced. In some cases, holes are drilled in the billet beforehand. This extrusion method produces shapes without welding seams.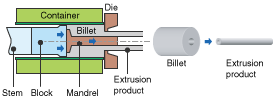 Porthole method (seamed pipe)
Porthole method (seamed pipe)
Billets are extruded through an arrangement of two male/female dies. The billet is forced through the male die and adheres in the female die, creating a hollow shape.

Production Process
Production process for continuously drawn materials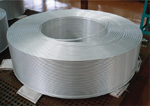 Bull block process (continuous extrusion)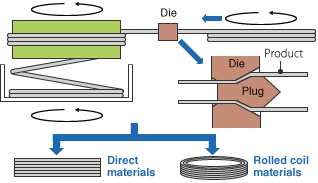 Contact Us