High-Precision Aluminum Alloy Sheet FP52
For Use in Semiconductor/Liquid-crystal Manufacturing Equipment and Various Processing Jigs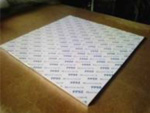 Because thick aluminum plates have high conductivity, excellent can be processed easily and are lightweight, they find use in many types of equipment and molds. Our general-purpose thick aluminum plates are used in making FP52, which is regarded for its excellent characteristics including thickness, flatness, residual stress and surface quality. FP52 therefore helps customers to reduce costs.
Features
Owing to its JIS 1/10 high thickness accuracy, these material plates can be used as is.
Having JIS 1/30–1/50 flatness, these products can be used as is, without cutting.
Eliminating residual stresses minimizes distortion during cutting operations.
To maintain high surface quality, films are applied to both sides of the plates to prevent scratching during processing.
Product Characteristics
Chemical composition (%)
Si
Fe
Cu
Mn
Mg
Cr
Other
(Individual)
Other
(Total)
AL
0.25 or less
0.40 or less
0.10 or less
0.10 or less
2.2–2.8
0.15–0.35
0.05 or less
0.15 or less
Remaining
Thickness accuracy (mm)
| Thickness | Plate thickness tolerance |
| --- | --- |
| 4–7 | ±0.04 |
| 8–12 | ±0.05 |
| 15/16 | ±0.08 |
| 18 | ±0.09 |
| 20/22 | ±0.10 |
| 25 | ±0.12 |
| 30 | ±0.15 |
| 35/40 | ±0.20 |
| 45/50 | ±0.25 |
| 55/60 | ±0.30 |
(Reference) JIS plate thickness tolerance (Width: 900 mm or more, 1400 mm or less)
| Thickness | Plate thickness tolerance |
| --- | --- |
| 4 | ±0.35 |
| 6 | ±0.45 |
| 8 | ±0.50 |
| 10 | ±0.60 |
| 12/15/16 | ±0.70 |
| 18/20/22 | ±0.80 |
| 25 | ±0.90 |
| 30/35 | ±1.0 |
| 40 | ±1.1 |
| 45/50 | ±1.3 |
| 55 | ±1.5 |
| 60 | ±1.9 |
Flatness
| | |
| --- | --- |
| FP52 | 0.2mm or less/m width and length |
| Our general-purpose material | 1.2mm or less/m width and length |
Mechanical properties, JIS compliance
Thickness
Tensile strength (N/mm2)
Stretch (%)
FP52
T20 mm
195
34
JIS standards
(H112)
4≦T≦6.5
195 or more
9 or more
6.5<T≦13
7 or more
13<T≦50
175 or more
12 or more
50<T≦75
16 or more
Residual stress
No distortions during machining or cutting processes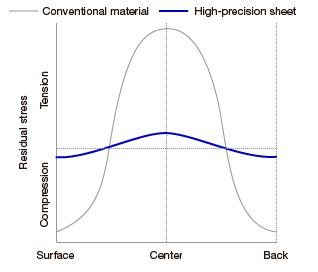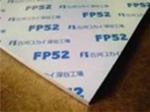 Contact Us