"MF Tube" Ultraprecision Extruded Aluminum Tube
Condensers for automotive air conditioners, room air conditioners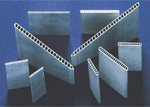 MF Tube is an extruded mini tube for multi-flow condenser to be used in automotive air conditioners. It is a light weight flat tube having 10 to 20 minute holes for refrigerant passage to enhance its heat exchanging performance, and it has on its surface a Zinc-arc-sprayed layer of excellent corrosion resistance. MF tube is also used for room air conditioner outdoor unit.
Features
Ultra compact and light weight (1mm thickness and 30g/m unit weight) enables automotive air conditioners to be overwhelmingly smaller and lighter.
Use of type 1000 alloy, which has good thermal conductivity, with many tiny holes, delivers excellent heat transfer performance.
Target zinc spray volume of 10g/m2 provides strong resistance to pitting corrosion and boasts around 10 years of market wearability.
Applications
Condensers / evaporators for automotive and room air conditioners
Schematic of condenser and MF tube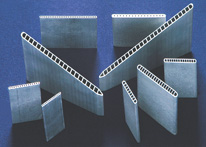 MF tubes are 1.5 mm thick and 16 mm wide and some have as many as 10–20 holes with diameters of less than 1 mm. Such products require ultrasmall precision extrusion technologies.
Production Technologies
Ultra precision extrusion technology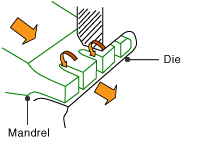 Zinc-arc-spray technology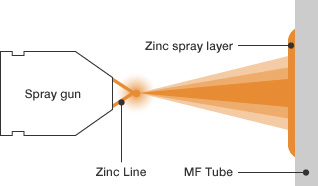 Contact Us