Material Substitution

High-Strength Aluminum Sheets as an Alternative to Stainless Steel Thin Plates
For the frames of mobile devices, etc.
UACJ provides high-strength, lightweight aluminum alloy sheets for use with smartphones, notebook PCs and other mobile devices. As an alternative to stainless steel thin plates, which are often used in such devices, UACJ's sheets have equivalent strength while offering the unique advantages of aluminum, including being fully nonmagnetic.
Advantages of Replacement with Aluminum High-strength Sheet
High-strength GM55-H38 is ideal as an alternative to 0.3mmt stainless steel components.
It has a strong track record of use with mobile phone frames and LCD components.
Aluminum is nonmagnetic and has no effect on GPS.
Issues When Considering Replacement with Aluminum High-strength Sheet
As the technology for bonding with ABS plastic, laser welding on aluminum is problematic compared with SUS304.
As a result, for complex shapes requiring an increase in thickness at the boss, rib, etc., the use of aluminum is growing by means of methods such as plastic bonding and Nano Molding Technology (NMT).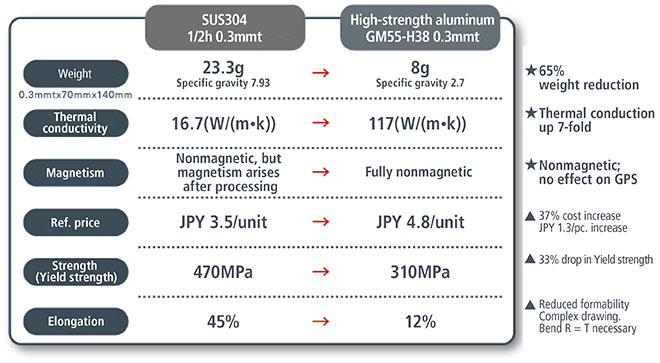 Properties comparison of materials
Material
Specific gravity
Strength
(N/㎜2)
Specific strength
(strength/specific gravity)
Aluminum
(1050-H24)
2.7
125
46
Aluminum
(5052-H34)
2.7
240
89

Aluminum




(

GM55-H38

)

2.7
400
148
Magnesium
(AZ91 Die-cast)
1.80
230
127
Copper
8.90
343
39
Steel
7.85
412
52
Stainless steel
SUS304H
7.90
834
106
Titanium
4.5
392
87
Material
Strength/weight
Formability
Appearance
Productivity
Price

Aluminum

◯

◯

◎
(alumite)
◎

◯

Magnesium
◎
×
△
×
×

Stainless steel

◯

△–

◯

△
(hairline)

◯

△
Titanium
△
×
△
×
×
UACJ's aluminum alloys for electronic products
Material properties
Temper
Tensile strength
(N/mm2)
Yield strength
(N/mm2)
Elongation
(%)
Bend
0.5mmt
Features
GM55
H18
430
370
8
1
Strongest in 5000 series
Shallow drawing also possible with H38
Good alumite properties
H38
400
310
12
0
High-strength
H34
350
250
15
0
O
290
130
33
0
GC150
H38
390
310
10
1
High-strength, suited to internal structures
Strong yellow-black color when alumite
Ultra-deep-drawing possible with O
H32 is for lightweight drives
H34
350
250
15
0
H32
330
240
18
0
O
290
135
32
0
GM345
(5182)
H38
380
310
8
1
Thin-plate, high-strength standard H36
Good alumite properties
Enhancement of former GM145 bendability
H36
360
270
10
0.5
H34
335
250
13
0
O
265
125
28
0
6061
T6
310
250
18
0.5
Quenched sheet in Motorola mobiles
GF24
552S
(5052 strength)
H36
275
235
8
1
552S is an alumite-optimized version of the 5052 standard
Little streaking and yellowness after 552S alumite.
GF24 has the same strength as 5052 without Cr
5052 component non-standard
No yellowness

◯

H34
240
190
12
0.5
H32
210
180
13
0
0
190
90
25
0
◎
B152S
(5252)


H34
210
190
10
0.5
Gloss HB, strength equivalent to 5052
Good alumite and chemical polishing properties
H32
210
180
12
0
◎
◎
257S
H24
145
115
12
1
Gloss LF/HB, good chemical polishing properties
For mirror finishing
0
100
40
33
0
Pleasing gloss appearance
1050
H24
125
115
20
0
Standard housing material 0.8mmt
Contact Us