Batteries

Aluminum Alloys for Lithium-Ion Battery Sealing Materials
For lithium-ion battery anti-explosion valves
UACJ has designed a novel form of aluminum alloy for use with the anti-explosion valves of lithium-ion batteries, where thin-walled formation is required. It has excellent formability and can be formed integrally with the anti-explosion valve by press working, reducing the foil welding workload. Laser machining is also easy to perform.
Features
Realizes an advanced level of strength, formability and weldability
A newly designed aluminum alloy that is both strong and enables easy working of the anti-explosion valve
Lineup also includes 3003, which dramatically reduces laser welding defects.
Properties Comparison
Easy integrated formation with anti-explosion valve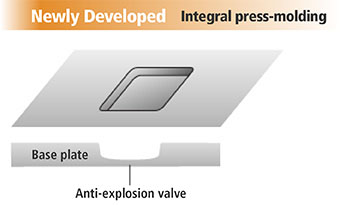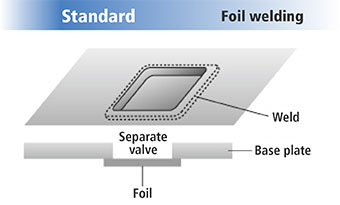 Weld penetration depth in laser welding
Weldability enhanced by 160%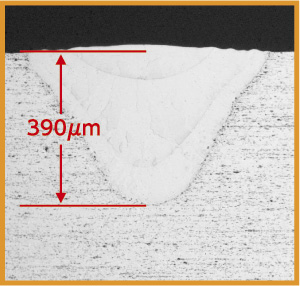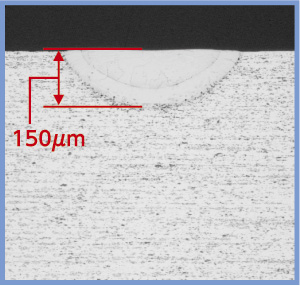 Aluminum alloys that optimize the chemical composition and manufacturing process
Alloy
Temper
Mechanical properties
Material properties
Features
Tensile strength
(N/mm2)
Proof
stress
(N/mm2)
Elongation
(%)
Base
plate strength
Anti-explosion valve formability
Laser weldability
FS115
O
125
70
40
◯
◎
◎
Al-Fe high-strength material

Superior laser weldability

Easy working of anti-explosion valve
H14
165
150
14
◎
H16
185
155
6
◎
3003M
O
134
65
32
◎
◯
◎
Al-Mn material that reduces laser defects
3003
O
119
52
37
◯
△
◯
Al-Mn alloy materials
H14
170
160
6
◎
1050
O
83
38
46
×
◎
△
Pure-aluminum materials
Contact Us