Electrical & Electronic Components

High-Strength, High-Formability Aluminum Alloy Plates
An alternative to steel plates
An aluminum alloy plate that is 1.5 times stronger than the standard aluminum alloy plate (A5052). It can be used as an alternative to cold rolled steel sheets, in various types of housing and electrical/information equipment. Both its lighter weight and thinner structure result in cost reductions.
Features
1.5 times stronger than A5052, the representative aluminum alloy plate for use in structures. This enables thinner walled structures, resulting in lower weight and cost.
It has equivalent strength to cold rolled steel sheets, which it can replace to achieve lighter weight.
GC150 has 32% elongation compared with the 25% of A5052 soft material (0 material), enabling previously problematic bending and deep drawing.
Applications
Various housings including PDP back covers, digital cameras, CD ROMs, MD frames, general electrical and information equipment
Properties
1.5X increase in tensile strength, proof stress
Mechanical properties
Alloy
Tensile strength (N/mm2)
Yield strength (N/mm2)
Elongation (%)
GM55
H38
400
310
12
H34
390
295
15
O
285
130
33
GM145
H36
360
300
9
H34
340
260
10
O
290
150
25
GC150
H32
330
240
18
H31
300
178
26
O
290
135
30
A5052
(Comparison material)
H36
275
240
8
H34
260
215
10

O

195
90
25
6061-T6
320
270
12
Mechanical properties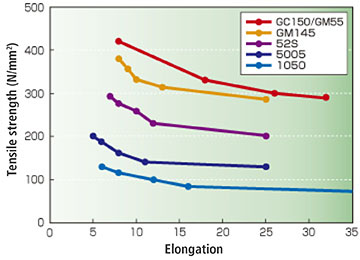 Manufacturable range
GM55 0.5mmt or higher
GM145   0.18mmt or higher
GC150   0.5mmt or higher
* Please contact us for further information on manufacturable range.
Chemical composition
| Alloy | Si | Fe | Cu | Mn | Mg | Cr | Zn | Ti | Al |
| --- | --- | --- | --- | --- | --- | --- | --- | --- | --- |
| GM55 | <0.20 | <0.35 | 0.05–0.10 | 0.20–0.50 | 4.0–5.0 | <0.10 | <0.25 | - | Balance |
| GM145 | <0.20 | <0.35 | 0.05–0.10 | 0.20–0.50 | 4.0–5.0 | <0.10 | <0.25 | - | Balance |
| GC150 | <0.20 | <0.35 | 0.05–0.6 | <0.30 | 4.0–6.0 | <0.15 | <0.25 | <0.30 | Balance |
| A5052P | <0.20 | <0.40 | <0.10 | 0.10–0.50 | 2.2–2.8 | 0.15–0.35 | <0.10 | - | Balance |
Contact Us